Nagpur Municipal Corporation seeks total ban on Plaster of Paris idols
|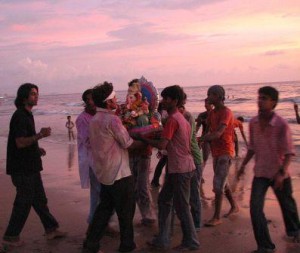 As per the report by Times of India, Nagpur, The Nagpur Municipal Corporation's (NMC) has created a draft policy to completely ban idols made of Plaster of Paris (PoP) to be immersed in water bodies. NMC had made artificial immersion ponds in last year for the idols made of PoP. This move was somewhat successful in restricting these idols immersion into water bodies like lakes and others which in turn helped to reduce pollution.
However, PoP idol makers kept on making idols and hence there was no impact on them as such. With this new policy, NMC is trying to catalyze idol making process to shift from PoP to other environment friendly materials.
PoP is a calcium sulfate hemi-hydrate derived from gypsum. Idols made of PoP may take several months to fully dissolve in the water. However, idols made of natural materials like clay can easily dissolve in the water. In addition, colorful paints used to decorate idols have heavy metals such as lead and mercury. All in all, it together creates risks to the water body and human health. It is a serious health hazard.
As per the data available, around 90,000 idols were immersed in artificial tanks out of total 3,00,000 -4,00,000 idols in the city in previous year.
Similarly, like last year, NMC has made it mandatory for idol makers to put a red mark on the back of PoP idols.  In this way, idols made of PoP can easily be identified and NMC can urge Nagpur citizens to immerse such idols in artificial tanks.
Restriction on PoP idols is a very complex issue but it is the only way for NMC to control pollution. NMC has instructed its staff to check every idol entering  the city for a PoP-check. However, stopping devotees during verification of the idol is a very sensitive issue- NMC staff said.
Reference and further reading;