Bengal Florican, Lesser Florican among fifteen endangered bird species
|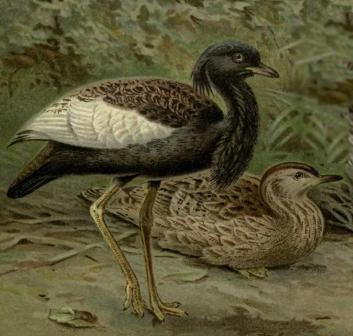 The Zoological Society of London (ZSL) and Yale University have done a study of 100 Evolutionarily Distinct and Globally Endangered (EDGE) species worldwide. As per the study, Bengal Florican, Lesser Florican, Great Indian Bustard, Sociable Lapwing and Jerdon's Courser are under threat due to destruction of their habitat of grasslands and scrub forests.
The 15 Indian species in the EDGE list compiled by ZSL and Yale University include the Bengal Florican, Forest Owlet, Red-headed Vulture, Egyptian Vulture, Jerdon's Courser, Lesser Florican, Spoon-billed Sandpiper, Sociable Lapwing, Siberian Crane, Great Indian Bustard, Greater Adjutant, White-bellied Heron, Wood Snipe, Masked Finfoot and Christmas Island Frigatebird.
"Comprehensive conservation action based on in-depth field research is required to save these species from going extinct. Today these habitats are facing some of the most severe human pressure which endangers the survival of the avian population found there," said BNHS director Asad Rahmani.
As per the study, 50% of the 100 highest ranked EDGE bird species are getting no benefits from conservation efforts.
ZSL runs conservation programmes in Britain and over 50 countries worldwide; the conservation of wild animals and their natural habitats is fundamental to our mission. For over 180 years the Zoological Society London has played an essential role in convening experts to address challenging science and conservation issues, including hosting high-profile public meetings, symposia and national and international workshops. Defined and monitored the status of the world's protected areas and at least 20,000 species.
Its 2026 targets include improving the status of at least 100 of the world's most threatened and distinct species.
Reference-
http://www.zsl.org/conservation/about-zsl-conservation