Carbon Credits approval for RPower Solar Project
|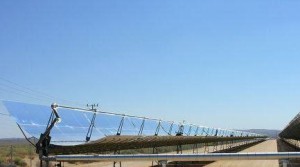 The solar project of 100MW capacity of Reliance power in Rajasthan received carbon credit approval under the United Nations Framework Convention on Climate Change (UNFCCC) – Clean Development Mechanism (CDM). The Clean Development Mechanism is one of the instruments created under the Kyoto Protocol to facilitate carbon trading. It is the first of the flexible mechanisms governed by a regulatory body – the CDM Executive Board under the UNFCCC.
Concentrated solar power systems use mirrors or lenses to focus sunlight into a high energy intensity beam. A CSP is comprised of four basic components: Concentrator, Receiver, Transport or storage and a Power converter unit.
"This is the world's largest Concentrated Solar Power (CSP) project ever registered with the Clean Development Mechanism Executive Board (CDM – EB)," the company said in a statement. Learn more about CSP here
The advantage of CDM registration is that it will enable the project to sell Certified Emission Reductions (CERs or Carbon credits). These CERs result into direct source of revenue. However, CER pricing is market driven and dependent on the European market. European countries have around 80% share in CER trading and hence any market based crisis in this region affects the price of the CER.  For the past one and a half year, the price of carbon credits has dropped considerably (Read more on the status of carbon market).
The company also has a 40MW Solar PV project and around 94MW of operational wind farms.
Reference and Further Reading-