Effects of Deodorant on Health and Environment
|
The personal care industry has experienced tremendous growth in the recent decade, with the advent of deodorants and antiperspirants into the market. These products help in keeping one fresh, cool, sweat-free and also impart a pleasant odour. The basic principle behind deodorants is that they prevent the growth of bacteria on the skin and mask the odor through fragrance while an antiperspirant doesn't just mask the bad odor, but also reduces the amount of sweat produced by reducing the amount of water available on the skin's surface with astringents.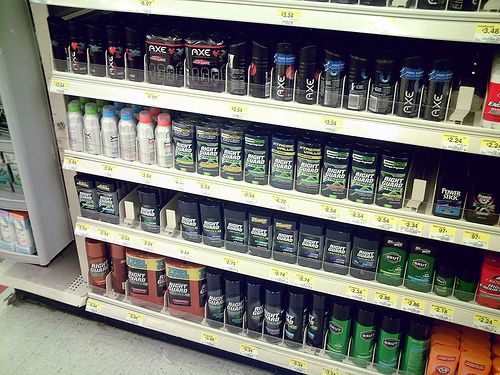 These products come in various forms like roll-ons, pump sprays, sticks, aerosol sprays, etc., and helps in boosting confidence, as a Harris interactive poll had shown that excessive sweating can lead to reduced confidence and may have negative implications for careers and social lives. These products are the best defense mechanism against the sweat pumped out by the 2 million to 4 million sweat glands in our bodies but are these safe for us and the environment is the big question that needs to be catered to.
The outright misleading and hoax promises made by the advertisements have helped the deodorant market establish a strong foothold all over the world. The hot, humid climatic conditions and the huge profit margins involved have in part, attracted a lot of new players into this segment. The Indian deodorant market has seen a humongous growth with the market size growing from INR 500 crore (US$ 83.08 million) to INR 2,300 crore (US$ 382.18 million) in a period of just 5 years (during 2009-14) and interestingly, rural India accounts for just one-tenth of the total sales. Also, the U.S. deodorant and antiperspirant market was seen to be largely unaffected by the recession and a 5.9% increase was witnessed from 2006-11 and it is expected that this market will continue to grow well into 2017. The fact that there is an increasing demand for this broader lifestyle product has attracted both FMCG giants and newbies into this segment, the concern being, that these companies are putting their sales and profits before the health of the consumers, who are at a high risk of various diseases like cancer, Alzheimer, etc.
In order to understand the potential threat deodorants pose to health and the environment, it is imperative for us to have an insight into the chemicals that go into its making. Most of the active ingredients of the deodorants are dissolved in alcohol because it provides an instantaneous sensation of cooling and also evaporates quickly. The ingredients and formulations vary according to the form in which the product needs to be supplied, but the main ingredients can be listed as follows-
Aluminum – Aluminium-based compounds are used to block the sweat glands to keep the sweat from getting to the surface of the skin. Some studies have shown that these compounds have a tendency of getting absorbed by the skin, causing changes in estrogen receptors of the breast cells and hence cause the growth of both malignant and non-malignant cells in the breast. Studies have not been able to establish a clear link between aluminum-based compounds and breast cancer, yet there is still a high risk involved and requires further research.
Parabens- Parabens are a class of preservatives used in cosmetics and personal care products, having activity similar to that of estrogen in the body. Estrogen is known to cause breast cancer which is why they use of Parabens in various forms like Methylparaben, Propylparaben, Ethylparaben, or Butylparaben is closely associated with incidences of breast cancer in women near the underarm region.
Propylene glycol- Initially developed as an anti-freeze agent, propylene glycol is now used in deodorants and antiperspirants as humectants to keep substances from drying out. It is a neurotoxin and is known to cause contact dermatitis, kidney and liver damage. As per the safety manual for propylene glycol published by the National Institute for Occupational Health and Safety, workers are strictly instructed to avoid any skin contact with this toxic chemical as it may lead to eye and skin irritation, gastrointestinal irritation, nausea, vomiting, headache, and central nervous depression.
TES and DEA- Triethanolamine and Diethanolamine are banned in Europe for their known carcinogenic properties and used in deodorants and antiperspirants to adjust pH. They, along with fatty acids convert acid to salt (stearate), which then acts as a cleanser. TEA and DEA are harmful to human health and can cause allergic reactions and liver and kidney damage respectively.
Triclosan- It is used as an antimicrobial agent to combat bacterial growth in the body. Triclosan is known to cause skin irritation and contact dermatitis and disrupt the functioning of many critical hormone systems and the thyroid gland. The American Medical Association in fact has recommended that triclosan and other antimicrobial products should not be used in homes as they enhance microbial resistance to antibiotics and may allow new resistant strains of microbes to flourish.
FD&C Colours- They are artificial colours approved by the FDA for food, cosmetics, and drugs, some of which have been derived from coal tar and are known carcinogens and skin allergens.
Talc- Hydrous magnesium silicate or commonly known as talc is a soft mineral used as an absorbent and a color additive. The International Agency for Research on Cancer has classified talc-containing asbestiform fibers as a carcinogen. The amount of asbestiform fibers in cosmetic grade talc are unregulated, and there is no way of knowing if the talc listed on the label contains asbestiform fibers or not.
A World Health Organisation study has linked the use of deodorants to Alzheimer's disease due to abnormal accumulation of aluminum in the human brain. Another study published in the Journal of Applied Toxicology looked at 20 human breast tumor samples and found parabens to be present in 18 out of 20 samples. Other than causing cancer, skin diseases, renal disorders, deodorants are also a nuisance to the environment too, the CFC's present in the aerosols have been long phased out and replaced by liquid propellant like butane or propane under the Montreal Protocol, hence they don't pose a threat to the ozone layer but at the same time, they have high amounts of volatile organic compounds as per the California Air Resource Board. These VOCs contribute to the formation of ground-level ozone, which is a key component of smog.
Deodorants and antiperspirants are harmful to our health and environment, moreover, our body gets immune to it and eventually, they don't show the desired results. Hence, the most recommendable option is to go natural. There are a lot of plant oils and extracts (like coconut oil, Bergamot (bergaptene-free) essential oil, Cornstarch or arrowroot powder) which have antimicrobial activity, and sweat soaking capability, so one can easily have access to their own stench masking deodorant and feel absolutely confident and safe.
Author's Bio:
Anushua Chowdhury is currently pursuing her master's in Environment Management from Guru Gobind Singh Indraprastha University, Delhi has completed her graduation in chemistry from Sri Venkateswara College, University of Delhi. She did her schooling from Ann Mary, Dehradun which instilled in her the passion for the environment. She has a particular interest in the energy and water pollution domain and loves to read and write about researches in the field of science.
References-
http://www.slate.com/articles/health_and_science/the_green_lantern/2010/07/should_i_stay_funky.html
http://store.mintel.com/deodorants-and-antiperspirants-us-february-2013
http://store.mintel.com/deodorants-and-antiperspirants-us-february-2012
https://www.auracacia.com/auracacia/aclearn/how-to-make-homemade-deodorant.php
http://www.antiperspirantsinfo.com/en/environmental-impact/
http://www.huffingtonpost.com/2013/10/15/deodorant-facts_n_4032353.html?ir=India&adsSiteOverride=in
http://www.ibef.org/blogs/india-over-900-deodorant-varieties-to-choose-from
http://www.webmd.com/skin-problems-and-treatments/features/antiperspirant-ingredients
http://www.silverson.com/images/uploads/documents/TDeodorants.pdf
http://www.naturalcosmeticnews.com/toxic-products/dangerous-chemicals-in-deodorant-antiperspirant-a-detailed-review-of-the-chemicals-research-avoidance-tips/
http://www.antiperspirantsinfo.com/en/antiperspirants-and-deodorants/about-antiperspirants-and-deodorants.aspx
http://www.unilever.com.au/brands-in-action/detail/Understanding-deodorant—antiperspirants/299846/