Reasons for Floods in Mumbai Year after Year and How to Mitigate
|
Mumbai is an efficient city in many ways, although it all depends on the city's weather. With the arrival of monsoon, it turns into a soggy confusion. This year monsoon began with the collapse of a pedestrian bridge on a crucial railway line in Andheri, causing urban paralysis. Apprehension looms ahead and it is important to ask whether or not Mumbai is prepared to meet a natural disaster such as the July 2005 flooding caused by 99.4 cm of rain in just 24 hours.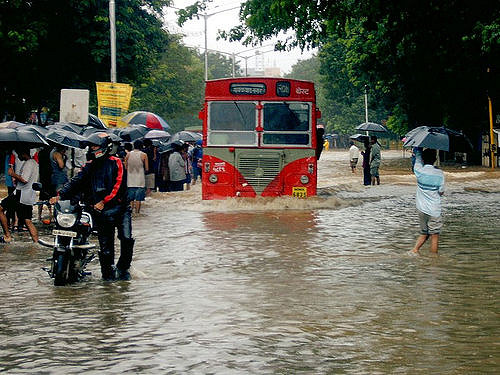 Reasons for floods in Mumbai
Three reasons cause urban flooding. These include meteorological, hydrological and human. There is nothing humans can do about the first two factors, but failure in the third is what causes destruction.
Initially, reclamation of land was carried out to link the seven islands that constitute Mumbai. This was followed by continuous building activity (Urbanization) which eventually tipped out to choke waterways allowing water to drain during monsoon.
The city's stormwater drainage system is a network of surface drains, underground drains and canals which discharge surface run-off into the city's creeks, river or straight into the Arabian Sea. If any of these systems suffer failures, floods are due to affect the city.
Mithi river is the most important component of the drainage network serving as the line of separation between the city and its suburbs. Mithi river has been encroached upon over the years and is left clogged with solid wastes and plastic.
Mangroves that dotted Mumbai's coastline have largely disappeared. They once served as an important component in absorbing water thereby, mitigating the impact of torrential rain.
Mitigation Strategies for Mumbai Floods:
Flooding is perhaps inevitable even if rainfall does not breach the existing record, with the most important channel of the city's drainage system under siege. But some techniques can be applied to mitigate the dire flood situation in Mumbai:
Long-term solutions to Mumbai's frequent flooding problem needs suitable reduction in the catchment area of Mithi river. Lest the channels are widened and the plastic menace dispensed with, other efforts may be insufficient.
The World Bank, in a 2015 study, found that half of the poor did not consider moving out of flood-prone areas. This was because of the insecurity of living in a new place which was bound to come in the form of severe social disruptions, reduced access to education as well as health facilities. What is required is to make the best use of available space, intensify development wherever possible, and improve conditions of people living in the affected area. Check more here.
For speedy removal of flood waters, and to improve the environment, a clean river that's connected to a functional drainage is helpful. However, there're other essential challenges particularly bothersome to less prosperous residents.
We might no longer be able to have the mangrove cover which existed years ago, but its important to protect whatever is left.
Mumbai should not crumble so often. Therefore, the intensity of urban flooding has to be reduced.
Author's Bio: 
Adeela Hameed is pursuing Masters in Environmental Sciences from Amity University, Noida.