Solar Power – A Good Return on Investment
|
It is easy to appreciate the benefits of solar power conceptually. Sunshine is unlimited and free. Power from the sun is clean and reasonably predictable. Costs are now affordable and it makes great business sense to invest in on-site solar. However, there are a number of steps from concept to commissioning – how diligently these steps are taken decides the ultimate success of the solar power plant. Solar power is a long term investment and requires good operation and maintenance practices. Good design, vendor selection and maintenance together promise attractive return on investments. Read more about points need to be considered before opting for solar power plant.
Why Not Solar?
Thanks to continuous research & development and large scale commercialization, solar power has joined the mainstream in the past few years. With its economic and environmental benefits, the debate today is not on the benefits of solar but on how it should be adopted.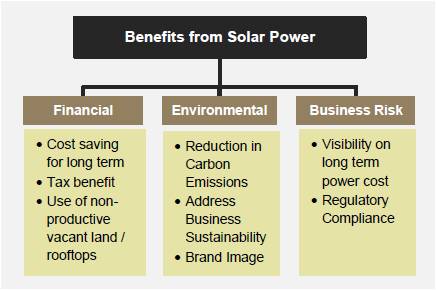 Who should invest?
Consumers choose to invest in solar power project for multiple reasons.
Cost of Power – Solar offers low cost alternative to high and rising cost of conventional power.
Availability of Power – Solar reduces dependence on high cost of back-up power sourced from DG Sets.
Tax benefit – Investors benefit from accelerated depreciation allowed on solar power plants.
Sustainability goals – Solar provides clean power, thereby reducing carbon emissions.
LEED Certification – Reduction in annual reference electric load and the annual energy cost of the building adds points for LEED accreditation.
Corporate Social Responsibility – As per Companies Bill 2013, companies have to spend 2% of net profit on CSR activities. Solar provides good ROI on CSR spend.
Solar power – A long term investment
Utility Managers are increasingly becoming comfortable with renewable energy as a long term source of power. As demand for power grows and pressure to reduce costs increases, companies are starting to look for alternatives to conventional power.
Acceptance of Solar power is growing on the basis of experience gained from large number of solar power plants installed world-wide. Even countries like the USA that have large resources of conventional fuels like gas are enthusiastically adopting solar power. India has all the reasons to maximize the abundant sunshine it receives. On-site solar power offers the fastest way of catching up.
This article is based on the monthly newsletter of Agneya Carbon Ventures. You can access full newsletter from here.