State of the World's Children Report- 2011
|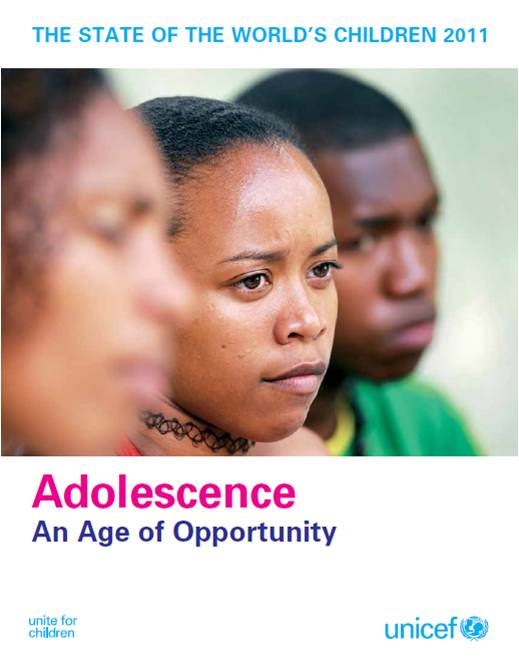 Aptly titled Adolescence- An age of opportunity, it presents the status of the most vulnerable and much neglected population, that of adolescents.
The report by UNICEF mentions that India has 243 million adolescents and thus has one of the largest adolescent populations in the world. Adolescents suffer from various issues primarily due to physical and mental changes that accompany such development. Adolescent usually refers to the age group 10-19 years or 13-19 years. The corresponding cognitive abilities such as the sense of identity, self awareness and self esteem take root during this period which perhaps explains why this age group needs most attention and if neglected can seriously undermine a young adult's future.
An estimated 20% of the world's adolescents face mental health problems or behavioural problems; this is a cause for concern as mental health is perhaps the most neglected area and if left undiagnosed and untreated can develop into more complex problems later in life.
"Globally, an estimated 71,000 adolescents commit suicide annually,while up to 40 times as many make suicide attempts."
Another area is education; globally 70million are not attending school with sub-sahara African region being the most affected. This translates into unemployment problems later on as the adolescents of today are the workers of tomorrow. Dysfunctional families, uncertain and unrealistic ambitions with little or no opportunity for skill development make it tough for the adolescents to enter into the highly competitive job market.  "At the global level, girls still lag behind boys in secondary school participation, with net enrolment at 53 per cent for boys and 48 per cent for girls for the period 2005–2009."
The incidence of violence and sexual abuse with adolescent women being the major victims is another area which cannot be tolerated. Child labour is still a major area in which adolescents are the prime sufferer with 150 million children being employed in the age group 5-14. India has taken several steps and the fundamental rights prevent employment of children in hazardous industries. The rules were expanded to ban child labour in hotels and restaurants but perhaps it is the right time to consider a blanket ban on child labour.
Reference and further information