biobrush-  The Biodegradable Toothbrush from Berlin
|
biobrush -the start-up company that recreated a property meanwhile focusing consistently on sustainability
Today, in the market, most of the brushes that are available are dependent on fossil resources. The new approaches are there in the market which aims at sustainability such as toothbrushes that come with replaceable heads have not directed to make a real impact on the public. Approximately 200 million toothbrushes in Germany are disposed of every year as per information available via v2com.
biobrush offers a transformation into thermal energy rather than burning chips of wood from the woodworking industry. Well, the company turns this into toothbrushes. The packaging and bioplastic are based on cellulose and nylon whereas bristles are made from castor oil that is clearly designed without any harmful emollients at a very reasonable price.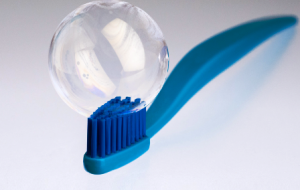 What is new with biobrush?
What is new with biobrush is that they have a good support and nothing is actually there to improve about these toothbrushes. biobrush combines features that are considered as indispensable by the experts. It is the same as other toothbrushes in appearance, but what makes it stand out from other ones is their colouring. Apart from this, their intrinsic value counts the most. The research institute has done a great research and in its collaboration, biobrush acquired a bioplastic which is fit for injection moulding. This enables biobrush to deliver a user-friendly mass market product. The cellulose extracted from wood chips helps in packaging which results in multiple uses of material that comes from sustainable forestry. For production, some portions of fossil resources are required. The packaging fuel used is garden compostable and also the colours and bioplastic used are biodegradable. The bristles have a nylon that is made from castor oil. Moreover, the latter is made from the most hygienic material that is present in the market, but it is not biodegradable.
The founder and CEO- Nannett Wiedemann says that nowadays, resource saving has become a trend. He further added that for him, the most interesting aspect is to combine both eco and stylish into one.
About biobrush GmbH: The colourful toothbrushes base on a holistic and sustainable concept for resource saving dental care products. The start-up company biobrush has been working on its' realisation ever since 2015. As a result the toothbrushes comply with state-of-the-art dental and hygienic standards. biobrush GmbH develops innovative, resource saving dental products taking into account relevant criteria of dental care.    
Photo credit: Thomas Zipf via v2com