December 2018: Monthly Electric Vehicle News Roundup
|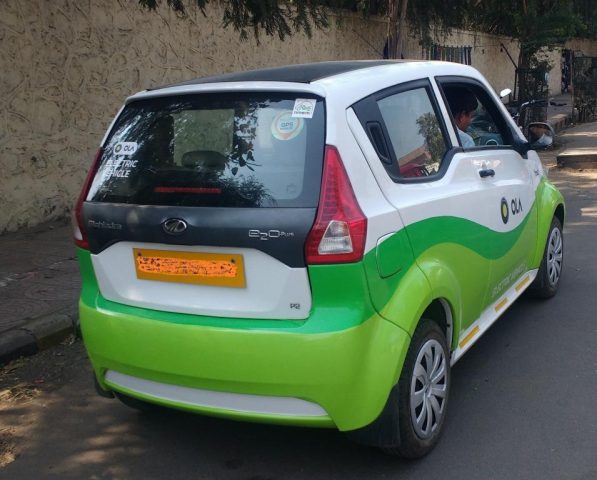 Trump's tweet- advisers scrambling to explain
In a twitter post following a dinner at Group of 20 summit in Argentina, Trump claimed that he has a deal with China to reduce the tariff of US cars exported to China. However there is no paper agreement or additional details and the Chinese government have also failed to respond to this. The advisers of Trump are also scrambling to explain the deal. The deal details are not clear and neither the Chinese officials in Beijing nor the embassy in Washington have responded to explanation requests. The lack of any joint statement from China and U.S. following the dinner has exacerbated the confusion.
Jaguar I-Pace Ends up last In Emergency Braking
As per a report in Dinside 20 år, Norwegian publication which tested 25 vehicles, for the top speed at which the Automatic emergency braking (AEB) system engaged the brakes, the Jaguar I-Pace ended up last with a speed of 15kph, while Jaguar E-Pace faired far better at 70 kph and Hyundai Santa Fe showed the best result with 85kph. Results were similar even when the test was performed for a second time. Engineers' response is that the car learns about traffic in the initial 10 minutes. While the same company's E-Pace performs better, some improvement is expected from I-Pace.
Longer Range Nissan LEAF launch delayed
The longer range Nissan LEAF with 60 kWh battery was expected a year after the 40kWh battery Nissan second generation LEAF. However this launch has been postponed. The allegations on Carlos Ghosn, considered the father of Nissan LEAF and his arrest are seen to be the reasons behind this move. According to the automaker, the business is functioning normal but this postponement is to ensure that the car gets the coverage it deserves.
Kia to make EV specifically for India
Korean car maker Kia Motors is gearing up for the launch of its first vehicle in India next year. It also plans to launch one vehicle every six months. The company is planning for an India-specific electric vehicle and collecting and sending consumer related inputs like body preference, price, etc to its South Korea headquarters. It has also earmarked Rs. 6500 crore for factory in Andhra Pradesh (AP) where it expects to start production next year. The company has also given the AP government three Electrified vehicles for trial runs.
BYD plans to list battery business, raise funds
As the auto industry transitions away from usual combustion engines, the Warren Buffett backed electric car maker BYD Co., is planning to raise funds by listing its battery business in 2022. It also has plans to spin off its vehicle-battery operations into a separate company before that. But where the listing would occur and for which all units is still unknown. BYD, which has been making batteries self sufficient for its vehicles, is in discussions with other manufacturers for contracts. It plans to build vehicle battery making factories in Europe and U.S.
Plug-In Electric car sales cross 3000 mark in November in Sweden
Despite a 21% decrease in overall market, in Sweden this November, the sales of plug-in electric cars crossed a record 3000, a 30% increase Year over year. Favorable BEV Incentive changes and extermination of plug-in hybrids lacking certification is said to have caused this rise which could have been much more had the models not been constrained by production. Kia Optima PHEV was the top most selling model with November sales of 415 followed by Nissan Leaf with 388.
ASA bans a Nissan Leaf advert
Nissan's website claimed that in 40 to 60 minutes, Leaf could be charged to up to 80% full capacity, however there were some footnotes on conditions applicable. Based on complaints from 3 people, Advertising Standards Authority (ASA) said that Nissan's advert on Leaf was misleading. The Japanese car maker made changes to the advert as response to customer feedback. However the ASA said the advert wordings could mislead that the vehicle could be charged up to 80% using a rapid charger, while the claims were not substantiated. Nissan says it will respect the decision even though it is disappointed with the ruling.
Essel to make lithium ion batteries in India
According to 2 people directly aware of the information, Subash Chandra controlled Essel Infraprojects Ltd is in talks to acquire mines abroad and manufacture lithium ion batteries in Andhra Pradesh India. Earlier Essel Infra had announced setting up of 250 charging stations and 1000 battery swapping stations in Uttar Pradesh. It seems to be aiming to become a complete service provide for Electric Vehicles in India. Apart from this, it also plans to rent e-rickshaws in Mohali and has set up charging stations in Mohali and looks to expand it further.
Volkswagen and Tesco partner to install charging bays
Tesco in partnership with Volkswagen (VW) is planning to install 2500 charging bays in around 600 stores by 2020. Customers can enjoy shopping while their vehicles are charging wherein a standard charge would be free but they may have to pay for faster charging. Earlier BP and Shell each had bought car charging networks. RAC has welcomed this Tesla, VW move saying that this would further tempt those thinking of going electric. With the air quality benefits of electric vehicles, strict emission rules in EU, this is one step in making electric cars more viable.
Welsh ministers need to lead by example say experts
A BBC Wales Freedom of Information request showed that of the 72 Welsh government vehicles none are electric vehicles. The Welsh government needs to lead by example says Dr. Liana Cipcigan Co-director Cardiff University's Electric Vehicle Centre of Excellence. Dr. Neil Lewis Manager of Social enterprise Carmarthenshire Energy feels the Welsh Ministers have not given clear signals about electric vehicles adoption. According to him, the leadership has to take charge and act fast. Electric public fleet could save a lot of money. However the Welsh Government says it is already showing leadership in this area and is installing charging points and is committed to convert public transport fleet and roll in low carbon stock in next 10 years.
China's NEV mandate a game changer
China's New Energy Vehicle(NEV) mandate a part of its plan for 4.6 million electric vehicles(EVs) by 2020 and in the long run, ban on Internal combustion engine cars, has had rippling effect in the global companies with many announcing their Electric vehicle initiatives. This mandate sets quota for the number of emission free vehicles to be sold, and credits allotted based on range, power and efficiency characteristics. Many countries, companies have set targets for EV but this mandate is a game changer for many reasons. One, China is a large, expanding consumer market. The goals and directions to combat the climate change problem are clear enabling companies to confidently set their own EV goals.
Tesla's China factory to operate from next year
According to Shanghai government official WeChat post the land leveling of the land acquired by Tesla is complete, the construction of the factory is about to begin and partial factory operations are expected to start by second half of 2019. Earlier the company had said that compared to domestic peer; it is currently operating at 55 to 60% disadvantage due to transportation costs and tariffs. This factory which would be Tesla's first outside the US, is expected to decrease the costs significantly. Tesla's did not however respond to email request for comment on this.
BYD's battery business to be listed
BYD Co. Ltd., has said that by 2022, it would be listing its battery business, a move towards speeding its battery unit growth. However it has not given details of where the shares would be traded. This Warren-Buffett backed carmakers sells plug-in hybrid Qin model and Tang series of cars. BYD which is facing battery shortages for shifting to all-electric vehicles is trying to boost capacity by building many bases for production of batteries.
Vauxhall plans to repeat history
Thanks to electrification, UK's oldest surviving brand Vauxhall, the first sport car producer in the world, and producer of UK's first 100mph car which advanced technologically in a range in its first seven between 1903 and 1910 is now anticipated to advance at the same rate between now and 2025. In 2020, it plans production of fully electrified version of its hit vehicles Mokka X SUV and Vivaro van. Additionally, the Grandland X PHEV with e-all wheel drive technology and the battery-electric competitively priced Corsa BEV are expected to be on sales in beginning of 2019.
Mitie pledges to have 20% electric fleet
By 2020, Mitie the facilities management company has pledged to have 717 electric vehicles including small vans, car which is 20% of its fleet. It has ordered 400 vehicles including Nissan E-Nv, Hyundai Kona, Renault Zoe, VW e-Golf. It also plans to install over 800 charging points across its UK offices and at suitable homes of drivers. It is also in discussions with suppliers to use renewable energy for its offices as well as for the EV drivers. Besides this, it is also encouraging its workforce to go electric by promoting the advantages and also helping its customers with their transformations.
Venturi's electric vehicle for Antartica
Venturi the Automobile Company was asked by Prince of Monaco to develop emission free polar explorer. It has now introduced its Antarctica EV electric vehicle specifically designed to go on expeditions having temperatures as low as -50°C. The work started in 2013 and in 2015 Venturi released the prototype. The vehicle was tested in Europe's coldest regions. This vehicle which can carry 3 people plus luggage and equipment is said to deliver a maximum of 20 kph for 45 km range under extra sub zero temperatures. The company President feels that this would be very helpful for the researchers who currently have to go on foot to many of these places.
SK innovation plans factory in US
Battery manufacturing companies are increasing capacity to meet the rising electric vehicle demands. While most of the cell manufacturers are looking at Asia and Europe, SK innovation has announced $1.67 billion investment for Electric Vehicle battery gigafactory in Georgia, US. It says that this would cater to the needs of its customers Hyundai-Kia motors and Mercedes-Benz. Production capacity details are not known yet and it needs to be seen if this would beat Tesla's Gigafactory 1. Besides doubling production in its South Korean factories, the company is also building another car battery gigafactory in Hungary.
Plans for Waiheke to be World's Number one Electric vehicle only island
A bold plan to transform Waiheke Island into the first electric vehicle only residential island in the world was announced and is expected to be implemented by 2030. This would bring economical and environmental benefit says Vern Whitehead, spokesman Electric Island Waiheke. The roads are best suited for EVs which currently make around 1% of the vehicle population in the island. Importing used EVs for those who cannot afford a new one is expected to make the plan more probable. The vision is to not only have emission free vehicles but also to have lowest overall transportation cost in New Zealand.