December 2019: Monthly Electric Vehicle News Roundup
|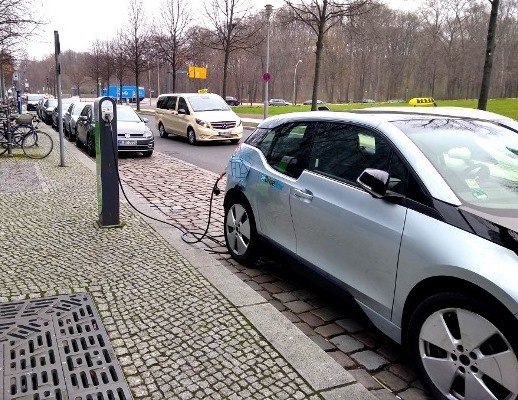 1. Delhi Government will Implement New EV Policy
Delhi CM has announced that the Delhi government aims to register at least 5 lakh EVs by 2024, to reduce air pollution. For this, the EV policy has been passed which will cover mostly two-wheelers and commercial vehicles. The Delhi government also aims to include 250 public charging and battery swapping stations for 35 thousand electric two, three and four-wheeler EVs for the last mile. Also, road tax and the registration fee has been waived for all EVs for the next 3 years. The e-rickshaw and the freighter will get an incentive of Rs 30000 per vehicle and an interest cess of 5 percent on the loan. The government will also create an EV board and an EV cell within the transport department, who will be responsible for implementing the policy.
2. Tata Nexon EV
The Tata Nexon electric vehicle will have a range of approximately 300 km, with a motor and battery warranty of 8 years. It will have a new technology ziptron power train and its price will be Rs. 15 lakhs and Rs 17 lakhs ex-showroom for the variants. The EV will be mainly powered by a motor delivering 129 hp and 254 Nm maximum torque. It will have a 28.8 kwh battery pack. A DC fast charger will charge 80% in one hour while a standard AC charger will take 8-9 hours for a 100% charge. Tata Motor will appear in traditional sizes like the traditional ICE-powered cars of Tata. It will comply with IP67 (dust and waterproof) standard.
3. MG ZS EV received a 5 stars rating
MGZS EV received a 5-star safety rating in the Euro NCAP crash test. This evaluation is a major boost to MG (Morris Garage). The Euro NCAP (European New Car Assessment Program) determines the safety rating of a vehicle after several tests, which represents simple real-life accident scenarios in a simple way. ZS EV scored 90% in the adult occupant category while 85% in the child occupant section. The ZS EV comes in Ferris White, Copenhagen blue and current Red colors. It is also available in excite and exclusive variants. It costs up to Rs. 20 lakh. MG Motor India has started accepting bookings for ZS EV vehicles in Delhi, Mumbai, Ahmedabad, Bangalore, and Hyderabad with an initial amount of Rs 50,000.
4. Canadian EV Start-up is expanding into India
To promote the latest EV policy announced by the Government of India, The Maker Max Systems is a start-up dedicated to advanced lithium battery technologies and online EV education. It is expanding operations with new products and services in India. The recently launched product, the desktop model, battery pack and BMS developers of the AI-enabled battery analyzer CCAX4 for R&D labs, is indigenously developed and comes at a fraction of the cost of the imported equivalent. Maker MAX states that the CCAX4 is a state-of-the-art tool at a cost system cost, which helps predict the useful life of the battery.
5. India is promoting EV ecosystem
To promote the EV ecosystem in India, incubator and accelerator firm Huddle and early-stage venture capital firm GrowX venture both have announced an acceleration program for EV start-up in which RAC Energy and SAIL Propulsion have been selected for the first bench of the program. Huddle has evaluated more than 170 start-ups operating in the electric vehicle landscape. This includes working in the field of charging infrastructure, battery swapping, micro-mobility, data analytics, and electric vehicle components. Huddle said that the selected start-ups will reach out to other partner companies after having dedicated mentors, seed funding, business development opportunities, and relevant pilot testing facilities.
6. Benling India's electric scooter comes on the market
Benling India has unveiled its new electric scooter aura, which will come out for sale in the first quarter of 2020. Benling India has launched three low speed models, which are kriti Icon and falcon. For aura, the company claims that it will be sold on the high-speed segment. Benling Aura is equipped with a breakdown smart assistance system (BSAS), which restarts the scooter and continues running even after the system is broken. It draws power from a 2500 BLDC electric motor combined with a detachable 72V / 40Ah lithium ion battery, which runs to a range of 120 km on a single charge.
7. Hyundai is making new investments for EV
Hyundai Motor Co. will make $ 17 billion in the coming 6 years to help create new technology to switch electric and autonomous vehicles. Hyundai's investment is part of an increase in spending that combines lower emissions, battery-powered vehicles with rivals around the world for an expensive future. According to Hyundai, if they succeed, more profitable business of 5% in the global market share will be planned in 2025. Most car manufacturers are going in this direction. Hyundai wants to increase its operating margin by 8% by 2025. Hyundai also said that it plans to buy back 308 billion shares by early March.
8. EESL will issue tender for the e-luxury car
State-run Energy Efficiency Services Limited (EESL) has called for a tender for the purchase of electric luxury cars. It is planned to be leased to cab aggregators such as Ola and Uber. EESL can go for small procurement of two hundred cars, which can be used in the shared-mobility segment. A proposal has been sent to Ola and Uber to lease 50 cars from each aggregator. Both Ola and Uber refused to comment on the development. EESL is also hoping to buy these cars by the Central Ministry and PSUs.
9. The government runs a "Go Electric" campaign
To promote e-mobility, the central government has decided to license the EV charging station. Now any interested person can set up a charging station for their EV. BBE (Bureau of energy efficiency) has been appointed as the nodal agency to promote EV charging station. Under this, in the first step, BEE has launched a "Go electric" campaign to promote electric vehicles in all states. The BEE has requested for active participation of the campaign to create the infrastructure for the charging station. For this, the central government is aiming to commission electric three-wheelers in the country by 2023 and to make electric two-wheelers by 2025. The government will allow any person or institution to set up a charging station and ensure power connectivity to the distribution company concerned.
10. Hyundai starts V2V facility for EV
Hyundai introduced the first EV KONA electric in the market, currently priced at Rs. 23.71 lakhs (X – showroom pan India). It has sold 302 bookings and 231 units. Hyundai has launched a new and first vehicle to vehicles (V2V) facility to increase customer confidence. This V2V facility gives Hyundai EV customers the option to charge their KONA EV anytime. Hyundai will send an EV to your location. Additionally, Hyundai has also installed AC 7.2 kW charger for all its 15 dealerships, which is spread over 11 cities. Hyundai is working on a smaller and more affordable EV keeping the Indian market in mind.
11. Mercedes and Audi also enter in EV market in India
In 2020, two German luxury car manufacturers – Mercedes and Audi – will enter the electric vehicle market with a launch in India, as it can take part in green mobility. They will test the water with the limited launch. Manufacturers of E class and S class own several zero-emission electric vehicles (EV). Rival Audi has rescheduled the launch of the company's first all-electric SUV, the E-Tron, from Q4 2019 to 2020. Powered by a 300 kw (408ps) battery, the five-seater luxury SUV boasts a driving range of around 250 km in full charge and a top speed of 200 kmph. The price of the e-Tron is expected to be more than Rs 1 crore.
12. Turkey is also moving towards EV
EV's popularity in the world, as well as Turkey, is increasing. Turkey is projected to bring about 2.5 million electric cars to the country by 2030. Also, the number of electric charging stations is expected to increase to 1 million. According to a report by the SHORA Energy Transition Center, 154 out of every 1000 people currently own a vehicle in Turkey. Given the estimated population of Turkey, 300 people out of every 1000 are expected to own a vehicle. Currently, Turkey has 1500 electric vehicles and more than 1000 charging stations. The overall demand for electricity in Turkey is also expected to increase by 5% due to increased electric car demand and EV will also have potential in the power distribution network, if the projected investment is real.
13. LS Power will acquire EVgo
LS Power has added EVgo's electric vehicles public fast charger to the power plant and its business. The set up of an undisclosed sum under an acquisition supports the company in a new stage of EVgo's evolution, which is willing to put lots of capital for the work of energy infrastructure that moves the grid in a more flexible direction. The company has stated that EVgo will be an independent brand within LS Power's portfolio. EVgo started life at NRG in 2010 under Power Producer. NRG is responsible for investing in a public charging station.
14. VW will bring 34 electric car models in 2020
Volkswagen (VW) will introduce 34 vehicle models in 2020 as automakers enter the electric car market. This model will also include eight electric and hybrid vehicles. The company has not specified all its 34 models. VW will start selling Electric ID next summer and then electric SUV ID. It will be the largest electric offensive in the automotive industry. For the first time, VW ID family will make emission-free mobility accessible to many people. This is the new VW. VW is currently expanding its plant in Chattanonga Tennessee where it produces Passat and Atlas.
15. Hyundai will buy the battery from SK Innovation
Hyundai Motors and Kia Motors have decided to buy the Secure Electric Vehicle Battery from SK Innovation together for the next four to five years. Hyundai Motor has said that by October 2025 it will launch its 16 electric vehicle models. The goal is to increase the sales of electric vehicles up to 560000. This would be the level that would be more than 10% of the estimated global sales for this year. Hyundai Company is making innovative efforts for the continuous electric vehicle. This is a good sign for the electric market.
16. VW's EV charger will work on the robot concept
VW's robot will roam in parking garages or other areas in search of electric cars. The robot will be called through the app which will automatically charge the cars. A mixture of cameras, lasers and other sensors will be used to navigate the robot. VW wants to change the way EV charging stations work and bring them to you. VW reported that this robot would recharge the electric vehicle using an on-board battery supply called the battery wagon and then set its way to find new cars for charge. The combination of these systems only allows the robot to complete the process of charging fully autonomously.
17. Kia Motor is also serious for EV
Kia motors are also getting serious about electric cars. The Korean automaker is set to launch its first electric car based on a clean sheet design after launching a pair of electric models based on existing small hatchbacks. The car will be similar in size to compact models such as the VW Grolf or Kia's Fort, meaning it will compete with VW's upcoming compact electric cars. Kia's new electric car will be based on the Imagine concept. With Kia allocating more cars to Europe in anticipation of strict emission standards. But the only Kia electric car sold in the US is the Niro EV.