TESLA to Set Up Factory in China
|
Tesla is all set to open its new electric car production plant and that too the first time outside the US in Shanghai. This announcement was made on Tuesday by Elon Musk, the chief executive from the city.  The vision is to produce 500,000 cars per year from this new auto plant, which will take the company's overall global manufacturing capacity to 1m vehicles a year. Whereas an estimation says most automotive factories are set to generate 200,000 to 300,000 a year.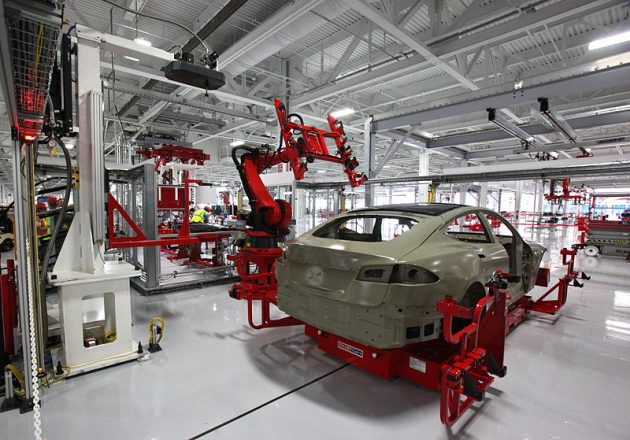 This newly proposed move by Tesla has been welcomed by the Shanghai municipal government. This move is not all about investing in a new factory in the city, but also there is an equal investment in research and development. It also says that there will be a proper support in the construction of the Tesla factory as there will be a help in the capital costs.
To catch more of capital and talent to be funded in advanced electric vehicle technology by global automakers, China has made a long push in it and Shanghai is also one of the centres of the automotive industry of China.
After two years after the construction will begin on the factory, there would be a roll of the first cars of the Shanghai production line, said Tesla. The aim is to ramp up the production to 500,000 vehicles a year after two to three years later. This is the plan which will approximately match the planned output at Tesla's current Fremont, California factory.
As a result of the new 25% tariffs commanded by the Chinese government which is in revenge for Donald Trump's increase in duties on Chinese goods, there has been an announcement of the price of Teslas made at Company's US factory to be sold at China.
To help sustain its position in the country, Tesla had been involved in the protracted negotiations to open up a Chinese factory.
The world's largest auto market is located in China and according to a survey, it has sold more than 28m vehicles last year. Not only this, by 2025, the annual sales are projected to top 35m. China is also the world's largest market for electric vehicles as per the new rules and regulations. By 2030, China is all set to have 100% electric vehicles.
Tesla has recently hit a target i.e. of 5,000-a-week production motive for its Model 3. The configuration of this model has only been opened up to those who have reserved their vehicles in advance. Out of which more than 450,000 buyers have to make a deposit of $2,500 (£1,886).
The factory aims at working in the alluring Chinese market and this would be the second assembly plant by the automakers. On Tuesday, an announcement was made by the Shanghai Municipal People's Government and Tesla about their signed cooperative agreement.
Last year, Tesla mentioned the possibility of establishing a factory in the region, it has worked a lot with the Shanghai municipal government. The construction of the factory- Gigafactory 3 is all set to begin in the future after all the mandatory permits and approvals. This was told by Tesla spokesman to TechCrunch in an emailed statement.
Musk told that Tesla will be cash-flow most probably this year. According to predictions made by analysts, the company's capital will be raised to such a level that it will fund a list of lot new projects that include a pickup truck, an electric semi truck, and a compact SUV as well as new vehicle production and new battery facilities that Musk has stated for Europe and China.