Economic Importance of Xylia xylocarpa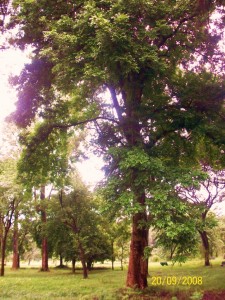 Family: Fabaceae
Genus: Xylia
Species: X. xylocarpa
Common name:  Jambu, irul, pyinkado
Origin:  India
Description:  Medium to large deciduous tree. Leaves with one pair of pinnae at the end of common petioles, leaflets2-6 pair, oblong acuminate. Flowers pale- yellow wetly scented in long pedunculate globose heads. Seeds ovoid, compressed, brown, smooth and polished.
Economic Importance:
The wood is difficult to season and is prone to surface cracking, splitting and warping. It is an extremely durable wood. It is a heavy constructional timber for railway sleepers, bridges, piles, girders, and decking, mine work and pit- props, wagon floor boards and general utility work. It is also used for making agricultural implements, boat-building and tool handles. Locally, it is used in house construction work for posts, beams and rafters, fence posts etc.
A good substitute for sal and Teak for beams, house construction.
Wood lasts well under water, it yields material for pulp.
It is largely used for fuel and manufacture of charcoal.
Decoction of bark given in gonorrhoea and diarrhoea; also used to stop vomiting and as a vermifuge. Fruits yield fatty oil. Leaves used as manure.
About The Author
heythisispuskar
Editor in chief @GreenCleanGuide.com