eMotion Motors Launches Surge: India's First Geared Electric Bike
|
eMotion Motors, which is a Tamil Nadu based company has launched India's first geared electric motorcycle commonly known as Surge. This new model challenges to have all new 40 brand new features specially designed for Indian roads.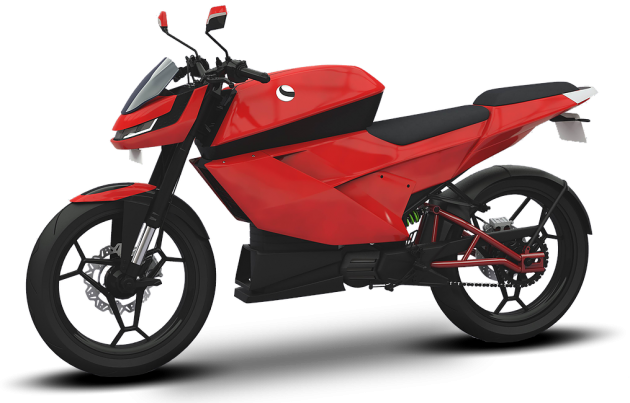 In 2011, eMotion Motors was set up by Pranav Singanapalli. At the time of its inception, it was a startup which aimed at combining the intensity for high-performance vehicles with an innovative desire for clean and efficient energy sources.
The motion is powered electrically and this is how eMotion derived its name. Also, it refers to emotions that differentiate humans from robots. Pranav said that their primary emphasis is on how good their products are for their customers, and they lay a foundation on how to connect with the people with their products. They don't look at products based on their specifications.
eMotion Motors is all set to uncover its first look and pre-production prototype of the electric motorcycle- Surge and it's operating under the radar. In October 2016, at the Vibrant Gujarat Startup Summit, Pranav showcased the first prototype before Surge, which attained the charging time of 1.5 hours and had a maximum speed of 92 kmph. Moreover, it offered a quite good range of 78 km per charge on road.
Initially, Surge will be available in public in two variations- a rapid acceleration of 0-60Km/hr in less than four seconds and a top alternative clocking a top speed of 120Km/hr. This bike will give astonishing features to people like Mobile phone integration, LED Backlit Display, Cloud connectivity, GPS Navigation, and IOT features for more enhanced user experience.
Pranav added that Surge's motto is 'design for desirability', which states that each and every characteristic added to the vehicle is based on the rider and environment's need.
Surge: Specifications
Acceleration and Top speed  : 0 to 60 kmph in less than 4s 120 kmph
Range: 200 kms
Battery: Li-ion battery with a battery life of over 1 lakh kms.
Quick charging time of 30 minutes.
Gearbox: A 4-speed wide ratio, semi-automatic gearbox
Features
A quite user-friendly navigation system
Swanky auto ambient Adjustment Headlight
Reverse:  The User can easily manoeuvre in narrow roads and while parking
Comfortable backup system that can back up user profile and settings to cloud
Solar Cells – For charging the Auxiliary systems, your bike gets the energy from the Sun.
Although a lot of promotions are created around EVs, there is a big struggle faced by the Indian government to frame proper and clear guidelines for electric vehicles.
There are a plethora of concerns about its exposed features, low range, and low power provided. Apart from having benefits giving less or no pollution, there are many concerns of settling up charging infrastructure.
It seems that there was sufficient encouragement given to Indian startup brigade to bring such a transformation on Indian roads. Apart from eMotion Motors, there are multitudinous other startups that have initiated the two-wheeler EV bandwagon and that are- Hero Electric Cruz, Avon E Scoot, Ather Energy, Hero Electric Optima, and Emflux Motors.
Incepted in 2011, eMotion Motors acts as a leader in high-performance electric vehicles launched in India. eMotion Motors strive for desirability, not reliability. They love facing new challenges and their vision is design-centric, not specification-centric. eMotion Motors is customer based who believes in providing thrilling riding experience to its customers thereby protecting the environment at the same time. eMotion Motors mission is to develop electric vehicles in such a way that it becomes as fast as any other conventional vehicle. Its objective is to combine performance, technology, and love for the environment. Basic focus is on developing humanity in the race towards an eco-friendly future.