Meet the T-Log: Driverless, Electric Truck
|
Einride, a Swedish self-driving truck startup has come up with another attractive prototype. This is the company's first independent offering and its named T-Log, which is completely electric and driverless. T-Log lacks a front cab which is particularly for human drivers. The new T-Log is not like T-Pod as it provides off-roading capabilities. The Verge reported that this model is basically designed for one specific purpose that is hauling tons of gigantic tree logs.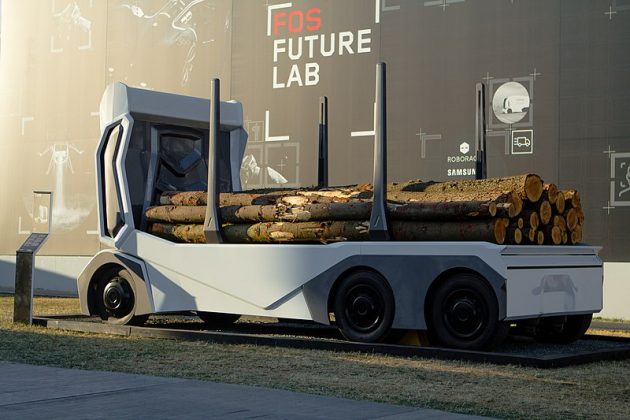 At the UK's Goodwood Festival on Thursday, T-Log was proven more powerful than the T-Pod and it is designed in a way that it carries up to 16 tons of cargo. Moreover, it's an impeccable vehicle for uneven and dense roads. It is quite suitable for logging purposes.
Now, what makes everyone astonished is that how a truck with no human driver can manage on dirt and gravel roads. This is all because of a sequence of mapping data, sophisticated sensors, and deep learning capabilities which is present in all self-driving vehicles which takes all the driving responsibilities. Apart from this, mostly all the operators will adhere to highly predictable environments such as suburban communities with signage and robust roads.
It uses Nvidia's self-driving software to deliver Level 4 driving that means totally driverless within a set area, says the company. Remote operations can also control the trucks, which is located hundreds of miles away and uses Phantom Auto's teleoperation technology. The phantom Auto's teleoperation technology helps Einride defeat the hurdles which come from off-road driving.
Einride says that there is more hauling capacity due to lack of cabs and also more efficiency out of the vehicle's all-electric motor. T-Log provides up to 120 miles of driving range as it has a 300kWh battery. Till 2020, there will be no displaying of look at the heavy haulier as by then the vehicle will hit the public roads. To enhance the efficiency of this self-driving truck, one operator could be handling it as an in charge of multiple trucks.
The trucking sector would be the first industry to be influenced by autonomous driving, said the experts. Einride has a farther vision of dealing with heavy-duty cargo and off-roading.
Through a teleoperation system which is designed by Phantom Auto, T-Log is controlled that operates over 4G connections with the least latency. There will be definitely more room for lower production and operating costs, cargo, maintenance costs as there will be no driver's cab.
It is a 16-ton truck that runs using onboard batteries having 300 kWh power that provides a range of 120 fully-loaded miles per charge i.e. 193 km. Einride states that several global companies have shown great interest in T-Log trucks.
https://www.youtube.com/watch?v=XkPCHsi6nLA