Energy Efficiency Reasons You Should Buy a New Home
|
When you're in the market for a home, everything you look at is technically new to you. Whether it's a century-old farmhouse or a completely modern build from this year, you've never seen it before, making it a brand new option in your search for the perfect space. But if you're on the hunt for a home that's energy-efficient, you'll want to limit that new home search to one that's actually verifiably new.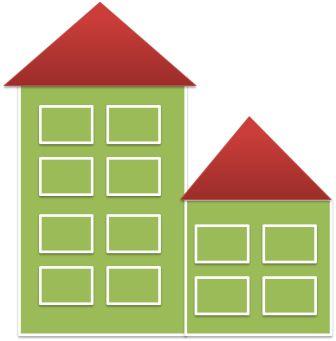 Modern building techniques and materials are better for the earth in many ways; here are nine of them:
Modern, Made-to-Order Floor Plans
Not all floor plans are created equal — as someone in the market for a new home, you already know this. And, while a modern, open floor plan has many visually appealing assets, the ability to customize can make your home that much greener.
So, if you want to make your home as energy-efficient as possible, designing and building your own structure (with the help of a professional builder, of course) is perhaps the best course of action. More open spaces allow for a better flow of air and often let in more natural light and heat than compartmentalized living. Along with the perfect layout, you can also customize other details we'll get to later, like the appliances, windows, building materials, etc.
Once upon a time, builders installed all brand-new building materials when constructing a home. Today's market begs for a bit of variety in the form of eco-friendly, energy-efficient materials that simply weren't on the market when older homes were built.
Take, for example, the flooring in a home. Twenty years ago, hardwood flooring was the most sought-after option, especially brand new hardwoods with a slick of polyurethane to keep everything shiny and imperfection-free. Today's homebuyer still loves wood flooring, of course, but also realizes the beauty in reclaimed or resurfaced floors that, while imperfect, are way more eco-friendly and energy-efficient to reuse, rather than destroy and replace.
The same goes for windows. Older homes feature single-pane glass, which are notorious for letting warmth out in winter and coolness out in summer. Today's builds come with double or even triple-pane glass, a much stronger barrier against the outside air. With a newer home, then, you won't have to come up ways to keep cold air out — your house will do the legwork for you.
Improved Building Techniques
Along with improved materials come enhanced building techniques in newer homes. Depending on the age of the older homes you're considering, today's construction methods could be completely revolutionary in comparison to the way decades-old properties have been built.
Something as simple as the foundation could make a huge difference in the efficiency of your home. Newer homes are better insulation in the walls and attics than older homes. Additionally,
Another boon to new-build living is the technology encapsulated by your new abode. Inside, you'll often find upgrades that make your life much more energy-efficient. A perfect example of this is the upgraded air-conditioning and heating system that's sure to come with your new home, and even garage doors are more insulated. There are further energy efficient options for heating and cooling, such as installing geothermal energy that has a high upfront cost, but can save lots of money and better the environment down the line.
Additionally, newer homes have better electrical systems than older homes. Typically, houses built in the 1800s and early 1900s will only service 100 amps, 125 amps or 150 amps. Homes built more recently typically have a 200 amp system, and buying and older home may also necessitate an update in the electrical work that a newer home would not require.
Today's models run much more efficiently than older systems, whether they're central air-conditioning and heating systems or window-based units. On top of that, you'll find modern HVAC units do a better job at filtering the air, thus improving the quality of the air you breathe in and out each day. If you have allergies, this is even more of a benefit to buying a new home as opposed to an old one.
Green Appliances Often Included
Here's another feature that tends to come standard in a new home: green, eco-friendly and energy-efficient appliances. Most builders will choose appliances from the Energy Star list, which reach the highest standard of energy efficiency in order to make the cut.
In conjunction with the other green systems in your home, including the aforementioned HVAC system, for example, these appliances will make a big difference in your home's overall energy usage. Your slashed utility bills alone will validate your choice to move into a new build as opposed to an old one.
Of course, there are more ways to make sure you're running your appliances in the most energy-efficient way, even if they're not Energy Star preferred. For example, be sure to fill your dishwasher and washing machine all of the way before running them, so you get all of your energy's worth for each load. This and other energy-efficient methods will help you make your home work best for you, especially if it's built with a green lifestyle in mind.
Solar-Friendly Design and Placement
Older homes weren't built with the potential for solar power in mind. Today's homes, though, come with the potential to reap all of the energy-efficient benefits that the earth has to offer. That includes the addition of solar panels to power your home's electricity or heating and cooling systems, for example.
The only requirement of your builder is that your home is situated in a way that solar panels placed on the roof can capture the maximum amount of sunlight. He or she will have to consider the local climate, as well as the way the sun rises and sets. With this information in mind, he or she can help you choose a good lot for solar panels and situate your home so that it catches the sun's strongest rays — and then uses them to power your home's electrical grid.
Less Future Maintenance
Newer homes are typically built with more durable, time-tested materials. As such, you won't have to replace many parts of your home over the years due to damage, thus saving resources, labor and the energy required to complete the project.
On the other hand, older homes were built with the best of intentions, but time has shown many materials used previously to be susceptible to damage. The use of wood trim on the exterior of your home, for example, puts you at risk of having to replace rotten or insect-ridden material. This costs a lot of money and requires more wood to be used until, of course, that addition rots in the future, too.
Today's builders have seen the mistakes of their predecessors and have tried to fix that by building homes that require little maintenance in the near and far-off future. Durable materials and finishes keep structures both inside and outside of your home looking fresh for years — and saving you the time, energy and resources that come with constant repairs.
Everything's Under Warranty
Today's builders want to make life easier for their potential buyers — they've made that clear by incorporating energy-efficient products and building materials in their designs. But they take things a step further and offer protection that doesn't come with an old-school home: warranties on their homes that allow you to fix and replace anything broken within a set time frame.
This is great if you've purchased your home to be an energy-efficient addition to your lifestyle. Imagine if one of your new appliances wasn't functioning properly, using more resources than necessary to perform its given function. Without personal funds to repair or replace it, you might not be able to afford the energy-efficient model you bought into.
A warranty protects you from this sort of disappointment. Instead, your builder will come in — or send an expert — to fix what has broken within a set timeframe after your move-in. That way, your home performs just as you imagined it would. As an added bonus, this applies to the building materials used if they're damaged, too.
Safety Improves, Too
As if energy efficiency isn't enough, the materials and appliances with which your new home is outfitted will all improve the safety of your abode, too. Pre-wired alarm systems constantly watch over your property, calling the police or fire department in case of emergencies. Your garage monitor, outfitted with an invisible laser, watches for and stops with the slightest movement to protect whoever is in the way of the closing door.
But your energy efficient additions make your home safer, too. Along with the previously mentioned improvement of air quality, your home's HVAC system will use environmentally friendly coolants instead of the old-school ones that damage the earth. Built-in circuit breakers keep the energy running smoothly and safely throughout your home. And green building materials give off fewer toxins, further improving the air quality inside of your property.
There's no better feeling than living somewhere that's just as safe for you as it is for the world around you. A new home offers both of those must-haves in a package that's modern, beautiful and perhaps even custom-crafted to your needs. So, as you decide where you'll move next, make sure new construction is at the top of your list of potential homes — your family and the world-at-large will thank you.
Author's Bio:
Emily Folk is a freelance writer and blogger on conservation and sustainability. To see her latest posts, check out her blog, Conservation Folks, or follow her on Twitter, @emilysfolk!