Environmental Jurisprudence in India -Part 1
|
The causes of environmental problems are manifold. Some of them are a direct result of unfavourable negative impacts of various developmental activities while some arise due to lack of development itself. These maybe at the global level such as global warming and climate change, at local level due to failure of environmental safeguards and their implementation in projects which lead to pollution (air, water, noise etc).
"The Supreme Court has held that the right to life as enshrined in Article 21 means something more than survival or animal existence and would include the right to live with human dignity. It would include the right to minimum subsistence allowance during suspension and all those aspects which go to make a man's life meaningful, complete and worth living."(Ref. Basu D.D)
This has been asserted time and again by the judiciary. The right to environment is thus enshrined in the basic framework of law of each and every country; various laws and checks have been put in place however either by way of local laws or international treaties to guarantee a clean environment to the people. Every person must have a basic understanding of the rights and laws to which he is entitled without which he will never succeed in the pursuit of happiness.
History of Environmental Conservation
Indus Valley Civilization- No direct evidence of environmental conservation measures but the people of Harappa did not ignore the environment completely. This is evident through the planned cities with uniform urban planning, carefully executed layout, water supply & drainage etc.
Aryans- Mentioned in religious scriptures; numerous mantras in Vedas are in the form of prayers for the environment- 'Prayers for peace in universe and says that the earth should be peaceful, herbs should be peaceful, vegetation should be peaceful, in fact he prays that peace should also be peaceful.' 
Mauryan period- Regular and independent Forest Department at the time of Chandragupta Maurya; it also find mention in Kautilya's arthashastra; Wildlife sanctuaries & protection find mention; the hierarchy was as follows: (1) Pashuvan (Game Forest), (2) Mrigvan (Deer Forest), (3) Dravyavan (Productive Forest), (4) Hastivan (Elephant Forest)
Gupta Period- The Gupta Kings were also concerned about the state of forests and wildlife.
Many acts were promulgated from 1897 onwards such as the Indian Fisheries act, Bengal & Bombay Smoke Nuisance Acts, AP Agri, Pest & Diseases Act, The Factories Act, and Orissa River Pollution & Prevention Act.
1900-47- Severe and unheeded exploitation of natural resources without much consideration of ecological consequences.
1947- 1970- The priority was industrial development and Environment was not the major concern; National Parks & Wildlife Sanctuaries were set up but with a bias towards timber yield & revenue generation; private forest under govt. control.
1970 and thereafter- It marked the beginning of environmental movement and various legislations were drafted for the protection of the environment; several international treaties and legislations also came into being to stress on the need to protect the environment. Some of these were -The Stockholm Conference, 1972; The Water (Prevention and Control of Pollution) Act, 1974; The Forest (Conservation) Act,          1980; The Air (Prevention and Control of Pollution) Act, 1981; Establishment of Ministry of Environment & Forests; The Environment (Protection) Act, 1986; The Rio Conference, 1992; Convention on Biodiversity (CBD); Basal Convention on the Transboundary Movement of Hazardous Wastes; Ramsar Convention on Wetlands of International importance; National Environment Policy 2006; Environmental Impact Assessment Notification 2006.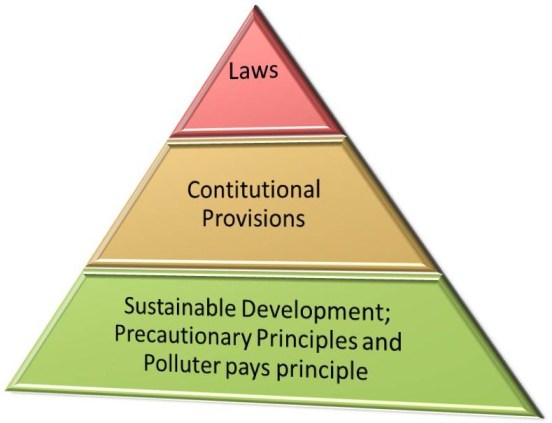 Hierarchy of Environmental Jurisprudence in India
In India, there are several structures right from the Constitution that help in protecting the environment. These hierarchical levels are explained in the pyramid.
The legislative framework is provided by the following acts and laws
Constitutional provisions
General laws – IPC, CrPC
Special acts – more than 300 acts such as IFA, WPA, EPA, Air Act, Water Act, FCA, the Public Liability Insurance Act, the National Environmental Tribunal Act, the National Environmental Appellate Authority Act, National Green Tribunal 2009
Policies – National Environment Policy 2006, National Forest Policy, National Agriculture Policy
 Administrative framework consists of the various enforcement agencies such as
MoEF-  nodal ministry for environment which sets environmental standards
Several enforcement agencies – Central Pollution Control Board, National River Conservation Authority, National Afforestation & Eco Development Board, Department of Wasteland Development
The National Green Tribunal Bill: Will decide all cases where a substantial portion relates to environment, conservation of forest and natural resources.It will have four circuit benches and will consist of a Chairperson, Judicial and Expert members.  It will apply principles of sustainability, precautionary principle and polluter pays principle. Penalty can be 3 yrs of jail or fine of up to Rs.10 crores (Rs. 25 crores in case of company) or both with additional fine of Rs. 25,000 for every day.  India becomes the third nation after Australia and New Zealand to have such specialized benches.
The Constitution is full of various provisions that serve as a bedrock for framing the environmental laws and policies for India. The 42nd amendment in particular was the first instance which highlighted the importance of environment. The provisions are in the form of;
Fundamental Rights (Arts. 21, 32 & 226)
Article 21- '' No person shall be deprived of his life or personal liberty except according to procedure established by law.'' As already discussed, it also includes the right to environment, most of the PIL's are due to this interpretation of Article 21.
Article 32 & 226- Right to Constitutional remedies.
Directive Principles of the State Policy (Arts. 47, 48A & 49)
Article 47: The State shall endeavour to raise the level of nutrition and standard of living and to improve public health.
Article 48A: To protect and improve the natural environment and to safeguards forests and wildlife.
Article 49- To protect and maintain places of artistic and historic interest.
Fundamental Duties (Art. 51A(g))
To protect and improve the natural environment including forests, lakes, rivers and wild life, and to have compassion for living creatures