How wheatgrass juice can work wonders for your health
|
If there is something that the Covid-19 pandemic has taught people across the globe it is the importance of good immunity. As medical research has indicated those with co-morbid conditions like diabetes, hypertension, lung diseases and cancer are more vulnerable to the deadly disease. The pandemic has led to a global interest in ways in which one can boost their immunity. The gravitation towards immunity-boosting foods has sprung up many names which are commonly available in several kitchen gardens and include wheatgrass. Before wheatgrass became popular as a superfood and was included in several health shakes, it was widely used in Ayurvedic medicines. The ancient medicinal practice recommends the usage of wheatgrass powder and juice for treating several chronic diseases.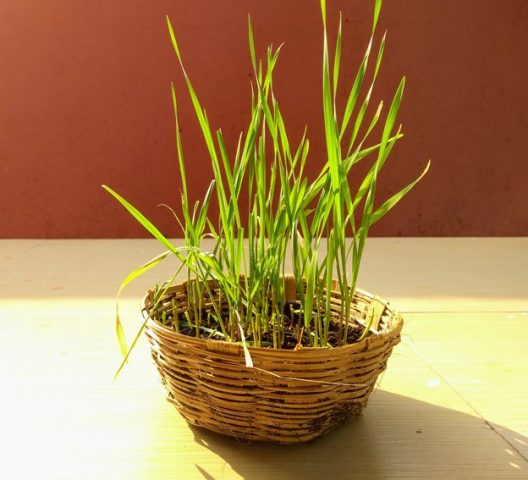 It is from the genus Agropyron and belongs to the wheat family. It's two most popular varieties are crest wheatgrass (Agropyron cristatum) and desert wheatgrass (Agropyron desertorum). The reason why wheatgrass is considered to be good for one's immunity is that it has a higher content of chlorophyll than other common green vegetables. It not only helps boost your immunity but also strengthen blood cells. Being rich in vitamins like A, E, B12, and B5, it improves both physical and mental wellbeing.
If you add a glass of wheatgrass juice to your daily diet, there are many other health benefits that you will experience. For starters, it is rich in enzymes, calcium, potassium, phytonutrients, and antioxidants which make it great for digestion and flushing out toxins out of your systems. Next, it is also good for your metabolism and is helpful for those trying to control their cholesterol. The chlorophyll molecule present in wheatgrass is similar to hemoglobin and thereby helps you get rid of hypertension. In fact, a 2015 study claimed that wheatgrass can help provide relief from the side-effects of chemotherapy. While wheatgrass is available in the form of tablets, supplements, and powder, but there is nothing like a glassful of fresh wheatgrass juice to give you that extra kick of energy. 
If your regular supermarket doesn't sell wheatgrass, you can easily grow it at home. All you would need a 10×10 inch growing tray and wheatgrass seeds. For starters, sprout the seeds and by soaking them in a bowl of water until they grow tails. Next, add about an inch of soil in the tray in which you plan to grow wheatgrass and moisten the soil. Avoid overwatering, as it might lead to puddles. Now, sprinkle the seeds on the soil and then cover them with some more soil. Cover the dish using a plastic lid with holes and put the tray under direct sunlight to create a greenhouse effect. While doing this, please ensure that the lid is at least one or two inches above the soil. Water the wheatgrass daily and remove the lid after four days or when the grass is about two inches in height. To avoid overwatering using a spray bottle to moisten the plant bed. Ideally, the grass can be harvested once it is around four to six inches long.
To squeeze out the juice, just cut and wash the wheatgrass and blitz it in your juicer while adding water for the required consistency. A lot of people don't like the taste of the juice and hence are often hesitant to try it out. But don't let just taste keep you away from the plethora of health benefits that come by consuming this superfood. If you are not keen on wheatgrass juice, you can also experiment with it. Here are a few recipes to make consuming wheatgrass juice more fun:
Wheatgrass latte: This can also make for a nice breakfast addition. Just add soy or almond milk to wheatgrass juice along with any sweetener of your choice and blitz in a mixer. You can adjust the consistency of the latte or its sweetness according to your preference.
Wheatgrass choco-chip smoothie: There is little that cannot be set right with a little bit of chocolate and wheatgrass is no different. To make this smoothie, you need any plant-based milk, a frozen banana, spinach, avocado, cacao nibs and some wheatgrass juice. Blend it all together and you have your wheatgrass choco-chip smoothie ready.
Mixed juice: Alternatively, you can blend wheatgrass and any fruit of your choice to make a mixed fruit juice for yourself. Tropical fruits like pineapple, green apples and vegetables like beetroots and carrots go well with wheatgrass.
There are other juices that you can try out if you want to add an immunity-boosting juice to your diet. For example, aloe vera juice has a host of health benefits that include clearer skin, a boost to the metabolism, and better immunity. You can either get the packaged aloe vera juice or make your own at home by growing the plant at home. Gooseberry or amla juice is yet another alternative to wheatgrass juice. Several brands offer packaged gooseberry juice these days. Making amla juice at home might be a bit tedious, but it is worth the health benefits you would be getting in exchange.
Disclaimer: The above article is not intended to offer medical advice. It is shared for information purposes. Consult a medical practitioner for any medical advice. Ayurvedic formulations should also be taken after consultation with a registered Ayush practitioner.