Hyundai Launches the Kona Electric Car in India
|
Hyundai, A South Korean manufacturer of the multinational automotive firm, headquartered in Seoul never ceases to amaze us, with its products. One of the foremost products of Hyundai is the Hyundai Kona, a premium electric SUV car.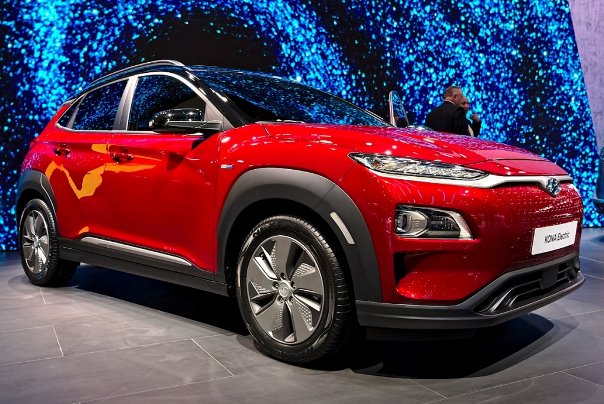 It is the world's first & premier zero-emission sub-compact car, with an unbelievable EPA-estimated range of around 258-260 miles. Hyundai has launched a lot of car models till now, amongst which the most breathtaking ones were Elantra, Creta, TUCSON and many more & Hyundai Kona is one of the best products amongst all. The car has already been launched in India on July 2019 and it is assembled in Hyundai's Chennai Plant. This versatile and powerful SUV car is devoted to providing a thrilling driving experience to its customers with a steep acceleration for long distances to the riders. The price of this extravagant car is almost Rs. 18Lakhs but it is worth it because of its 'complete peace of mind for customers' design.
The design of this SUV Electric car is marvellous. It's every element is versatile & purposeful. It is having a very bold design with swoopy windows but shorter height, it amazes us with sleek LED lighting & it's gorgeous sculpted shape. The interior of this car is designed just for your comfort. What makes it even more gorgeous is its great bridge-type centre console & button type shift by wire system. Other mesmerizing features added to the glory of its design include wireless phone charger, electric parking brake, air conditioning special (driver only), metal pedals, ventilated & heated seats & lumbar support to driver's seat.
The car is designed with advanced technologies to provide next-level safety to its customers. Its superior safety features include the usage of ultra-high tensile strength steel & its technology of offering high impact energy absorption which activates in the unwanted event of a collision. This awesome electric car is also having a virtual engine sound system, which generates sound to ensures pedestrian safety when the vehicle is moving. Other important features related to security & safety indulged in this car are electronic stability control, hill-start assist control, ISOFIX & it also has 6 airbags attached inside it. The vehicle stability management feature is an added advantage. Other feature includes the rider can use his/her smart phone without even touching them, using people Car Play and Android Auto. The car also includes an electric range of 258 miles which is powered by a powerful battery of 64 0-kWh battery system.
The battery of Hyundai Kona is built using lithium-ion polymer with a warrant of a lifetime. You will always get a portable charger along with the car. All you need to do is to plug in into your in-cable control box and use any of the normal sockets available at your home or office and thus can easily charge your car. The portable charger is around 2.8 kW whereas the AC wall charger will be of 7.2 KW. It will take almost 6.10 hours for complete charging, if you are using the AC WALL BOX CHARGER and 9 hours, if you are using a portable charger that comes along with the car.
It offers three beautiful driving modes which are the eco mode for maximizing the efficiency of the fuel while opting for ultra-energy saving mode, comfort mode which balances the efficiency of the fuel and the driving performance. And the third one is the sports mode which is opted for quick acceleration & driving. This electric car is available in five stunning colors which include polar white, typhoon silver, marine blue, phantom black & polar white with phantom black roof. Hyundai also provides 24X7 emergency roadside assistance with this electric car for a continuous period of 3 years, as well as 3 years unlimited kms warranty.
Hyundai Kona is having many advantages over the Mahindra E20 and Tata Tigor as well as other brands because of its awesome electric range with an incredible power of travelling up to 260 km without needing to be charged. & when charged, it can be charged in 54 minutes with a 75kW charger. This electric vehicle is having a standard rear view camera which helps in easy views while driving. The very exceptional cargo space inside the car makes it damn attractive as well as comfortable. The car is designed with very high-end technology and shows up a very powerful performance while equipped with a magnet motor. Being an electric car, it shows a great feature of its gas-powered trims which helps in solving the fuel economy subcompact crossover issues. This SUV is one of the outlandish cars from Hyundai.
Go in Style, Go electric with the electric Hyundai Kona.