Jakson Power Solutions gets solar projects worth Rs. 81 crore
|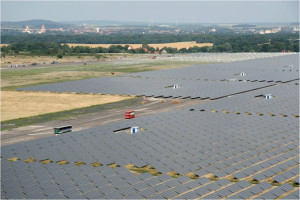 The order totalling Rs. 81 crore includes Solar EPC and solar inverter substations in Rajasthan and Andhra Pradesh for Refex Energy and a 10 MW solar plant in Orissa.
Sundeep Gupta, Joint Managing Director, Jakson Power Solutions, said, "We are proud of our technological strengths, which helped us bag these two prestigious orders.
Jakson Power had also been registered as a System Integrator with Chattisgarh State Renewable Energy Development Agency for 2013-2014 period.
Recently, the company was in the news for bagging two projects for setting up rooftop solar systems at Banagalore and Pune.
The orders included setting up of the 80 KWp solar rooftop unit with  battery backup at Karnataka State Disaster Management centre, Bangalore and 77.14 KWp, grid connect solar PV system without battery backup  for a hotel near Pune.  Pune based project will be commissioned by Aug 2013.
Reference-
Image credit: JUWI Group, available on Wikipedia