January 2020: Monthly Electric Vehicle News Roundup
|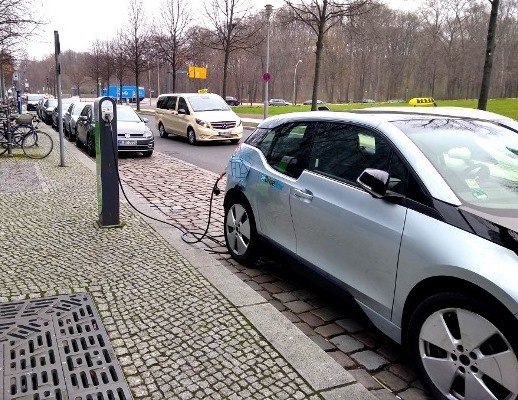 1. The First Electric Car Of Mazda
Mazda is a well known Japanese Company that is usually known for the manufacturing of Electric vehicles. Recently, the company made an Electric Car whose function is similar to a gas car. The company launched its first Electric car; MX-30 but due to the small battery range, the car received mixed reviews.
The new MX-30 contains 35.5kWh battery and this makes the car capable of delivering a power of 105kh (142hp) and 264 Nm of torque. The range of cars is quoted as 130 miles and the car takes a time of 9 seconds to accelerate from 0 to 60 mph.
2. Due To Single Charge Strategy Tesla has surpassed its competitors
Tesla has now become the most popular electric automobile maker in the world. Due to its single charging strategy, Tesla has become a top electric automobile company in the world. According to automobile experts, Tesla has taken more risks in comparison with traditional automobile maker because of the policy of making its batteries ever-denser and out of different materials than competitors. Recently, Tesla said that its Electric Cars are 10 times safer in comparison to any gas or fuel driven cars. Approximately, the all-electric vehicles of Tesla carry a 280-300 mile range. Presently, the company focuses on the manufacture of Electric Vehicle.
3. In US, Every Home is Ready For Electric Cars
Recently, the International Code Council (ICC) announced that in the US, every home is ready for Electric cars. In every home, at least one electric car is essential. The building standards organization gives guidelines for new homes that every home is ready for Electric Vehicle.
According to ICC (International Code Council) in 2030, the US wants 9.6 million electric charging ports. The organization said that at least one full-size EV in a single-family garage overnight. Multi-family buildings will need two spots, along with more that can be easily retrofitted, a standard known as "EV capable." Presently, the Electric Vehicle charging ports exist in Atlanta, Denver, Seattle, and California.
4. Mahindra's Main Focus is on Manufacturing of Electric Vehicles
Recently, Mahindra has announced that the company's focus is on the manufacture of electric vehicle for eco-friendly environment. The government of India also promotes electric vehicles and the government wants that the personal and commercial vehicles to be converted into electric vehicle. Goenka (MD of Mahinda and Mahindra Group) announced that the company is planning to launch its first electric four-wheeler vehicle KUV100 as soon as possible. The company had already launched a three-wheeler electric vehicle, Treo last year. Tata and Hyundai India have already launched electric vehicles-Nexon and Kona respectively. Mahindra announced that it has delivered 1,000 units of electric vehicles.
5. Sony is the Surprise Brand Of Electric Cars
Sony company is the surprise brand of electric cars. Presently, the company is looking to focus on electric cars and recently the company has launched an electric car. The car contains both the middle display and the one in front of the passenger seat are touch screens. It comes with climate control settings. The car can go from 0 to 60 miles per hour in about 4.5 seconds, the car contains two 200kW motors and the car's top speed is 149 miles per hour. The company wants to make more advanced electric vehicles.
6. In Maryland Potomac Edision Launches Electric Vehicle Charging Station
Recently, Potomac Edison launched Electric Vehicle Station, providing rebates for both residential and multifamily charger installations. Potomac Edison will install 59 charging stations, which will be available for public use throughout its Maryland service area. The program provides a $300 rebate for qualified Level 2 Electric Vehicle charging stations for residential customers and a 50 percent rebate for the cost of qualified Level 2 and DC Fast Charging stations at multifamily properties, up to %5,000. The pilot is intended to help Maryland utilities evaluate the benefits of Ev charging deployment while remaining cost-effective for customers and the electric vehicle offers a clean and eco-friendly environment.
7. In India, Government Will Establish 2,636 Electric Vehicles Charging Station
For the encouragement of electric vehicles, the Indian government will establish 2,636 electric vehicle charging station across India. These charging ports are spread across the 24 states and Union Territories. According to the government, the maximum EV charging station receives Maharashtra. The government wants to establish maximum EV charging ports in 2030. According to the CEO of Niti Aayog, Amitabh Kant- this charging station is available in a grid of 4km*4km in selected cities. To promote the usage of electric vehicles, the government has cut down customs duty on electric vehicles parts to 10-15 percent from 15-30 percent in last year.
8. The World's Cheapest Cars are coming in India
Presently, big brands of automobiles makers have made a shift towards manufacturing electric vehicles. China-Based Great Wall Motor are ready to launch the cheapest electric car in the world in India. The car contains a 35kW motor which delivers the maximum cruising range of 351km. The car's price starts at Rs 6.2 lakhs to Rs 8 lakhs. The company is looking for the right location for manufacturing of EV's in India. Last year in November, the company sold a total of 115,162 units. The Great Wall Motors came into being in 1984, and the company hit the headlines in 2016 when they set the record of selling 1,074,471 cars worldwide.
9. Nissan New Electric Car Feels Like a Sports Car
The Nissan New Electric Car e-40RCE is the latest Innovation. The company claims that this electric car gives a driving experience of premium sports cars. According to the company's Vice President, the car contains twin-motor all-wheel control technology which offers precise stability and handling and this gives drivers great excitement and confidence.
Nissan is using latest technology breaking from the front and rear motors to minimize vehicle pitch and dive. The same system makes for a smoother ride on rough road surfaces and for "less jostling" to occur in heavy city traffic. The company continues to add more features and technology.
10. Pawan Goenka says that EESL Electric Vehicle Is Not For Personal Use
Recently, Mahindra and Mahindra Managing Director announced that his EESL electric vehicle is not for personal use. EV's supplied to government are made by both Mahindra and Tata Motors. Both the companies supply their 10,000 units for the use of government officers but due to poor performance and low range, the officers refused to use the car, so the company closed the order at 3,000 units.
Then, Mahindra supplied its sedan e-Verito and Tata Motors sold its sedan Tigor to EESL. The company claimed that when a car is fully charged they give a range of 130 km. Both the cars
(Mahindra and Tata Motors) comes with a battery pack of 18 kilowatts.
11. In 2021, Mahindra to Launch Electric Vehicle XUV 300
Mahinda is now developing an electric version of XUV300. XUV300 Electric Vehicle will be launched in 2021 and the electric XUV300 will be a high-range vehicle aimed towards a personal use segment as compared to other products from the automaker's electric vehicle division that are geared towards shared mobility. The company also said that it will be the first product with battery cells developed exclusively for Indian applications that have been collaborating with Mahindra in the field of advanced lithium-ion battery technology.
12. Great Demand of Electric Vehicles in the UK
New car registrations in the U.K. fell by 2.4% in 2019, new figures from the Society of Motor Manufacturers and Traders (SMMT) show, with demand for new cars at a six-year low, according to the organization's chief executive. In addition to the 144% growth in battery electric vehicles, hybrid electric vehicle registrations increased by 17.2% to 97,850 units.
Electric vehicles are becoming the car of choice for an increasing number of drivers, but they do face challenges. According to the survey, petrol had a market share of 64.8%, while diesel's share was 25.2%.
13. Amply makes Electric Vehicle Charging Super Simple
Electric vehicles need carefully scheduled charging to ensure that they have sufficient charge for their duties. Running afoul of electric rates produces embarrassing outcomes that undermine the arguments for vehicle electrification. New startup Amply Power wants to resolve these complexities so fleet operators don't have to.
The rate of charging equipment will fall as the industry scales up. In the meantime, Amply helps customers track down grants and subsidies for zero-emission transportation, which bring down the out-of-pocket expense. To capitalize on an early start, Amply now has to prove it can execute on its initial contracts, while keeping costs low enough to be profitable.
14. Partnership of ABB Power Products and Ashok Leyland to Develop Electric Buses
ABB Power Products and Ashok Leyland announced a partnership for public electric mobility space with plans to develop electric buses. The companies aim to make a pilot electric bus which is based on flash-charge technology, TOSA, which tops up the battery in just a few seconds while passengers get on and off the bus.
The aim is to provide zero local emission mass public transportation bus system with high passenger capacity. The company is joining hands with ABB to use their world-renowned TOSA technology on e-buses to take forward the vision of expanding in the EV space.
15. Volkswagen will Hit 1m Electric Cars at The End Of 2023
Volkswagen has now become the world's largest automobile maker and presently they have also shifted towards manufacturing of Electric Vehicles. The company's manufacturer said that- the company will reach the target of 1 m electric cars by the end of 2023 and 1.5 m by the end of 2025.
Last year, the company produced more than 70,000 electric cars. Volkswagen will further try to increase the number of electric vehicles. The Volkswagen group released eight electric and hybrid models in 2020 through their brands such as as-Audi, Skoda and Seat and the company's main market is the EU.
16. Why Kia Motors Isn't Bringing Electric Vehicles to India
Manohar Bhatt, the Vice President of Kia Motors India said that Electric Vehicle is not an attractive proposition for customers today. And they also said that the company is ready for the manufacturing of electric vehicles but they only manufacture according to customers need.
KIA has sold nearly 45,000 units of the Seltos in just four months of its launch. And the KIA Carnival MPV will be launched in February 2020.
17. In 6 Years, BMW Sells Over 165,000 Units Of Electric Cars
BMW's first Electric Vehicle was launched in 2013 and the car's name was BMW i3, the car was specially made for the young and urban generation. According to the sales report of 2019, the company sold 165,000 units worldwide.
The latest and greatest upgrade came in the form of a BMW i3 120Ah with 153 miles (246 km). The car is made thought carbon fiber reinforced plastic (CFRP).
18. In 2019, only 1,309 Electric Cars sold in India
The sales figures of Electric cars in the India market is not good because in 2019, only 1,309 electric cars were sold in India. According to automobile industry data, the e-cars sales number doesn't match the hype, as only 1,309 units have sold in April to November of 2019.
Presently, In India only three automobiles companies involved in the manufacturing of electric cars, which are Tata Tigor EV, Hyundai Kona EV, and Mahindra e-Verito.
In the last eight months, Tata sold 491 units of electric vehicles, on the other hand, Mahindra e-Verito has sold 513 units during April-November of 2019. In the last eight months, the Mahindra sold only 25 units of electric vehicles.