July 2019: Monthly Electric Vehicle News Roundup
|
1. EVs is in the Priority List of India
Indian Government has clearly showed his genuine interest in promoting Electrical Vehicle Industry by announcing a handful lucrative incentives in Union Budget for EVs.
Some attractive Discount and exemption benefits for buying EVs and reduction tax benefits on goods and services have been introduced in the budget to attract customers and investors towards EVs industry to cut the cost of high-cost oil imports and unchecked pollution in many cities.
An investment of ₹10,000 crore has already been made in the second phase of the FAME 2 scheme(Faster Adoption and Manufacturing of Hybrid and Electric Vehicles) that started on 1 April, 2019. The NITI-Ayog has come up with a proposal to put a ban on the uses of internal combustion engine and three-wheelers in coming years. However, An appropriate EV ecosystem is still needed to be set up.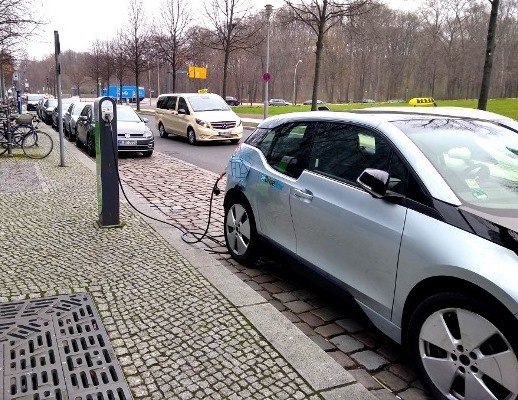 2. Electronic City gets a taste of Yulu Miracle
Yulu Miracle, the super-powered, noiseless, light weighted , moderate-speed, lithium-ion-run electric scooter which was launched in February this year by InMobi has been now introduced in Electronic City in Bengaluru. Mumbai and Pune are being considered to be its next targets.
Yulu, a bicycle-sharing platform with its 8,500 bicycles running successfully in Navi Mumbai, Bengaluru and Bhubaneshwar was launched in 2017 to combat the congestion created by vehicles. With its new addition Yulu Miracle, a whooping invested amount of $7 Mn by other companies and a partnership with the brand Uber Yulu is all set to promote the micro-mobility services of its e-bikes.
With the gaining popularity of electric mobility services various companies like it has now been put in the top priorities list in India.
3. Electric Cars is still not an option for Honda
Honda Cars India has planned to delay its introduction of electric cars and instead focus on hybrid cars in India owing to the fact of insufficient charging structures in the country.
The company plans to launch a range of hybrid cars in the coming five years with the City being believed to be the first of them and Jazz the next. Accord, the only hybrid car of Honda running in India has failed to impress the market due to its exorbitant rate. On the other hand, Maruti Suzuki, the biggest manufacturer of cars in India and Mahindra & Mahindra have gained their positions in hybrid market with their mild hybrid models using the Regenerative Braking Technology.
With India just having started working on the issue of lack of electric charging stations the country is at the threshold of making pure electric cars an overall gain for all.
4. Electric Vehicles to fight Air Pollution in the capital city of Jakarta
With the threats of air pollution , entry of innumerable vehicles on road and burning of land breathing on the shoulder ,the capital city of Indonesia Jakarta has started testing electric buses through Transjakarta ,World's largest bus rapid transit system. Transjakarta has joined hands with China's BYD, PT Mobil Anak Bangsa , RAC Electri Vehicles and Danfoss to manufacture eco-friendly buses .
UN Environment has lent its support toTransjakarta in this mission to make the capital city Pollution free by providing technical advice on various matters. With a horrified number of deaths every year caused by air pollution in Asia and the Pacific countries UN Environment believes Electric Mobility to one of the many solutions that can combat air pollution in the city.
5. LYFT Opens the Door for Free Charging for Electric Cars
LYFT, renowned ride-hailng service of Portland is promoting the electric vehicles among the ride-sharing drivers by offering free electric charging for them.
This service will be available for the drivers of plug-in hybrid or fully electric vehicles at all 5 charging stations of Portland General Electric across Portland without any charge. Lyft earlier has applied "green mode" in its service which enables the riders to opt for an electric or hybrid car for pick-ups in Portland and Seattle.
The main purpose for all these initiatives is to shift ride-sharing system to electric mobility service.
6. GST Reduction on EVs Car Manufactures Of India are All Set To Launch Their New EV Models
India has embarked on a new phase with Electric vehicles as world's top most car manufacturers along with the Indian car makers are showing interest to venture into the electric vehicles (EVs) in the country. Some lucrative plans like the reduction of GST on EVs by 7% and tax rebate of Rs. 1.5 lakhs on car loan interest for EVs have been introduced.
Some Electric cars will be available in the market in 2019. They are Hyundai Kona by Hyundai Motor India Ltd., MG eZS by MG Motor India, Revolt RV400 by Revolt Motors, Mahindra Ekuv100 by Mahindra, Maruti Wagon R EV by Maruti Suzuki and Nissan Leaf by Nissan India.
7. Volkswagon's ID R's Record-breaking History
Volkswagon is the proud owner of its IDR all-electric race car as it has broken the record of Goodwood Festival of Speed at the hill climb two times in 2 days time.
Volkswagon's ID R has been flying high l;lately after breaking records at Nurburgring-Nordschleife and Pikes Peak earlier and at hill climbs now by beating the records set by vehicles like Nio electric model and McLaren-Merceded MP4/13.
The flamboyant race care recently underwent a change with a smaller battery, optimization of power output meant for short sprint and a newly designed system for drag reduction. Volkswagon has been proudly boasting its electric cars based on its ID concept for the last few years. Now the company is gearing up for the production of ID.3. with an aim of selling 100,000 models every year.
8. Car manufacturers to add artificial noise to their Electric Vehicles
Electric and hybrid vehicles which are considered to be the solution for air pollution is now being believed to be the source of some other problems.
These noiseless vehicles may be a life-threatening factor for the blind people or the ones who are visually impaired. All the hybrid and electric vehicles have been instructed to produce an AVAS (Accoustic Vehicle Alerting System) like that of ICEs. The European Parliament already passed this measure in 2014 and it has come to an end now. New regulation will be applicable to all new hybrid and electric vehicles from July 2021.
The UK'S Royal National Institute of Blind People and Guide Dogs have appreciated this initiative and some car manufacturers namely Toyota and BMW are already working on the sound system of their electric vehicles.
9. Norway the leading country in selling Electric Cars
Norway Road Federation reported a sale of 48.4% of Electric cars in the country within the first six months of 2019 putting the country at the top of the list of Electric Vehicle Seller.
It is surprising to learn that Norway being an oil-producing country aims to trim sales of fuel engines by 2025. The Norway Government has put policies like rewards for vehicles that are not the cause of greenhouse emitting and exemption on cars run by battery to encourage citizens to move to EVs.
The popular car manufacturer Telsa is leaving behind Nissan, BMW and Hyundai in selling EVs in the first and second quarter of 2019 and announced to retain their position even in the third quarter.
10. Hero MotorCorp all set to go all electrical with Multiple Electric Vehicle Projects in its kitty
Pawan Munjal, the Chairman of Hero MotorCorp has confirmed working on several Electric Vehicle (ev) Projects at Centre of Innovation & Technology , the R &D centre of Hero Motorcorp in Jaipur.
Recent announcement of Government's ban on the manufacturing of two wheelers with sub-1500cc by 2025 with the replacement of electric two-wheelers has put leading automakers namely TVS, Honda and, Suzuki to hasten their progress on electric vehicles.
Hero Motorcorp is expected to manufacture various models of scooters and bikes with advanced features in the 2020 Auto Expo. With an investment in Ather Energy the company is said to build the foundation for the electric segment and premium products.
11. Improved solar power cells for electric cars is being tested by Toyota
Toyota , one of the leading manufacturers of cars in the world is reported to be testing the prototype cells powered by solar power which was launched by the joint collaboration of Japanese multi-national company Sharp and Japanese national research company NEDO and used earlier in Toyota's Prius PHV.
With a power to convert solar energy at 34 % and above this cells are believed to provide up to 27.7 miles of extra range everyday while being parked and 35 miles of energy to the driving system and the AC batteries of the vehicles. The system is said to run even when the cars are on the road.
This new vehicle powered by solar energy is expected to go on trials in Japan at the end of July this year with an aim to use the experiment and experience to promote the use of solar power generation technology to a number of vehicles.
12. India's first Electrical Vehicle Highway Corridors coming at National Highway and Yamuna Expressway
Yamuna Expressway between Delhi and Agra and the National Highway Delhi and Jaipur Highways may witness India's first electric vehicle highway corridors by 2020.
These electric corridors proposed by EODB(Ease of Doing Business Programme ) and ASSAR ( Advanced Services for Social and Administrative Reforms) is believed to be spreading over 500 km with 10 charging stations between Delhi-Jaipur and 8 between-Delhi-Agra near ear the toll plazas according to Abhijeet Sinha, the National Programme Director of EODB) Programmed Director for NHEV(national Highway for Electric Vehicles) . He stated that proposal for six more charging stations between Pari Chowk in Greater Noida and Delhi has been placed. He added that government has an aim to have 25 % running electric vehicles out of total vehicles on road and this has led to the set up of proper electric vehicle charging stations all over the country.
13. Norway leading in EVs Industry in the World
With a mission to put an end to the sales of fossil-fuelled cars by 2025, Norway has successfully managed to sell a number of electric vehicles which is said to be 60 % of the total number of new cars.
The new Nissan Leaf, Volkswagen Golf and Tesla Model 3 Volkswagen Golf being in demand many citizens of Norway find themselves in the long waiting list. However, the number of EVs on the roads of this country is still higher than that of other countries. The country has also taken a lead in the battery technology for shifts. Despite being a major oil producing country, the government of Norway has invested in electric vehicle industry and has offered many beneficial incentives for the owners of EVs. This received a mixed reaction from its citizens.
Due to the rising demand for electricity in the urban areas industry group Power Circle advises the owners of the EVs to charge their vehicles at fixed time of the day.
14. Kerala plans to unveil 1 million electric vehicles under the state EV plan
Besides this the state will also invest on setting up electric vehicle charging infrastructure and apply appropriate technology to make the plan successful. KAL (Kerala Automobile Limited)owned by Kerala government is expected to produce 8000 electronic autos per year . KARL has also joined hands with Swiss electronic bus maker HESS to manufacture 3000 electric buses.
Amitabh Kant, the CEO OF Niti Ayog has supported the initiative taken by Kerala and according to him the state is going to get advantages of e-mobility exemptions and subsidies from his side. However, he has insisted the state to manufacture all the items required for e-mobility instead of importing them from other countries.
Plan of Setting up E-mobility zones in various tourist destinations is also being considered by the Government.
Kerala is not new in promoting eco-friendly transportation as India's first LNG bus and solar boat were launched by Kerala only.
15. Shocking downfall of China in the sales of electric vehicles
According to a data by China Association of Automobile Manufacturers, China's Annual sales rate for NEVS (New Energey Vehicles ) have dropped down from 126 to 2% this year. The government has come up with a number of policies to the sales of NEVs.
The NATIONAL Development and Reform Commission who plans the state economy for the country has promised to remove the limits on purchase on NEVs. Cities like Guangzhou and Shenszhen have declared to increase the reservation for purchasing all vehicles.
The country has invested an amount of $60 billion in subsidies and others to develop the world's biggest electric car market. A plan to cut the subsidies will result in the increase of the price rate by the car manufacturers and that will further effect the sales.
16. DIDI joins hands with Hainan State Firms to set up Joint Venture of Electric Vehicles in China
Didi, the super famous Chinese mobile transportation service has joined hands with two state enterprises in China's Hainan Province to form a joint collaboration of electric vehicle services.
With a subsidiary of China Southern Power Grid and investment by HAINAN Government the joint venture will be into the action of leasing and selling electric vehicles and setting up charging stations. With a plan to put a ban on sales of fossils-fuelled vehicles to be accomplished by 2020 Hainan aims to be a trailblazer in the sales and manufacturing of electric vehicle.
DIDI has insisted on a transportation business based on data analytics in the industry of new-energy vehicles.
17. Petrol pumps to turn into electric charging station for EVs in India
India is planning to build a foundation of charging stations for electric vehicles (EVs) and taken the petrol pumps under India's Electric Vehicle(EV) Plan to make them charging points for EVs.
With auto lobby being reluctant to accept the terms of Transition to EVs in coming years the government's measure to drop the sales of two and three-wheeler by limiting their it to highly polluted metro cities has been termed as " unrealistic " by the vehicles industry.
With more than 60,000 petrol pumps which are either state-owned or private limited companies the industry sees a strong prospect of setting up charging stations across India. Government's aim to build a frame-work for electric vehicles along with their batteries has encouraged a Cabinet Proposal of Giga-scale" battery making facilities by the government think tank Niti Ayog.
18. Ola Electric, spinout of Ola raises $250 million
The SoftBank Vision Fund has reportedly invested a whooping amount of $250 mn in Ola Electric, the cab-hailing firm's electric vehicle unit making it a firm valued at $1 billion with a total raised amount of $300 mn till date.
Like Ola who believes that its electric vehicle start-up will zoom its core business ride-hailing Uber who has also raised money for its effort in self-driving also believes that self-driving will help to control its core business. Capital being the driving force of the ride-hailing start-ups some firms are opting for other ways to fund their non-core initiatives.