Millennium Development Goals – Indian perspective
|
In the historic year of 2000, 189 nations pledged in the form of eight 'Millennium Development Goals (MDGs)' to help people to overcome extreme poverty and multiple deprivations. MDGs are set to be achieved by 2015 and are most strategically designed, broadly supported, comprehensive and specific development goals the world has ever agreed upon. These eight time-bound goals i.e. Eradicate extreme poverty and hunger, Achieve universal primary education, Promote gender equality and empower women, Reduce child mortality rates, Improve maternal health, Combat HIV/AIDS, malaria, and other diseases, Ensure environmental sustainability and Develop a global partnership for development provides concrete framework tailored by each country to suit specific development needs.
History
The city of New York became the origination of Millennium Development Goals during Millennium Summit that was held during 6th September to 8th September 2000.  These were the same days when the world leaders at the headquarter of the United Nations adopted eight chaptered 'Millennium Declaration'. These chapters are about Values and Principles, Peace, Security and Disarmament, Development and Poverty Eradication, Protecting our Common Environment, Human Rights, Democracy and Good Governance, Protecting the Vulnerable, Meeting the Special Needs of Africa, Strengthening the United Nations. The Millennium Development Goals (MDGs) originated from the Millennium Declaration produced by the United Nations. Each goal has to follow already set targets and indicators for poverty reduction so that it can meet the completion timeline of fifteen years.  It means MDGs has to be achieved till 2015 as they were accepted on 2000. The principle aim of MDG is to encourage development by improving social and economic conditions in the world's poorest countries and to provide framework for the entire UN system to work coherently together.
Outcome
MDGs are not only on paper but have been implemented thoroughly. The result is spectacular in some regions of the world as after a period of about ten years, we can see noticeable reductions in poverty globally, significant improvements in enrolment and gender parity in schools, reductions in child and maternal mortality and increasing HIV treatments. But still there is a requirement of speeding up the procedures as the deadline is coming closer. (Read more about present status of the MDGs)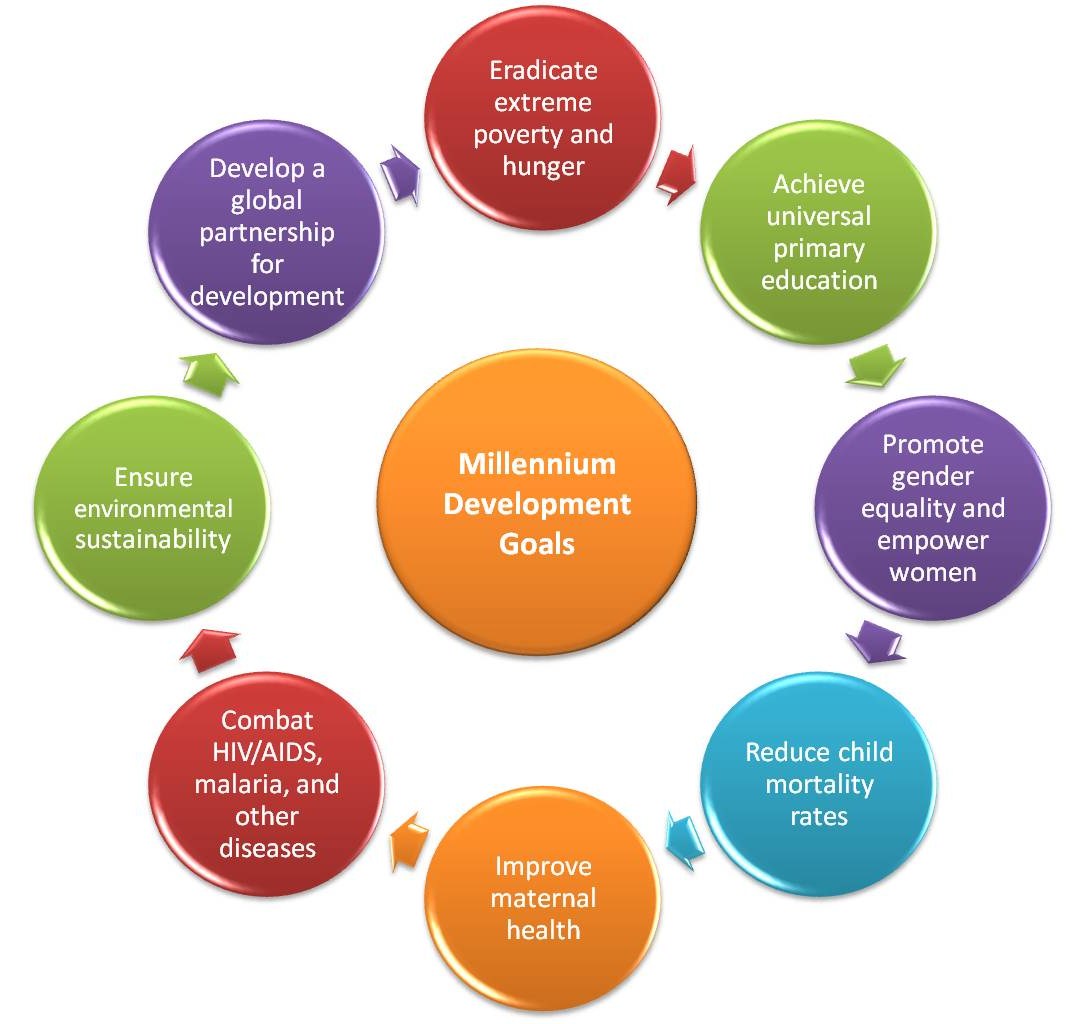 Indian Scenario  
Goal 1: To achieve the goal of eradicating extreme poverty and hunger, India must reduce the proportion of people below poverty line from nearly 37.5% (in 1990) to about 18.75% by 2015.
Goal 2: To achieve universal primary education, India should increase the primary school enrolment rate to 100 % with decreasing number of students and completely wipe out the drop-outs by 2015 against 41.96% in 1991-92.
Goal 3: To ensure gender parity in education, India will have to promote female participation at all levels to reach a female male proportion of equal level by 2015.
Goal 4: It aims at reducing 'under five mortality rate (U5MR)' from 125 deaths per thousand live births in 1988-92 to 42 in 2015.
Goal-5: India should reduce maternal mortality (MMR) from 437 deaths per 100,000 live births in 1991 to 109 by 2015.
Goal-6: Under this goal, though India has a low prevalence of HIV among pregnant women as compared to other developing countries, yet the prevalence rate has increased from 0.74 per thousand pregnant women in 2002 to 0.86 in 2003. This increasing trend needs to be reversed to achieve MDG 6.
Goal-7: The proportion of population without sustainable access to safe drinking water and sanitation is to be halved by 2015 and India is on track to achieve this target.
Goal-8: Develop global partnership for development. (It includes financial support from developed countries. For example Official Development Assistance –ODA, etc)
The Government of India has adopted ambitious targets related to Millennium Development Goals such as education – 'Sarva Shiksha Abhiyan' (the national policy to universalize primary education and making free and compulsory Education to the Children of 6-14 years age group), Health – the National Rural Health Mission along with Integrated Child Development Services. To achieve the MDGs, India needs to convert these commitments and resources into measurable results.
As per the report by daily 'The Hindu', The Government of India claims that the country is on track to meet the MDG targets by 2015. These claims include; number of people living below the poverty line has reduced, child and maternal mortality rates are reducing, increased public resources in several key sectors, Mahatma Gandhi National Rural Employment Guarantee Scheme has increased rural employment, National Rural Health Mission have resulted in massive inputs in the health sector, HIV rates are low and that deaths due to tuberculosis and malaria show downward trends.
However it is difficult to endorse the government's confidence and optimism on target achievements as a report on July 12, 2010, by daily 'The Hindu' stated;
"Acute poverty prevails in eight Indian states, including Bihar, Uttar Pradesh and West Bengal, together accounting for more poor people than in the 26 poorest African nations combined, a new 'multidimensional' measure of global poverty has said. As per the new measure Multidimensional Poverty Index (MPI –  was developed and applied by the Oxford Poverty and Human Development Initiative with UNDP support),  there are more 'MPI poor' people in eight Indian states (421 million in Bihar, Chhattisgarh, Jharkhand, Madhya Pradesh, Orissa, Rajasthan, Uttar Pradesh, and West Bengal) than in the 26 poorest African countries combined (410 million)".
The states like Bihar, Chhattisgarh, Uttar Pradesh, Rajasthan, Orissa, and Madhya Pradesh are among the most populous in the country, and have very low GDP. Growing rate of population within these states will account for an even larger share of India's population in 2015. Therefore, India's attainment of MDGs will also largely depend on the performance of these states.
The Millennium Development Goals under the Millennium Declaration are not like other documents or plans which remain on paper only. These set out measurable targets instead of the usual hazy statements or agreements.
[youtube=http://www.youtube.com/watch?v=v3p2VLTowAA]
Source:  UNDP, Economywatch website, World Bank website, The Hindu