O Ri Duniya program, an online gathering for curated conversations to understand our world
|
"If it can't be reduced, reused, repaired, rebuilt, refurbished, refinished, resold, recycled or composted, then it should be restricted, redesigned or removed from production."

Pete Seeger
How do you define Sustainability? Is it something that can be achieved when we simply talk about sustainable architecture, ecological packaging, sustainable energy etc. or is it something that is the result of achievement of Sustainable Development Goals (SDGs) or is it when one thinks about sustainable fashion, sustainable architecture. Certainly, it is but there's more to it! It is something much deeper and much more than the superficial meaning than what most of us think.
When you break apart the word 'Sustainable' it says sustain+able, that is something that can happen on its own. For instance, all phenomena occurring naturally on the Earth like soil formation, the water cycle, the formation of a forest on a piece of land etc. are regenerative hence sustainable. The aforesaid is how nature works. We are an integral part of nature like in nature no waste is generated i.e. every end product is a raw material for some other process. Similarly, we as individuals can work upon producing no waste at all. For instance, the peels or leftovers of the food that we eat can act as compost for our fields, when one uses natural cleaners etc.
Sustainability therefore is not an end goal that can only be achieved once rather it is a way of life. It is the balance between the environment, the economy, and ethics.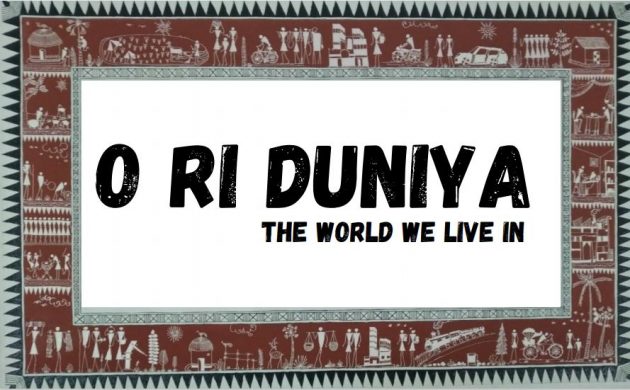 O Ri Duniya is a program especially catering to those individuals who have a seed of sustainability within their minds and are eager to help sprout that seed, eventually allowing it to grow into a fully grown healthy tree. Through O Ri Duniya we try to bring about awareness firstly, on a personal level about where one stands as an individual, how and why one has been doing things in a certain way. Second is to understand the world that we live in and how we are an integral part of it. Therefore, our actions affect the environment and we are also affected by any change in it. Lastly, we move onto the construction of some concrete implementable action steps and work on them together.
All this is achieved via watching films about the in-hand environmental health issues pertaining to the basic needs of an individual like water, food etc. each week. Moving on to recording our evocations, observations, questions, etc. while watching the film in a reflective journal. Followed by a rigorous thought-provoking reflective online discussion. Eventually, working on building some actionable steps based on one's understanding. Thereby, allowing one to think and work on one's choices, reflect on them and understand how our choices can add up to making the world a better place to live in.
Keeping this in mind we aim at building a community of people having an eco-conscious mindset.
Applications Open for O Ri Duniya
Dear Friends,
Empathy Connects is pleased to invite you to the 6th edition of its O Ri Duniya program, an online gathering for curated conversations to understand our world – how it was, has been and can be!
The program aims to build a socio-ecological consciousness using introspection, questioning, conversations and listening.
Dates: 31st January- 14th March, 2021
Timing: 11:00-14:00 hours (IST)| Every Sunday
Participants will receive a certificate after successful participation in the program.
For more information, please go through the brochure: http://bit.ly/BrochureORiDuniya
Application Deadline: 26th January, 2021
Please fill the registration form: http://bit.ly/RegORiDuniya2021
Please help us to reach out to your friends who aspire to become action-oriented Eco-warriors.
For any further queries please contact oriduniya.ec(at)gmail(dot)com or call 9999603799.