Pilibhit gets a Tiger Reserve
|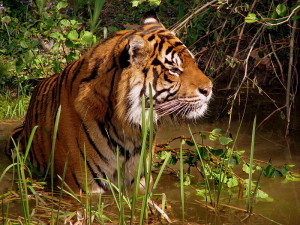 Uttar Pradesh's Pilibhit city is soon getting its own tiger reserve. It would be the third tiger reserve at Pilibhit and the 45th in India.
UP had the first tiger reserve in the form of Dudhwa Tiger Reserve. The state has around 118 tigers.
Pilibhit Tiger Reserve is spread over 73,024.98 hectares and is home to nearly 30 tigers and many other endangered species. Pilibhit Tiger Reserve is located in Pilibhit district, Lakhimpur Kheri District and Bahraich District of Uttar Pradesh state in India. Its location is along the India-Nepal border in the foothills of the Himalayas.
Tiger Reserves are constituted on a 'core-buffer' strategy. The core area is kept free of biotic disturbances and the buffer zone is allowed to have eco development in the form of NTFP collection and other rights and concessions allowed to the local people.
The reserve has a core area of 1089 km2 (proposed) and buffer area of 627 km2.
With Corbett Tiger Reserve belonging to Uttrakhand after the new state was formed, Uttar Pradesh had developed Pilibhit forests area for tigers.
India's plant and animal species, particularly in the global biodiversity hotspots of Himalayas, Western Ghats, Northeast and the Nicobar Islands, are under severe threat due to over exploitation, forest fires and climate change.
India's Project Tiger was launched in 1973. The project aims at conserving the tiger population of India in their natural habitats and to protect them from extinction. National Tiger Conservation Authority is the administrative body that looks after the project.
Project Tiger is a Centrally Sponsored Scheme of the Ministry of Environment and Forests, providing funding support to tiger range States, for in-situ conservation of tigers in designated tiger reserves.
As per the last estimation, there were 1909 tigers in India.