Sardar Sarovar Narmada Nigam Limited to set up a 10-MW solar plant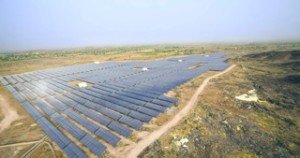 Sardar Sarovar Narmada Nigam Limited is going to set up a 10-MW solar power generation plant on Sardar Sarovar canal, as per reports.  The electricity from the project will be fed into the grid.
SSNNL, which is developing the multi-thousand km-long canal network to take irrigation water to parched areas of Saurashtra and Kutch, will invest around Rs120 crore for the 10-MW solar power project.
"The 1-MW canal-top project, which became operational last year, has been highly successful. We plan to replicate the success with a bigger, 10-MW project, on the Narmada canal," state energy minister Saurabh Patel said.
Solar panels will be installed on top of the canal and will cover 10 km length. There will obviously be no extra land requirement for the project which is sometimes considered a drawback of solar power. In addition, the project is also expected to limit evaporation from the canal. The cost for the project is estimated to be less as solar energy has come a long way and also because no land acquisitions will be required for the project.
There is another such project in the country- a 1MW pilot project situated on the Narmada branch canal near Chandrasan village of Kadi taluka of Mehsana.
Reference and further reading;
Read more on Solar Technologies