Some interesting solar gadgets on Kickstarter
|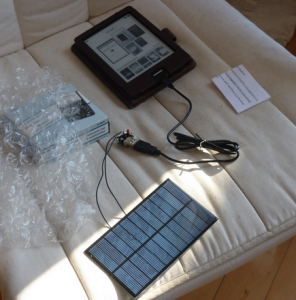 Kickstarter, the popular crowd funding platform has some interesting solar projects asking for funding. Here's our pick of the list.
1.  Solar USB system- Received its funding already. It's a pretty simple and neat little way of charging any device that supports a USB.
As explained by the owner, "The solar cells put out 5W, or about 1 Amp of power at about 5 Volts, that outputs directly to a standard USB port.  No special dongle or adaptor needed, just plug in any device that has a USB port on it." Read more here
2.  SunStash-  A portable solar power stash capable of powering devices from smart-phones to laptops.
According to the description, "The 60W (16,000mAh) power stash inside is amazingly flexible.  Despite being powerful enough to charge all your Gadgets (smartphones, dumb phones, MP3 players, GPS receivers, etc), it also has a high powered port that can charge higher voltage devices such as Laptops and 12v vehicle accessories that you already own (via the included Power Port Adapter).  It can even charge two gadgets or a gadget and a PC at the same time!"
The project currently has 16 more days to get its funding. Read more here
3. OnBeat Solar Headphones – How cool is that! This is my personal favourite. With current smartphones being a drain on the battery and for a geek like me who does everything right from typing lengthy emails, answering calls, listening to endless songs and finally watching videos, these headphones are like a dream come true.
 As per description available on the site- "The headphones have an integrated flexible solar cell that covers the full headband which captures solar energy whilst out and about." The project has 27 more days to go. Read more here
 Have some interesting solar ideas of your own? Share them with us.
Image credit: ndh on flickr