TATA Power commissions 25 MW solar project in Palaswadi, Maharahstra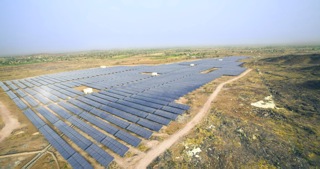 Tata Power has formally commissioned 25 MW solar photovoltaic (PV) power project which is located at Palaswadi village in Maan taluka in Satara district in Maharashtra. Spread over an area of 130 acres, the plant was joined to the state grid. The power plant makes use of Crystalline Silicon Photo-Voltaic Technology.
Mr. Anil Sardana, Managing Director, Tata Power, said, "We are delighted to announce the commissioning of yet another large solar project of 25 MW. We would like to thank the Government of Maharashtra, Maharashtra State Electricity Transmission Company Limited, Maharashtra State Electricity Distribution Company Limited, the local community and authorities and all our stakeholders for the support extended in setting up this solar power project at Palaswadi."
The total coast of the project is calculated at approximately Rs. 250 crores.
Earlier, the firm had power plants of 3 MWp at Mulshi in Maharashtra and 25 MWp at Mitahpur in Gujarat. The first solar plant 110 kW was set up way back in 1996 at Walwhan in Lonavla.
Tata Power is India's largest integrated power company with a growing international presence. The Company together with its subsidiaries and jointly controlled entities has an installed gross generation capacity of 8585 MW in India and a presence in all the segments of the power sector viz. Fuel Security and Logistics, Generation (thermal, hydro, solar and wind), Transmission, Distribution and Trading.
Read more at TATA power's official website