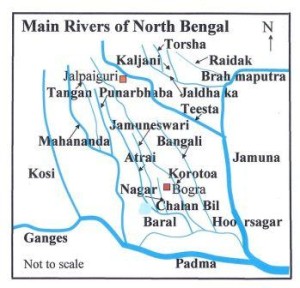 Teesta originates from Kangse Glacier, Charamu Lake in Sikkim and the majority of its catchment area lies in India. It is fed by minor tributaries that have their source in the Thangu, Yumthang and Donkia-La ranges. Teesta starts from India, then flows to Bangladesh where it mixes with the Brahmaputra, and finally drains into the Bay of Bengal. Teesta is the 4th largest river in Bangladesh.
The government of West Bengal had started constructing a barrage on Teesta which was opposed by Bangladesh primarily citing the fact that Rangpur region (rice cultivation) was dependent on the river. In 1983, India- Bangladesh had signed an interim agreement with regard to sharing of waters of Teesta with India getting 39%, Bangladesh getting 36% and 25% being unallocated. However, Bangladesh didn't like the treaty and protested against its unequal terms. Then in 1984, a river commission was appointed by the two sides to design another formula for sharing of waters. The commission suggested that Bangladesh be given a larger share.
Now India got 42.5%, Bangladesh- 37.5%, Unallocated- 20%. In 2011, the then prime minister of India, Dr. Manmohan Singh planned to solve Teesta dispute but the chief minister of West Bengal opposed the move.
In May 2014, Bangladesh PM Hasina blamed the chief minister of Bengal saying "It was extremely unfortunate, the chief minister of an Indian state, Mamata Banerjee, raised objection (in signing the deal)…it was very unfortunate. We saw that the central government was sincere in inking the agreement." Ms. Hasina now plans to visit India in September 2014.
India needs to solve territorial disputes and most importantly settle the Teesta dispute with Bangladesh as it is our strategic partner and the current government is against terrorism. India needs to display a large heart and the Teesta dispute can be showcased as an example of Indo-Bangladeshi friendship.