Lemay Net Positive: Award-winning sustainability approach challenges status quo
|
Toronto, Canada
Lemay
Scaling up living environments' sustainable and human wellness potential
Toronto, Canada
Lemay, one of Canada's leading architecture, planning and design firms, has laid out a rigorous Net Positive framework to maximize the firm's considerable influence on the key determining factor in human health: the built environment. Addressing the urgency of climate change, Lemay's Net Positive approach proposes sustainable strategies and metrics at every stage of the firm's projects. Going beyond traditional environmental certifications, it aims to transform urban environments to the benefit of their users and the community as per information available from v2com.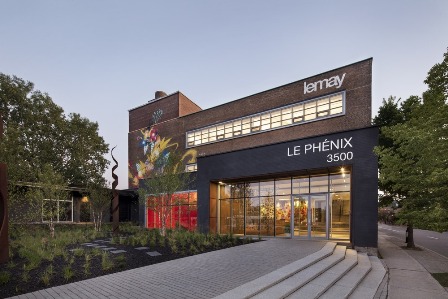 With the equivalent of some 260 football fields of projects certified or undergoing certification, Lemay's longstanding commitment to the environment is now formalized with this new program that was recently recognized with a Novae Award.
Lemay Net Positive focusses on three critical areas:
Promotion of user health
– Using eco-friendly materials, maximizing indoor air quality and natural light, integrating biophilic and active design (etc.)
Environmental protection
– Managing stormwater responsibly, reducing heat islands, protecting green spaces and developing biodiversity (etc.)
Carbon emissions reduction
– Performing carbon quantification and life-cycle assessments, reducing carbon footprint, increasing resiliency, adapting design to climate change (etc.)
"Protecting the environment doesn't have to cost more, said Louis T. Lemay, president and excellence facilitator. Our projects are proof that they can be sustainably developed for the same capital costs as comparable projects. The Net Positive approach also gives projects greater social acceptability, which generates more ROI and boosts market value."
The embodiment of Lemay's brand, the Phenix at 3500 Saint-Jacques St. in Montreal, is a testing ground for new best practices in sustainable architecture, landscape architecture, urban design, interior design and urban planning. Already Fitwel-certified and aiming for LEED-Platinum and Zero Carbon certification, it hosts some 300 employees as a living lab incorporating wellness strategies including biophilic design, active transport, flexible workspaces and healthy nutrition. Lemay's transformation of an abandoned warehouse, located at the heart of a neighbourhood with strong working-class roots, has revitalized the surrounding community and avoided some 12,000 tonnes of greenhouse gas emissions that would have been generated by the construction of a new building.
Lemay's many integrated design disciplines are empowered to introduce sustainable practices and materials. Its internal Net Positive Committee in turn maintains employees' Net Positive expertise through specialized training, presentations, research and development, and publications.
Lemay's Net Positive's rigorous approach was developed over the course of numerous high-profile sustainable projects that include Montreal's Bibliothèque du Boisé, Toronto's Woodbine Districts; Soprema's factory in Woodstock, ON; ; TELUS Park in Calgary and Bellechasse Transport Centre, as well as Lemay's own office, the Phenix, in Montreal.
Lemay employs 27 professionals accredited in Leadership in Energy and Environmental Design(LEED), including one of Quebec's first LEED Fellows. It also has professionals accredited in WELL (including the province's first WELL Faculty member), Fitwel, Envision, SITES, BREEAM, and Haute Qualité Environnementale (HQE).As part of the World Green Building Week 2019, journalists are invited to a one-day only Net Positive conference on September 25th, featuring a roundtable, seminars and personalized tours of Lemay's award-winning office The Phenix in Montreal.
PROGRAM
Morning: University PechaKucha with jury and award ceremony

Noon: François Reeves conference, Vers une cité-cardioprotectrice
Afternoon: personalized tours of the Phenix building
Evening:
6 pm: Roundtable, Sustainable City: Utopian Ideal?
Moderator: Julie-Anne Chayer, President, Canada Green Building Council – Quebec
Panelists:
Daniel Pearl – Architect and Professor, Faculty of Planning, University of Montreal
Fred Morin Bordeleau – Co-founder, MR-63
Hugo Lafrance, Director, Sustainability, Lemay
Isabelle Bérubé – Councillor responsible for the environment, City of Saint-Bruno-de-Montarville
Raphael Fischer – Dean of the Faculty of Planning, University of Montreal
Serge Cormier – Director, Construction, Fonds immobilier de solidarité FTQ
Lemay: Creative intelligence. Collective value.
Founded in 1957 as an architectural practice, Lemay is a leading provider of integrated design services for the built environment. Its unique blend of creativity, large-firm capacity and transdisciplinary service offering brings client aspirations to life, while its unique Net Positive approach creates sustainable value for users and communities around the world. The firm's commitment to design excellence, supported by over 350 awards and distinctions, also translates into the lemayLAB, an instrument of research and innovation in all aspects of design. Lemay brings together some 450 professionals, earning it a world ranking of 52nd largest (2019 World Architecture 100).