[STRANG] on The Art of Architecture
|
The Miami-based practice reveals its commitment to the enduring legacy of modernism in a retrospective exhibition.
[STRANG], a multidisciplinary design firm with offices in Miami, Fort Lauderdale and Sarasota, Florida, will showcase its architectural body of work in [STRANG]: The Art of Architecture, on view at the Center for Architecture Sarasota from December 19, 2019 through January 23, 2020. Reflecting the firm's signature design philosophy of Environmental Modernism, the exhibition will present highlights of its site-specific and climate-driven designs spanning the last 20 years as per information available from v2com.
Founded in Miami in 1998 by Max Strang, FAIA, [STRANG] has developed a reputation for advancing the principles of environmental modernism, while advocating for better design, better stewardship and a better world. Indeed, the ability to create stunning architectural designs while maintaining an acute awareness of the surrounding environment firmly defines the firm's work. Under the creative direction of Max Strang, this year's recipient of the prestigious AIA Florida Medal of Honor for Design, the practice is a leading advocate for advancing the timeless concepts set forth by the famed Sarasota School of Architecture. Strang's own early exposure to that mid-century modernist movement—he grew up in a home designed by legendary architect and movement founder, Gene Leedy—resulted in a deep respect for structures that are intimately connected to their surroundings while also celebrating a uniquely Floridian version of modernism.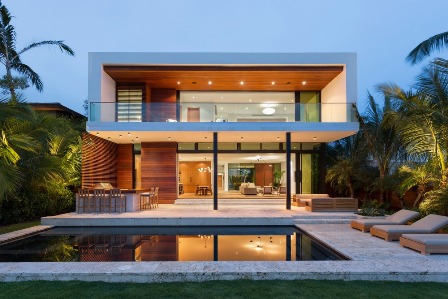 [STRANG]'s distinctive interpretation of the tropical modernism tradition, which infuses works with deeply regional character and identity, will be evident throughout the exhibition, as it is in the recently published monograph, 'Environmental Modernism: The Architecture of [STRANG].' [STRANG]'s distinguished body of work spans the state of Florida, and includes projects in the Bahamas, Dominican Republic and United Arab Emirates.

STRANG]: The Art of Architecture will highlight thirteen of the firm's architectural works, ranging from 2002-2018. On display will be architectural models, a "media tower" featuring videos of construction sites, finished photography, rendered animation and firm photography, and satellite mappings that highlight the diverse environments of Florida and its neighboring islands. Artworks by Max Strang, including sketches of architectural details and project site plans, will also be on display.
"Our goal has always been to create contemporary spaces intimately connected to their surroundings," says Max Strang, FAIA. "This exhibition is an opportunity for our firm to reflect on the defining principles of 'environmental modernism' and how it has impacted our practice in the last twenty years."

About [STRANG]
(@strang_design www.strang.design)
[STRANG] is a Florida-based architectural, interior design and landscape design firm respected for advancing the principals of Environmental Modernism in extraordinary locations around the world. Founded by Max Strang in 1998, the firm's distinguished body of work is deeply connected to Florida, yet also includes projects across the Caribbean Sea, Florida and Florida Keys, Colorado, The Bahamas, The Dominican Republic and United Arab Emirates.
Underpinned by talented individuals who each have their lens focused on a common thread: the enduring intrigue of modernism, the firm's relationships with its clientele has propelled its success and served to expand the firm to three offices across the state: Miami, Fort Lauderdale and Sarasota—the birthplace of Florida modernism.
About Max Strang, FAIA
For 20 years Max Strang has demonstrated a commitment to creating high-quality designs with a focus on academic and professional engagement. His design approach acutely considers the future impact climate change will have on residential and urban development in the coming decades, and his iconic designs thoughtfully integrate with South Florida's subtropical climate. Elevated to the College of Fellows in 2016 and consistently recognized locally, regionally, and nationally for the strength of his design work, Max has won dozens of awards,
including the 2013 AIA Miami Silver Medal for Design, and 2018 AIA Florida Medal of Honor for Design.
Max has been published in over 200 magazines, news interviews and books.  His firm monograph, 'Environmental Modernism: The Architecture of [STRANG],' released in 2017, reflects the concepts of "environmental modernism" showcased in the firm's numerous residential projects. Max has generated an impressive and well-crafted body of work that is consistent, rigorous, and varied. His use of materiality, detailing and scale pushes projects beyond necessity into the world of architecture that is art.  

ABOUT The Center for Architecture, Sarasota
Sarasota enjoys a rich architectural history dating back to the early 20th Century and continuing with today's talented architects and designers. The Center for Architecture was created in 2013 to maintain this legacy, to provide a forum for today's designers and to educate and connect our Sarasota heritage with the rest of the design world. The Center for Architecture is a not-for-profit member-supported exhibit space and lecture hall; a meeting place and destination for people who believe good design matters. Through exhibits, lectures, tours and special events, our center provides a place where design professionals, community leaders, students, and the public can admire, discuss and debate our built environment. The Center for Architecture Sarasota is dedicated to heightening awareness of and appreciation for innovative architecture, good design, and resilient urban planning.