Most table salts sold in India are likely to contain microplastics from polluted seawater: IIT Study
|
The Indian Institute of Technology-Bombay (IIT-B) has done a study on the table salts that are sold in India, and have that they contain microplastics due to the polluted sea water.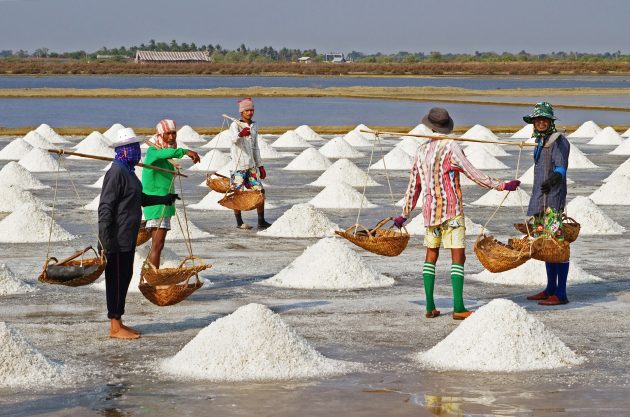 A research was done by two members of the Centre for Environmental Science and Engineering (CESE) revealed that 626 micro plastics particles were found in one of the samples obtained from the popular Indian salt. Around 63% of plastic fragments and 37% of plastic fibers were found in the sample.
According to reports, there have not been any individual brans mentioned because the main reason for this issue is sea pollution, so it is not a fault in the extraction or manufacturing process of salt.
As for the US-National Oceanic and Atmospheric Administration (NOAA) classifies the microplastics in the size of sesame seed or less than 5 millimeters. The issue becomes serious when a large amount of plastic gets collected and degrades into small fragments. When washing clothes tiny synthetic fibers are released. According to national and international studies, it is stated that humans' food like seafood contains microfibers and microplastic, now additionally, salt.
A published study in a Public Library of Science journal, it is stated that the worlds' ocean contains above 5 trillion pieces of plastic. Scientists around the world mention that they have found microplastics contained sea salt in many countries. Specifically, India is one of the most important countries to be noted because it ranks third-largest when it comes to edible industrial salt production (in 2017, 26 million metric tons) next to China (in 2017, 68 million tons) and then the United States (in 2017, 43 million tons).
The 'Contamination of Indian sea salts with microplastics and a potential prevention strategy', this study was co-authored by Shriwastav and Chandan Krishna Seth. And it was published in Environmental Science and Pollution Research while on the August 25th, an international peer-reviewed journal.
According to the World Health Organization, it is recommended for adults to take up to 5gms of salt for a day. Containing 63.76 micrograms of microplastic for a kilogram of sea salt as per the IIT-B study. Approximately 117 micrograms of microplastic ingestion are estimated for Indians per year.
According to research, the health effects depending on annual 117 micrograms of microplastics in salt hasn't been established yet, but studies show that microplastic contamination in ingestion and seafood is via inhalation. Hence, the average consumption from different sources is considered higher. They are a call to higher risks and comprehensive exposure.
The study of IIT-B had three different packages of eight different commercial brands of salt. One brand was open sea salt. And it was taken from the local markets and supermarkets in Mumbai from June to September in 2017.  All the packages were different from manufacturing dates and lot numbers from 2016-2017. Six brands were from Gujarat and it accounts for around 77% Of India's production while the other brands were from Maharashtra and Kerala.
As for the sample analysis, 80% of the fragments and microplastic fibers were tinier than the 2000 micrometers and 500 micrometers.  Also, fibers which are larger than 5 millimeters and less in numbers were found according to the analysis.
Around 61% of polyesters, 22% of polyethylene, and 16% of polyamide were found in microplastic fibers and fragments. All the extracted fragments in the study showed the following, 74% of polyesters with polyethylene terephthalate (PET) along with 19% of polyethylene particles, 7% of polyamide, and less than 1% of polystyrene, and also 28% of polyethylene.
PET is used in manufacturing plastic containers, bottles, mineral water bottles, flexible films, and care products. Both polyamide and polyester can be found in the textile industry. Polystyrene polymers and polythene are used in the packaging industry.
In last four years, microfibers and microplastics contained salts were found in Spain, China, UK, France, Turkey, US and in 17 brands of sea salt from France, Australia, Japan, Portugal, Iran, Malaysia, South Africa, and New Zealand that were purchased from the markets in Malaysia. So, microplastics found in salts from India were equal to the amount from Turkey and Spain, but less than in China.
In order to prevent transferring of microplastic into salt, the studies suggest sand filtration for artificially contaminated sea water.