The Greenwood College School Expansion
|
Toronto, Canada
Montgomery Sisam Architects Inc.
A building that provides students with the amenities of a campus within the constraints of a confined urban site.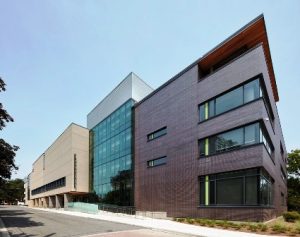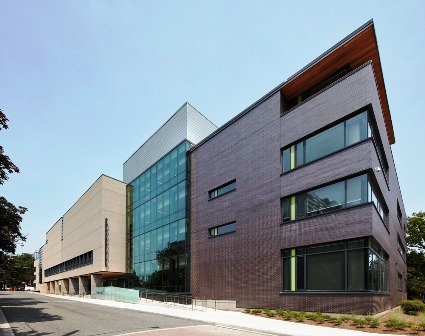 Designed by Montgomery Sisam Architects Inc., the Greenwood College School Expansion is a 74,0002 -building addition located in mid-town Toronto. The dense, four-storey structure adjoins the existing school at every level above grade, increasing the School's square footage by 120%. Making efficient use of limited land, it features a balanced mix of work spaces and social space that supports a personalized, new-century approach to learning as per media release by v2com.
Concept
Taking its cues from the landmark climbing wall erected in the heart of the existing school, the Expansion is designed to create a varied geography of spaces that support a diverse educational experience – one that integrates academic programs with social, cultural and recreational pursuits within a tightly packed building envelope. Its concrete structure with standardized structural grid assures future adaptability as programming evolves. Large, flexible classrooms, stacked along the south side accommodate increasing initiatives in co-teaching and interdisciplinary programming. An open and integrated floor plan connects these classrooms with specialized, state-of-the-art spaces for music, visual arts, digital media, theatre and athletics through a free flow of casual student spaces. These spaces, together with a glazed feature stair, promote activity, movement and interconnectedness across each floor and between building levels.
Context

The Expansion creates a positive condition in the City that both respects and engages with its urban, residential context. With the relocation and reconfiguration of a laneway, the building repairs urban fragmentation to create a seamless school property. The diverted laneway also improves traffic flow patterns and isolates school traffic from that of the surrounding community. The extension of the existing stucco façade along the front elevation produces a new accessible entry porch. The porch both enhances Greenwood's visibility and presence on a major arterial road and serves to buffer neighbouring houses from this busy transit way. The building's south end is reduced in height to a three-storey masonry block in deference to the scale and materiality of the adjacent residential street. The rooftop terrace is designed as a destination, affording a rare opportunity in a dense urban setting to connect interior teaching spaces directly to the outdoors with views overlooking the city. Expansive glazing along the ground floor façade and up the feature stair connects the life and animation of the school with that of the street. Landscaping initiatives enhance the pedestrian realm along all street frontages. Parking and service space, reduced to a minimum at the rear of the building, maintain the integrity of the public realm, both in and around the School.
Sustainability
The Greenwood College School Expansion is registered LEED Gold, with certification pending. A full range of metering systems are installed allowing students to access, through the intranet, a breakdown of energy use statistics for the building. These systems serve to decrease building running costs and reduce its impact on the environment, while educating students on daily energy consumption and green building practices.
Project Information
Official name of the project: Greenwood College School – Building Character
Location: 443 Mount Pleasant Road, Toronto, Ontario M4S 2L8
Project end date: April 2017
Area: 73,820 sq. ft.
Client: Greenwood College School
Architects: Montgomery Sisam Architects Inc.
Consulting Team: RJC (Structural); WSP (Mechanical, Electrical, Lighting, Civil, Site Services); Techwave Industries (AV / IT / Security); Aerocoustics (Acoustics); David Hine Engineering Inc. (Code); Enermodel (Sustainability / LEED / Energy Modelling / Commissioning); Elevator (Soberman Engineering); Turner Townsend (Cost); Van Relsen & Radchenko (Kitchen / Food Services); Janet Rosenburg & Studio (Landscape), Slobodsky Associates (Planning)
Constructor: Graham Construction
About the Architect
Founded in 1978, Montgomery Sisam Architects Inc. is an established Toronto-based practice with a reputation for designing buildings with a larger social consciousness and sense of responsibility. The 75-person office provides clients with a full range of services including master planning, architecture, interior design, and urban design and offers expertise in a variety of building projects ranging from small renovations to complex additions and new, state-of-the-art facilities across many industry sectors, with a particular focus on designing for living, learning and healing. This team combines a commitment to design excellence with exceptional technical skills and leadership abilities, and embraces the highest standards of professional integrity. They believe successful projects are the result of true collaboration and take great pride in building strong relationship within and beyond their office. The practice's operating principles and office structure ensure that every project benefits from dedicated senior level attention and an inspired exchange of ideas between its staff and stakeholders.
Montgomery Sisam Architects is widely acknowledged for its commitment to design excellence, exceptional service, responsible budget control and sound project management as the recipient of over 70 provincial, national and international awards including the 2011 Architectural Firm Award from the Royal Architectural Institute of Canada.
Photo credit: Shai Gil via v2com