The Status of Solar REC Projects in Maharashtra
|
The State of Maharashtra is blessed with good quality of solar radiation suitable for solar PV power projects. With reducing cost of solar panels and other associated components of solar power plant, investors have started showing their interest in the solar power sector. The Government of India (GOI) has also created favorable policy environment for the encouragement of this sector. One of the favorable policies with regard to renewable technologies by GOI is Renewable Energy Certificates (REC) mechanism.
Renewable Energy Certificates (RECs) represent the green attributes of electricity generated from renewable energy sources. One REC represents that one mega watt hour of electricity is generated from renewable sources. Renewable energy project developer can develop its project with applicable technology like Solar, Wind, etc under REC mechanism. Simply, project developer has to follow certain procedures laid out in REC regulation by the Central Electricity Regulatory Commissions (CERC) to get RECs for their project.  Some of the features of the REC mechanism are – Project should be grid connected, Project developer cans sale electricity at Average Pooled Purchase Cost (APPC) price to the state utility company or sale it to any third party at mutually decided price under open access mechanism. Project shall have all the required clearances by various government agencies, etc.
REC is virtual component unbundled from the electricity.  Hence, a project developer will have two commodities to sell – first is the certificates (REC) and second is electricity. Both can be sold separately. There are two types of REC projects – (1) Solar REC project and (2) Non-solar projects.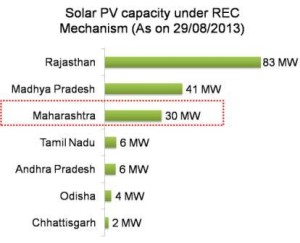 The State of Maharashtra has already witnessed the first solar REC project. This project has been developed by Jain Irrigation Systems Ltd with total installed capacity of 8.5 MW. This project was accredited by Maharashtra Energy Development Agency (MEDA) on 20th Oct 2011 and registered by National Load Dispatch Centre (NLDC –Central agency) on 22nd May 2012.
Please click here to read more on Solar REC market
Please click here to read more on REC mechanism and relevant procedures
Following table shows the list of Solar PV projects under REC mechanism developed by various agencies in the state of Maharashtra;
Sr. No.
Solar RE Generator

Capacity (MW)

Date of Accreditation

Date of Registration

1
M/s J.M. Industries

1

04-05-2013

12-06-2013

2
TS Wind Power Developers

1

04-05-2013

28-06-2013

3
Navalakha Translines

1

04-05-2013

12-06-2013

4
Hotel Golden Emerald

1

04-05-2013

12-06-2013

5
Nav Gases and Chemicals

1

04-05-2013

12-06-2013

6
Medilink Services

1

04-05-2013

12-06-2013

7
Accesset Ventures

2

04-05-2013

12-06-2013

8
Patel Wood Syndicate

1

03-05-2013

27-05-2013

9
The Gujarat Tea Traders Pvt. Ltd.

1

03-05-2013

15-05-2013

10
Dr. D. H. Patel

1

03-05-2013

27-05-2013

11
Katare Spinning Mills Ltd

1

03-05-2013

Not yet registered

12
New Patel Saw Mill

1

03-05-2013

23-05-2013

13
Giriraj Enterprises

6.65

16-03-2013

03-04-2013

14
Enrich Energy Pvt. Ltd

1

12-06-2012

Not yet registered

15
Jaibalaji Business Corporation Pvt. Ltd.

1

06-06-2012

25-06-2012

16
Jain Irrigation Systems Ltd.,

8.5

20-10-2011

22-05-2012

Total
30.15 MW
Currently, the State of Maharashtra is at the third position with total registered solar REC projects of capacity 28.15 MW (30.15 MW is accredited) . Rajasthan is at first position with total registered capacity of 83 MW followed by Madhya Pradesh with total registered capacity of 41 MW.
Reference: REC registry of India