Towards an eco-friendly Ganesh Chaturthi
|
August is the month when chants of 'Ganpati Bappa Morya' are heard in every nook and cranny of our Indian subcontinent. Every reverent Indian knows and understands the significance of this slogan. Welcoming, taking good care and then bidding adieu to Lord Ganesha is the course of action taken throughout this festival. This God is said to bring prosperity and remove obstacles in the life of a person. Also known specifically as the God of new beginnings, this festival celebrates His birth.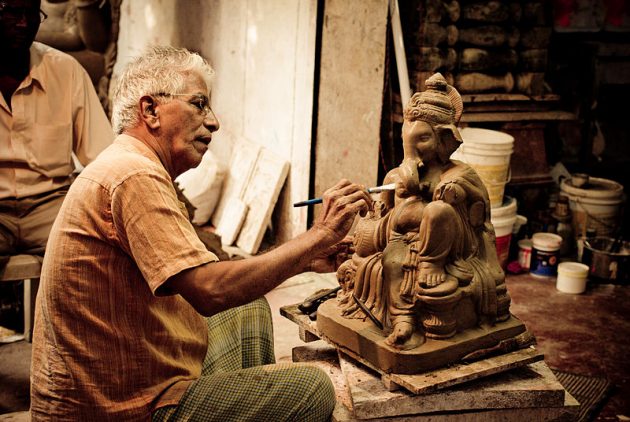 Ganesha is the son of Parvati and Shiva, another important God in the Hindu culture. Deeply respected and loved as a friend to all, the essence of Ganesha brings forth hope and instills harmony among the people.
The celebration lasts for 10 days and starts with welcoming this God into homes. Caring for him, singing lullabies, offering food and sweets to him and nurturing him like a baby is a common aspect of the course of the celebration. On the 10th day, the 'Visarjan' occurs. Ganesha is carried on a pedestal through corridors and out on the streets, with a constant showering of flowers and rhythmic chants, accompanied by a large procession to a water body e.g. a river, sea or ocean, and then faithfully returned to his parents by immersing him into the same.
The clay dissolves and the God is believed to reunite with his family back at Mount Kailash. This gives us an idea of how everyone has to return to our Creator and, as is so beautifully represented by this auspicious occasion, how Nature follows a cycle.
The significance of this festival, as our elders point out for us every time, has been etched on our minds. The open-heartedness with which Ganesha is embraced and the melancholic happiness with which he is sent to his parents make this event all the more cherished in every heart. But it is equally necessary to understand how while celebrating this deemed festival, each community has to take care of the quintessence and spirit of the same. It is our moral duty to acknowledge the fact that Ganesh Chaturthi, observed for this God who is believed to protect, safeguard and bring prosperity into all lives, is not to be commemorated as a means of disregarding everything he stands for.
The basic idea is to respect the environment, our Creator has so very beautifully and delicately crafted. Even Ganesha declares this. Do you know how? 
''Let this day be a celebration for all
On my birth, let the elements make a call;
Air, water, land or soil
Keep them pollution free, without foil;
I was born from clay, from turmeric
Let me be the same, be earthen, do share it''
What does this saying represent?
It says that Nature, as an entity, as something which preserves our life, can satisfy our every need, our requirements. It is infinite, self-sacrificing and unconditional in providence. It has created us, human beings, as the utmost power, superior to all species but equally responsible for all too. We must embed this fact into our minds that "WITH GREAT POWER COMES GREAT RESPONSIBILITY!"
Nature is devoted to us and dotes on us but we have to respect its sanctity and preserve its trust. The first and foremost action is to do what it says. The importance of using natural clay for making idols on Ganesh Chaturthi is the basic principle that is to be comprehended. This has been thoroughly mentioned in all religious scripts. It not only has an environmental significance but a religious one too.
People in the earlier times crafted idols of Ganesha using clay dough made at home. They put their love and devotion, their mind and body, their time and hard work into building these glorious figurines. By doing so, they gave Nature what it deserved: Utmost Respect. This is just one aspect of environmental conservation whilst enthusiastic celebration.
"He who created us is being remade
Do you think his essence is properly repaid?
We may have our beliefs to worship him
But harming Existenceis a sin;
Just pray from your heart, he stays inside
Worship Nature, in that Ganesha takes pride"
With the advent of professionalism and industry, incidences of crafting Ganesha idols at home have considerably reduced. People, no matter how devoted, have started welcoming ready-made idols instead. Though the devotion stays but some reverence and benevolence is lost.
Family time, the inclusion of each and every member to make the idol, tears of mothers as they silkily shape the friendly God of opulence while singing serenades, story time with grandparents about the childhood of Ganesha and even the valued attitude of fathers towards the festival, each and every aspect is slowly fading away. This is making families grow apart, which in our world of 'nuclearism', is a shove in the dark. Blessed were people from the past who could experience such priceless moments during celebrations!
What we as protectors of Mother Nature should cognize is that, 
"Protection of our integrity, worship, values and beliefs is mandatory to survival"
We deeply respect communities and have faith in an eco-friendly peaceful diverse society. Hence, to ease way for all Ganesha believers, some useful tips for celebrating Ganesh Chaturthi have been penned down. Now that the festival has been celebrated, we look forward to people implementing the given guidelines in future.
We swear by our faith in ENVIRONMENTALISM that no one would benefit more by following through with these ideas than the believers themselves. Our faith makes us strong, so why not strengthen it further by not jotting down problems but the solutions. Why not think positively and respect our Nature as humbly as we respect its protector. A beautiful verse says it all: 
"God has made this world
With His golden pen of beauty
To care for Mother Nature
Is our moral duty"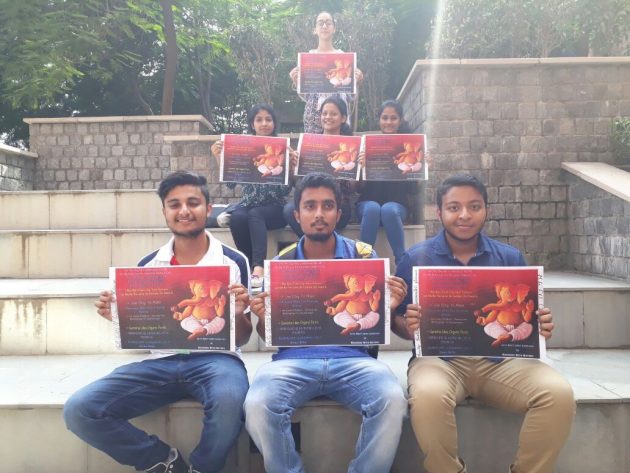 Our principles define us. Let's reinforce them now more than ever:
Idols to be made from natural materials like traditional clay as described in the holy scripts.
Water soluble and non-toxic natural dyes to be used for painting figurines of beloved Lord Ganesha.
Vastras and other worship material to be removed before immersion. Biodegradable to be composted and non-biodegradable to be separated for landfills or recycled for use in the next celebration.
Ganesha loves children. So his garments to be donated to orphanages.
While immersing, accidents to be avoided resulting from mass deposition of clay.
Small beautiful idols to be crafted.
Use of firecrackers to be reduced.
Chanting together in reverence instead of using loudspeakers.
Large tubs to be provided to every society for separate immersions, to reduce chances of stampede and excess silt load to river and oceans.
Biodegradable flowers to be collected and used for generation of organic colors.
Reducing use of plastics, ceramics and lead-based paints to decorate the eco-friendly God, Ganesha.
Collaborating with each other to take care of Ganesha instead of separately hosting him. The more, the merrier!!
"Riddhi, Siddhi, Vriddhihoti
Haantere hi aane se
AurSundar ye Srishtihoti
Haantere hi aane se"
GanpattiBappaMorya!! 
Today Ganpati, Tomorrow Durga Pooja 
Many areas in Delhi-NCR region implemented eco-friendly techniques during Ganesh Chaturthi this season. This shows that people are aware and alert to environmental pollution. Magazines and newspapers, journals and online websites have deliberated on issues pertaining to the environment and this festival season, we were able to reflect on the same and celebrate these with as much environmental faith as its colorful festivity. It is because of these think tanks, the leaders, and developers of today that our tomorrows can be saved.
The only thing left for us is to spread the same goodwill to each Indian village or city. And mind you, it is the responsibility of every individual. No one can retrace their steps, renounce their emotions from the truth or undeclare their faith in the environment. Absolutely no one!
The Indian diaspora all over the globe should pursue similar methodologies. This way, the name of our country is preserved and respected. When foreigners observe Indian festivals being celebrated with a big spoonful of sustainability, the image of our nation as an environmentally aware country would be established and cemented in history. And wouldn't we want that?
Durga Pooja is starting next week and we don't need to explain what needs to be done anymore. Pooja, this worship, this sublime feeling of connecting with your creator is the essence of a festival. Pooja of our Mother Nature is an equally important worship too and that is carried out by preserving her. From now on, let our Durga be Nature.
Realistically speaking, it is nature which provides and her providence exceeds everyone else's. All one requires is a sense of love and a quality of respect from every individual so that festivals beget good hope for our future in addition to bringing wealth, health, prosperity, and protection, the basic blessings these are celebrated and famous for.
Compiled and Written by Adeela Hameed
Contributions by: M.Sc. EVS 1st Year Students
Amity Institute of Environmental Sciences, Amity University, Noida 
Author Bio:
Adeela's hometown is Srinagar, Kashmir and she is currently pursuing Masters in Environmental Science from Amity University Noida. She graduated with Physics Honors from St. Stephen's College, Delhi University, India. Her work experience includes being Head Editor of Scribblers; an Indian content development agency, columnist for several regional newspapers and an Environmental Journalist for Kashmir Leader. She is a Reverent bookworm, an avid adventurer! You can contact her at adeelahameed1(at)gmail(dot)com and at LinkedIn
Image credit: https://en.wikipedia.org/wiki/File:Chitrashalagoa.jpg