UVMask: The mask you need to stay safe from pollutants
|
With the rise in novel coronavirus (Covid-19) cases failing to slow down, health experts across the globe are in a fix to find ways to keep the deadly disease at bay. Even as vaccine trials are picking up pace in several countries, people can't be expected to put their lives on hold until a cure for Covid-19 is discovered. Wearing masks while stepping out of one's home is being seen as an effective strategy to fight this pandemic. According to the World Health Organisation (WHO) guidelines, masks along with social distancing and other hygiene measures are a part of a comprehensive strategy to be safe from disease.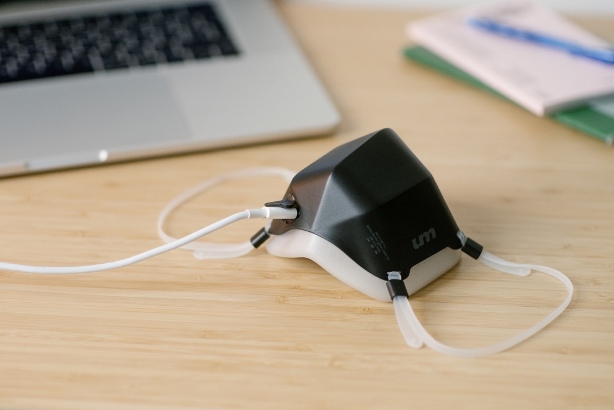 Apart from Covid-19, many of us are allergic to pollutants and, naturally-occurring changes like seasonal changes and pollen. Stepping out of your home while wearing a mask is one of the easiest ways to shield ourselves from such infections. That being said, there are a number of kinds of available in the market today which claim to offer the kind of protection. But do all of them say what they do? Hardly so. While some market research will spring some options at you, but if you are looking for a durable mask that can give you value for your money, then you should give UVMask a try.
UVMask is an antipollution and air purifying mask that rids the air you breathe of impurities like leaf mulch and pollen. Extremely comfortable to wear, this mask is based on UV-C purification technology. The high-intensity UVC light is what powers the mask's Sterile-Vortex technology. The 25000 µW/cm2 light is one of the pioneering innovations in the industry. Several researchers have vouched for the UVC light's ability to inactivate pollutants, toxins, and allergens present in the air. The light breaks down the genetic make-up of these harmful organisms when it is produced artificially. The product is made of a soft silicone pad and has an outer protective shell.
It also has a PM2.5 filter. Particulate matter 2.5 or (PM 2.5) is one of the most commonly occurring and harmful pollutants present in the air. These are fine particulate matter which can hamper human health if their levels in the air exceed mandated guidelines. They are basically tiny droplets which are two and a half microns in width. Their width is around 30 times smaller than a strand of human hair. At elevated levels, they can lower visibility and can make the air hazy. According to WHO, 14 Indian cities including New Delhi were among the most polluted cities in the world when it comes to PM 2.5 pollution in 2018. They are usually produced when chemicals released during fires, transport and roadside constructions react with the air. These fine particular can enter one's body via the lungs and can cause extensive damage to the respiratory tract. The elderly, people with respiratory and lung diseases are more prone to the damage caused by PM2.5 pollution. UV Mask's PM2.5 filter ensures that your lungs are shielded from these fine particles when you step out of your homes.
The product runs on a 2400 mAh lithium polymer battery and can work on 7.6 hours in a single charge. Moreover, UVMask can purify 99.99% of the air in less than 0.1 seconds. It sports highly efficient air filters, which you can replace if you are looking for protection from fine particulate matter with a width of more than 3 microns. It can be charged using a built-in USB port so that it can also be charged when you are on the go. The super-soft silicone body ensures that this mask is benign on the skin. This means you don't have to be afraid of rashes and bruises while wearing the UV Mask for long periods of time. What's more is that it is airtight, hence your skin is not exposed to UV rays. Lastly, it has adjustable straps so you can adjust the mask according to your convenience.
The mask is based on an effective step-by-step filtration process. In the first step, the air filter separates the hard particles from the air you breathe. In the second stage, the Sterile Vortex technology gives the air UVC anti-pathogen treatment and thereby making it fit for breathing.
 The product is an offering by Measure Inc., which is a Colorado-based company. It is a privately owned company that is led by a team of experienced designers, engineers, and scientists. The company strives to discover new ways to apply UVC and laser technology to fields like health and medical research. With Boz as its CEO, Measure Inc has Patrick and Kir as their CTO and CCO respectively. Meanwhile, Xia Li Alzubaydi is the company's COO.