Wangari Maathai – Renowned Women Environmentalist and 2004 Nobel Peace Prize Winner
|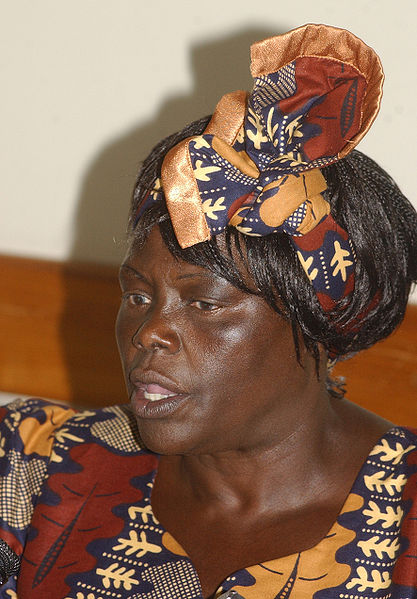 Full Name: Wangari Muta Mary Jo Maathai
Born on:   1st April 1940 at Ihithe village, Tetu division,Nyeri District, Kenya
Died on:   25th Sep 2011 at Nairobi, Kenya
Nationality:  Kenyan
Education:  B.S. biology Mount St. Scholastica College, USA (1964), M.S. biological sciences University of Pittsburgh, USA (1966), Ph.D. veterinary  anatomy, University of Nairobi (1971)
Well known for: Green Belt Movement
Award: Nobel Peace Prize 2004 (Know more here)
The 2004 Nobel Peace Prize winner Wangari Maathai is a well known environmentalist and conversationalist from Kenya. She was born in the village of Ihithe, near Nyeri, in the Central Highlands of Kenya on April 1, 1940 and has spent her entire life spearheading environmental conservation in Africa.
Education in detail: Being born in one of the least developed countries where education is a mirage Wangari Maathai could complete her early education and then further reached to the highest educational milestone of PhD. She was the first woman in East and Central Africa to earn a doctorate degree.
She was taught by Catholic missionary nuns during her early education and graduated from Loreto Girls' High School in 1959. During "Kennedy Airlift," (African nations were considerably behind in higher education and have several limitations. Considering these facts, African American Students Foundation funded by the US Government and other charitable trusts provided scholarships to Kenyan students to stay in US for their higher studies. Many Kenyan students secured financial support from United States to attend American universities. Since the Kennedy family foundation helped fund these efforts, the word "Kennedy Airlift" came into practice) she came to the United States through a scholarship program of the African American Students Foundation. Wangari Maathai obtained a degree in Biological Sciences from Mount St. Scholastica College in Atchison, Kansas in 1964 followed by Master of Science degree from the University of Pittsburgh in 1966. For doctoral studies, she worked in Germany and the University of Nairobi. She earned PhD in 1971 from the University of Nairobi.
Achievements: She was the first woman to become chair of the Department of Veterinary Anatomy and an associate professor in 1976 and 1977 respectively.  During 1976-87, she was active in the National Council of Women of Kenya and was its chairman in 1981-87. She pioneered the idea of planting trees with the people in 1976 which later expanded to Green Belt Movement during her tenure in the National Council of Women.
"The Green Belt Movement (GBM) has over 4,000 community groups planting trees to restore critical watersheds across Kenya. KFS has 10 existing conservancies, 71 zonal managers, and 600 forest officers ensuring an active national presence".
Through the Green Belt Movement she has assisted women in planting more than 20 million trees on their farms and other places. She has been internationally recognized for her persistent struggle for democracy, human rights and environmental conservation. She served on the commission for Global Governance and Commission on the Future by United Nations. Her Green Belt Movement received numerous awards, most notably The 2004 Nobel Peace Prize. Some of the other awards are listed below;
The Sophie Prize (2004)
The Petra Kelly Prize for Environment (2004)
The Conservation Scientist Award (2004)
J. Sterling Morton Award (2004),
WANGO Environment Award (2003)
Outstanding Vision and Commitment Award (2002)
Excellence Award from the Kenyan Community Abroad (2001)
Golden Ark Award (1994), Juliet Hollister Award (2001)
Jane Adams Leadership Award (1993)
Edinburgh Medal (1993)
The Hunger Project's Africa Prize for Leadership (1991)
Goldman Environmental Prize (1991)
the Woman of the World (1989)
Windstar Award for the Environment (1988)
Better World Society Award (1986)
Right Livelihood Award (1984)
The Woman of the Year Award (1983)
Wangari Muta was elected to parliament In December 2002. She was subsequently appointed by the president, as Assistant Minister for Environment, Natural Resources and Wildlife in Kenya's ninth parliament.
 Read more on regulatory provisions for Green Belt Development in India
Picture Source: Agência Brasil, Source link can be accessed from here