Marjory Stoneman Douglas- A Renowned Writer and Environment Activist
|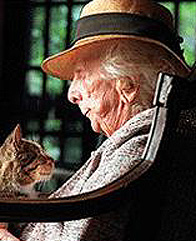 Full name – Marjory Stoneman Douglas
Born on – 7th April, 1890, at Minneapolis, Minnesota, United States of America
Died on– 14th May, 1998, at Coconut Grove, Miami, Florida, United States of America
Nationality– American
Education– Attended Wellesley College for B.A. in English.
Well known for– Her activism to save Everglades through her book "The Everglades: River of grass" to reclaim Everglades for its conservation and development.
Majory Stoneman Douglas, a renowned writer, journalist and environment activist spent a major chunk of her life in protection of the fragile wetland ecosystem of Everglades which was assumed to be useless swamp. She spent 29 major years of her life towards the restoration and preservation of South Florida's rich natural reserves. She was the author to the very influential book by the name of "The Everglades: River of Grass" published in 1947 highlighting the intricate relation Everglades shared with the people and its cultural importance for South Florida. Even as a young lady she worked relentlessly for the women rights and also for the war refugees.
Education- Born to Frank Bryant Stoneman and Lillian Trefethen, Douglas was a very diligent and focused student from the very beginning. Despite of the very troubled childhood, Majory Stoneman Douglas undertook studies to get a B.A. degree in English from Wellesley College in 1912. She was actively involved in various activities like elocution during her graduation, she was also a part of the first ever suffrage group in her college. She reunited with her dad in 1915 and joined The Miami Herald, which was her first encounter with fulltime professional writing. Her inclination towards working for human welfare made her get associated with the American Red Cross Society, stationed in Paris she worked for the war refugees and wrote about her experiences and civil rights.
Achievements- Having found solace in writing, Douglas took up writing seriously and started as a freelance writer in 1923. She wrote about 109 fiction stories and articles including Road to the Sun, published in 1952. She also wrote many one act plays for the Miami Theatre. She worked extensively for the emancipation and empowerment of women and protection of environment, writing pamphlets for a botanical garden and writing on topics of regional interests like bird-watching. She invested five years researching about Everglades to finally publish The Everglades: River of Grass. This work of hers was compared to Rachel Carson's very famous book, The Silent Spring. Following her work for the conservation of South Florida's natural resources, The Florida Department of Environment Protection recognized her efforts in 1980 and named its headquarters placed in Tallahassee after her name. She was also bestowed in 1993 with the prestigious Presidential Medal of Freedom by Bill Clinton, the then President of America. She was also inducted into the National Wildlife Federation Hall of Fame and National Women's Hall of Fame in 1999 and 2000 respectively. Her contribution was recognized all over the world, remembering her great contribution to human and environmental welfare, The Independent (London) stated on her death "In the history of the American environmental movement, there have been few more remarkable figures than Marjory Stoneman Douglas."
Editor's note: There are many women scientists who are responsible for making discoveries and advances in the fields of environment and natural science. On the occasion of World Women's Day, we at Green Clean Guide decided to share information on world's renowned women scientists. This is a series of articles to pay tribute to these exceptional women. Please visit category – 'World Women Scientist' regularly for updated information. Green Clean Guide wishes its readers a very happy World Women's Day.