Welspun Energy unveils 55 MW solar plant in Rajasthan
|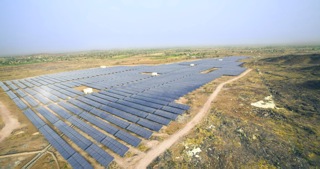 Welspun Energy Ltd on Wednesday unveiled a 55-MW solar plant project in Rajasthan as per reports. The plant will generate 90 million units of electricity annually.
Welspun said it had a target to invest Rs 15,000 crore to set up 1,750 MW of renewable energy projects in the next three years.
The new solar project, located near Phalodi in Jodhpur District, was developed in three phases of 15, 15 and 20 MW. The project was completed in five months.
"The project is one of the highest plant load factor generating plants of the country. It touched 26 per cent DC plant load factor, a figure much higher than those of its neighbouring plants," Welspun said.
The project is one of the largest solar PV power plant in the country apart from being the largest in Asia in terms in a single location.
Welspun bagged the project under the National Solar Mission.
Welspun has a pipeline of 1.7 GW of renewable power projects within the next three years and over 250 MW of renewable projects are presently being developed on ground. The Welspun Group is one of the fastest emerging Indian conglomerates with revenue of over U.S. $ 3.5 billion.
Reference and further reading;