Wind Power Producers suffer losses due to theft
|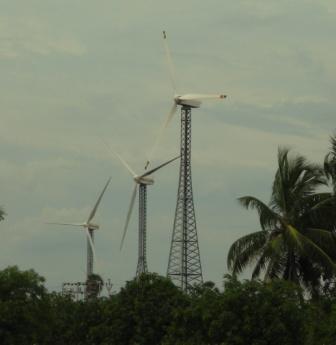 Investments to the tune of Rs 14,000 crore made by wind power companies in Rajasthan is threatened because of theft as per reports.  Locals are stealing expensive parts of the wind power mills.
Top officials of Suzlon – the main supplier of wind power equipment – say almost all power mills in just one district -Jaisalmer have stopped functioning as locals have looted equipment worth Rs 150 crore in the last few months.
The total installed capacity in the Jaisalmer region is 2,359 MW, which translates into an investment of more than Rs 14,000 crore.
The losses are twin fold- a considerable amount of money needs to be spent on the replacement of stolen parts and at the same time there is a substantial amount of income lost through generation; not to mention the inadequate power supply and the additional finances the state has to mobilize for purchasing it from other states.
Due to its unique geographical location, Rajasthan and Tamil Nadu have received maximum investment by the wind power industry.
The wind power companies have filed 300 complaints with the local police but nothing much has changed on the ground.
"In the recent months, we have seen a constant rise in incidents of theft in the region and the companies who have invested in Rajasthan have become the victims of theft and brutal attacks. The investors have approached the local police and authorities and many FIRs have been lodged without significant improvement. We view this situation as a major deterrent for attracting further investments into this sector," said a spokesperson of Indian Wind Power Association.
Reference and further reading;