April 2019: Monthly Electric Vehicle News Roundup
|
1. Electric vehicles body strives to split localization from subsidy motivations
The government has rolled out subsidy eligibility criteria based on certain performance parameters for various classes of electric vehicles (EVs). The incentives would be valid if the manufacturer has at least 50% of local components in the vehicles. In a letter written to the project sanctioning authority; PISC, the electric vehicles body; SMEV has requested to delink localization and electric vehicles prices with subsidy and recommended increasing the kwHr subsidy to Rs 20,000 in line with bus battery subsidy. It stated linking localization to incentives addresses the wrong problem. It is important to keep the prices on check on affordable segment as they are the back bone of this industry.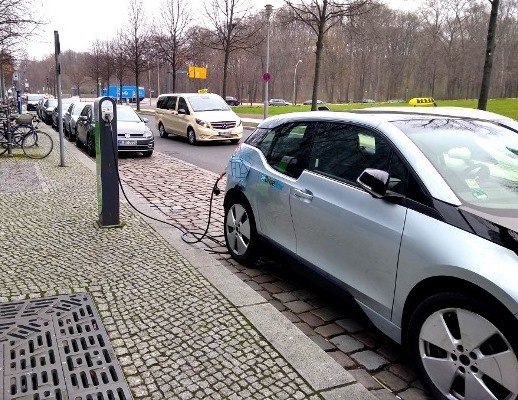 2. Niti Aayog Report- High optimism on adoption of Electric vehicles in India by 2030
According to findings of Niti Aayog report, India could achieve significant progress on electric vehicle adoption by 2030 largely due to the success of FAME II and other measures. Assuming penetration of sales in 30% of private cars, 70% of commercial cars, 40% of buses and 80% of two and three wheelers through FAME II, the scheme adopted by 2030 would in total save 846 million tons of CO2 over the total deployed vehicle's lifetime meaning a saving of 5.4 million tons of oil equivalent over their lifetime worth Rs 17.2 thousand crores.
3. Government bodies endorse interest on infrastructure development for EV adoption
Following announcement of FAME II norms government entities EESL, Energy Efficiency Services Limited, REIL, Rajasthan Electronics and Instruments Limited and NTPC, National Thermal Power Corporation NTPC have floated tenders for procuring 500 electric vehicle charging stations. EESL invited bids to install 200 fast charger stations in Delhi and Andhra Pradesh; REIL floated tenders for 270 electric vehicle charging points across various locations in cities like Ranchi, Bengaluru, etc. NTPC has invited bids for setting up EV charging stations especially focusing on buses and four-wheelers and it has also in 2018 signed a MOU with vehicle aggregators Ola, Zoom Car and others to help development and effective utilization of charging infrastructure.
4. JLR supports India's EV policy and adoption measures
Tata Motors owned Jaguar Land Rover (JLR) announced their plans to launch multiple electric including hybrid models in India starting 2019. This is in line to their commitment to introduce electrified options for their entire portfolio by 2020. According to JLR India President, Rohit Suri, the company is encouraged by the introduction of FAME-II policies in India and its focus on improving the charging infrastructure parallelly that will in turn drive the quick adoption of electric vehicles in the country in due course of time.
5. Tata Motors face danger of black listing over delayed e-bus delivery
The government has warned Tata Motors for delay on delivery of 40 electric buses each to 6 cities after it won supply order in March 2018. Based on reports unconfirmed by Tata Motors, the delay was due to battery issues and delayed manufacturing process. Following the issuance of contracts under FAME India scheme, the government offered a 60% subsidy to cities to procure e-vehicles as outright purchases or on a supply-operate basis. The transport departments in various cities who floated the tender now risk losing the subsidy if it is not claimed on time. Some states have also charged liquidated damages on the company.
6. Flying start for Tesla 3 as gap tightens between Porsche in Germany
US electric car maker, Tesla Inc has made a flying start in Germany drawing almost even with the vaunted Porsche sports-car brand in its second month of sales. Following Model 3 introduction in Europe, Tesla's German car registrations rose more than five times to 2,367 vehicles in March leaving it just 356 vehicles shy of Porsche. Though premium-car heavyweights like Mercedes-Benz and BMW remained far ahead, Tesla has left behind Jaguar, Land Rover and Honda. While Tesla is doing well, German peers are hustling electrification efforts with launch of new electric models. Overall, the market for battery cars in Europe remains small with customers worrying over sporadic charging infrastructure and comparatively high prices over petrol versions.
7. Solar Electric Vehicle chargers in Bengaluru
To ensure clean energy driven clean transportation, Bescom – Bangalore Electricity Supply Company is looking at solar powered electric vehicle charging stations. As a pilot project, few stations have been chosen and planned to extend based on its success. These charging stations are currently located at four locations. Around 112 EV charging stations are expected by August end spreading across the city. 4.85 per unit was the tariff for charging EVs last year while this year a cost to serve is expected to be fixed for consumers at stations.
8. Shuttl, BRPL join the EV 100 initiative
EV100 is a global initiative aimed at bringing together the companies committed to accelerating transition to EV and bringing in a change by 2030. Shuttl and BSES Rajdhani Power Limited (BRPL) are the latest to join in this. By next year Shuttl plans to have 300 electric buses in its fleet and have 50 charging points installed. BRPL on the other hand has promised to transition its entire service delivery fleet to electric by 2030 and is also investing on testing models for better understanding the effective integration of Renewable electricity into its grid network.
9. Tata Motors to add more electric vehicles to its portfolio
Addressing different price points and buyers, Tata Motors plans to add Altroz EV- premium hatchback, H2X- small SUV to its existing Alpha architecture based models Tiago and Tigor EV. The proof-protected architecture gives the carmaker flexibility to make conventional as well as battery operated engines. Also Tata Motors is working on new generation connected vehicle solution platform, an integral part of the EVs it plans. It is notable that Tata has got over 60% electric bus contracts from Ministry of Heavy Industries.
10. Mahindra and Ford strengthen their ongoing strategic alliance
Strengthening their ongoing strategic alliance announced in 2017 followed by powertrain sharing and connected car solutions in October 2018, Mahindra and Ford have signed a definitive agreement to co-develop a midsize SUV. The common Mahindra powertrain and product platform of this C-SUV drives commercial and engineering efficiencies. Earlier the alliance signed an agreement for developing and supplying low displacement petrol engines for Ford's vehicles in 2020. A telematics control unit joint development was also announced.
11. Shadowfax to use GMW's electric LCVs for deliveries.
Rapid Growth of E-commerce only signifies that there would be more commercial vehicles in future. EVs which are emission free and produce less noise are proving to be a good alternative for goods delivery. Around the world there are many ventures using electric vehicles for their fleet. Taking advantage of EVs, Shadowfax O2O model uses EVs for delivery wherein it doesn't have a distribution center and delivers goods from sellers to customers directly. For goods delivery in the NCR region it plans to use GMW's electric LCVs which comes with swappable batteries to overcome the EV charging drawback.
12. Trikala takes a lead of innovation
Trikala's driverless buses are well known. Yet again the municipality of Trikala has taken a lead of innovation by making 5 EVs available for locals and visitors of the city. These vehicles made as part of European Union's Elviten Project have a range of 80 kms and can go up to 35km/hr speed. These can be used by residents or visitors simply by showing their ID and driving license. This initiative is an effort to promote EV usage for transportation.
13. Electric Vehicle sales double in the US this year
As per analysis by IHS Markit, in the US, 208,000 new electric vehicles registered this year, which is double that of what it was last year, and this is majorly in California and the 9 states where Zero Emission Vehicle (ZEV) program has been adopted. Over the next two years, the EVs are expected to increase further with over 350,000 new EVs expected to be sold in the US in 2020. IHS has found the loyalty rates for EVs to have increased from 42% in previous quarter to 55% in the fourth quarter of 2018.
14. PSUs, private firms, Ministries targeting Electric Vehicle infrastructure across India
By 2030 the EV market is expected to be around Rs. 42000 crores. Many PSUs, Ministries, Private firms are in process of creating the infrastructure, manufacturing components for EVs. Several private sectors are working on mobilizing funds for this. Indian Railways plans to allocate space for EV charging. Indian Oil Corporation has partnered with Fortum India besides signing agreements with NTPC, Powergrid, Rajasthan Electric for setting EV charging stations. National Aluminium Company plans to produce lithium ion cells. Union housing ministry has issued amendment allowing EV charging stations in private and commercial buildings.
15. Further policy clarity needed for launching hybrid vehicles says Hyundai
Hyundai Motor India Ltd (HMIL) and its parent company Hyundai Motor Company are looking at options for sourcing EV components in India and considering local manufacturing of battery parts also. Hyundai plans to have its first EV this year in a complete knock down state. The EV will be assembled in its Chennai plant. As per HMIL MD and CEO SS Kim that government support is critical for growth in EVs. According to him, once further policy clarity is obtained on the hybrid vehicles, Hyundai will take decision accordingly. The company feels that the current installed capacity is enough to meet the demands.
16. Audi's first EV further delayed
According to The Brussels Times, Audi's first flagship EV, the E-tron has been further delayed due to battery shortage from supplier LG Chem resulting in the car maker planning to make 10,000 cars lesser this year and pushing the second car in the line up to next year. LG Chem also supplies batteries for Audi, Mercedes-Benz and Volkswagen and Daimler and many of these have plans to build their own battery manufacturing units or partner with suppliers in making batteries together. But till then these automakers are at the mercy of LG Chem and there are reports of LG Chem exploiting the situation and raising the battery prices.
17. Toyota Rhombus, a concept car for battery powered EV
Toyota Rhombus developed by TMEC the company's research and development base in China is a concept car for battery powered EV. This has a single swivel seat instead of the normal two seats in front and two seats in the back making a lounge like area. The company plans to roll out over 10 EV models globally in next 5 or 6 years and is targeting worldwide sales of over 5.5 million EVs by 2030.
18. Genesis Mint concept Electric city car
Genesis, the luxury arm of Hyundai is making a habit of releasing the flashiest concepts at stateside auto shows. It has come up with Mint Concept, an electric city car with minty fresh paint. The two seat, two door car is capable of squeezing through narrow alleys and in heavy traffic. This sporty car made its debut in New York International Auto Show but there are no plans for its production. It is notable that Genesis is yet to announce any for production schedule.