Aqua kelp jerky: A nutrient-dense, delicious snack that you can't miss out on
|
The rampant use of pesticides and insecticides in farming is contributing to the depletion of the ozone layer and makes one rethink about how we are consuming food. Consuming food which is grown in an eco-friendly manner is an important tenet of sustainable living and one that is gaining a lot of traction worldwide nowadays. In food production, sustainability implies to the use of techniques and practises which help in conserving natural resources and minimizing the impact on the environment.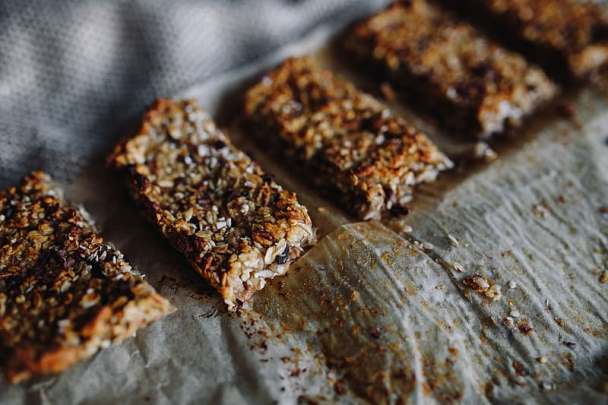 There has been a lot of discussion about what constitutes sustainability. According to the United Nation's Brundtland Commission, "sustainable development ensures that the needs of the present generation are met with without affecting the ability of the future ones to meet their requirements."
The 2019 EAT-Lancet Commission on healthy diets observed that the consumption of sustainably grown food — which places an emphasis on plant-based products like fruits and vegetables, whole grains, and legumes while minimizing dependence on animal-based food —the world can keep on feeding its growing population for a longer period of time.
According to Harvard TH Chan School of Public Health, over three billion people across the globe are malnourished, while seven billion are consuming a diet with a low nutritional value. Moreover, the production of food contributes to roughly 30% of greenhouse gas emissions across the globe, with livestock accounting for half of these emissions.
As more and more people switch to eating more responsibly, dietary cultures like veganism are picking up. One can find a plethora of websites and YouTube channels guiding you towards veganism. Not only can you learn about the lifestyle and its benefits, but also how to rustle a few quick recipes. While the help available online is always appreciated, there is a need for vegan food products which can be consumed on the go. Akua's kelp jerky is a great option for those looking for an easy and convenient way to fulfil their body's nutritional requirements while sticking to sustainable consumption. This nutrient-dense snack is 100% vegan and is rich in protein and fibre.
The main ingredient of this product is ocean-farmed kelp sourced all the way from Maine in the US. It also includes superfoods like spirulina, nori, turmeric, and shiitake mushrooms. Akua products do not contain dairy products or any genetically-modified products and their ingredients are locally sourced. They also do not contain soy, nuts, corn, eggs, or gluten.
Kelp is a kind of seaweed which is known for its property to sequester carbon and nitrogen. It is one of the 10,000 macro-algae known to humans. It is considered to be a rich source of vitamins and other trace minerals like Vitamin A, E, K, calcium, sodium, Thiamine (B1), iron, potassium, magnesium, and Riboflavin (B2). A bag of Akua's kelp jerky contains your body's daily requirement of Vitamin B1 and B2 and around 80% of your iron needs. Seaweeds like kelp help your body absorb water and is a great source of iodine, which in turn boosts one's metabolism. Another great advantage of consuming seaweed is that it keeps you full for a longer period of time, thereby being effective in weight management.
Given kelp's nutritional qualities, it won't be wrong to agree with Akua CEO Boyd Myers who terms his company's kelp jerky as the world's first 'carbon-negative' snack. The kelp cultivated for Akua products is a zero-input crop grown without using drylands, fertilizer, feed or water. With its carbon-absorption abilities, kelp is more efficient in absorbing these gases from the ocean than land-based plants. What's more is that seaweed also grows faster than land-based saplings. According to Akua, cultivating kelp for their signature jerky alone led to pump out over a ton of carbon from oceans in 2019. The amount of carbon extracted is equivalent to consuming 300 beef burgers. Their kelp jerky is available in three flavours – Nori sea salt & sesame, Spicy Thai & spirulina and, rosemary & maple barbecue.
Like Akua, there are a few other brands which are exploring the use of seaweed as a nutrient-dense vegan meal option. Jack & Friends jerky is one such alternative. Made with jackfruit as the key ingredient, this vegan jerky fits the bill for every lifestyle. It also contains pea protein and does not contain added sugars, making it rich in protein and fibre. Each jerky contains around 10% protein of the daily recommended intake. The product is a reliable buy for those allergic to shellfish, fish, eggs, soy, tree nuts, milk and peanuts.
The Leaf Jerky is another snacking option for vegans and those wanting to switch to more sustainable eating habits. The plant-based jerky has a snappy savoury flavour. It's available in two flavours Korean BBQ and House Recipe.
Pan's jerkies are another vegan brand which has you covered as far as nutritional requirements are concerned. Made from shiitake mushrooms, it has a rich umami flavour with a faux meaty texture. It's available in four variants – original, applewood BBQ, zesty Thai and salt & pepper.
Find more about Akua cultivating kelp here: https://akua.co/