Bagasse Cogeneration Capacity in India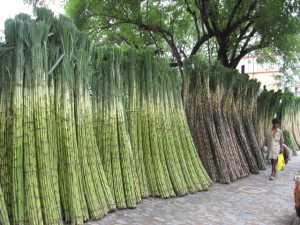 The concept of simultaneous generation of electricity and thermal energy is called cogeneration. It produces two forms of energy from a single fuel source. One of the forms of energy must always be heat and the other may be electrical or mechanical energy. One of the common examples   where this technology is used is sugar production. Almost all sugar mills in India are traditionally using cogeneration by using bagasse as a fuel. Sugar production process releases a valuable byproduct known as Bagasse. Basically it is a fibrous material that remains behind after the crushing of sugar cane. Bagasse has good calorific value and burns very easily. Sugar industry requires electricity and steam in the production process. Here bagasse is being burnt in boilers to produce steam for its use in the process and turbine generator for power generation. After self consumption, the surplus electricity will be available for sale to the grid.
As per the news by Press Information Bureau, Ministry of New and Renewable Energy (MNRE) provides financial incentives for surplus electricity generated by utilizing optimum cogeneration by the sugar mills. By the end of August 2013, a total of 213 sugar mills have installed bagasse optimum cogeneration plants with a total installed capacity of about 2,332 MW under the scheme on biomass based cogeneration to generate electricity and its subsequent sale.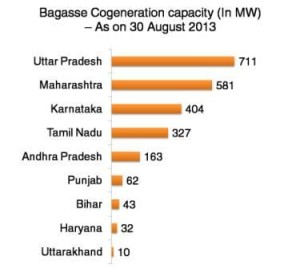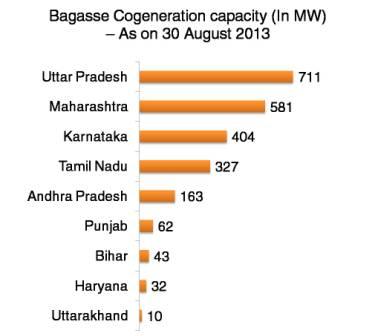 The State of Uttar Pradesh is leading in cogeneration based electricity generation capacity of 711 MW with 53 projects followed by Maharashtra with installed capacity of 581 MW (from 65 projects), Karnataka with installed capacity of 404 MW (from 32 projects), Tamil Nadu with installed capacity of 327 MW (from 26 projects) and others with installed capacity of 310 MW (from 37 projects).
It is estimated that 4 million units of electricity per megawatt of capacity of the cogeneration plant is generated per year. The sale price of electricity ranges from Rs.3.50 to Rs.5.50 per unit of electricity depending upon the tariff fixed by the respective State Electricity Regulatory Commission (SERC).
In addition, captive electricity consumption by the sugar mills from cogeneration based technology is now eligible to earn Renewable Energy Certificates (RECs). REC is a kind of green attribute associate with electricity generation from renewable energy source. RECs can be traded on Energy Exchanges to earn additional revenue from such projects.  Read more on biomass cogeneration scenario in the State of Maharashtra and benefits of Renewable Energy Certificates.
PIB
Image Credit – P.K. Niyogi, Wikipedia