Why Rooftop Solar PV Plant Is So Good For You?
|
Rooftop solar PV plant is an easy way to generate your own electricity conveniently. The cost of generation is also getting lower due to a considerable drop in the cost of solar panels.  Rooftop PV systems can be installed on the rooftop of commercial and residential buildings, factories, parking canopy structures, warehouses, etc.
The entire rooftop solar PV system has fewer components comparatively and they comprise of solar PV panels, supporting structures, an inverter that converts DC current from solar panels to AC current, isolation transformer, metering units, switches and cables.  All these components are very modular in nature and hence can easily be relocated from one place to another. You can synchronize solar PV plant with your diesel generator (DG) set and/or existing utility connection.  The best part of such a system is – smart inverter gives preference to the electricity generated from solar and takes remaining electricity from the utility company connection or DG set whatever is available on the given time.  In this way, solar energy gets consumed first and you can save on the electricity bill.
Example of ever increasing consumer power tariffs in the state of Maharashtra is given below;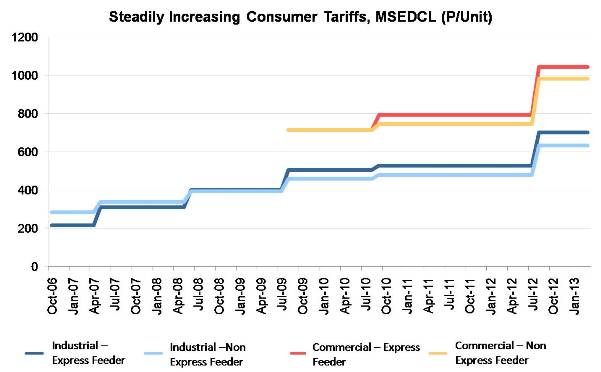 Similar or slightly different consumer tariff trends can be found in different states of India.
There are multiple benefits of such rooftop solar systems such as;
Energy security and cost savings: You can get secure electricity at lower costs than the electricity provided by your utility company (for industrial and commercial installations, the cost of electricity provided by utility company has reached up to Rs. 8/KWh to Rs. 12/KWh). For example, if a  typical industrial unit have a demand of 100 units of electricity per day then The rooftop solar plant can say, provide 30 units and the utility company can provide the remaining 70 units. In this way, the industrial unit can save considerable cost on the electricity provided by rooftop solar plant as the electricity provided by it is cheaper than the utility company.
No extra space required: Since the solar PV plant is installed on rooftop, you don't require extra space. Mostly rooftop space remains unutilized and solar is the best way to monetize your rooftop space.
Less expenditure on operations and maintenance: Solar PV systems require very low maintenance cost (no moving parts involved in the solar PV systems hence hassle free maintenance)
Go green: Solar PV system generates green electricity (no carbon emission occurs during the generation of electricity from solar).
Tax and other benefits For companies, having their own solar plants is even more profitable. They can invest in solar project for taking benefit of full depreciation for the purpose of tax saving. For those companies who have a CSR mandate, can spend certain amount of their CSR budget on solar projects.  Souring electricity from solar also helps to comply with the Renewable Purchase Obligations (RPO) enforced by the state governments. In addition, companies interested in achieving their internal sustainability targets can use solar to cut down on their carbon emissions.
Flexible investment option: You can invest in your own rooftop solar PV system or just give your rooftop space to other developers on lease and they will install the system at ZERO investment from your side. You just have to pay for the electricity whatsoever generated from the PV system.  In this case, third party developer will manage everything required for the PV system such as permissions from concerned authorities, procurement of solar panels and other balance of systems, construction activities, maintenance and operations, etc.
If it is something that suits to your requirements and you are interested to go ahead with rooftop solar PV installation, please read our next article entitled Points to be considered before opting for rooftop solar power plant.
You might be interested in in Solar PV system calculator. Calculate your solar system size and other details from here .