Bajaj Qute to Go Electric
|
In what may well be a game changer for the Indian auto industry, Bjaj Qute may go electric.  The Qute is on sale in some countries but its home country has only now opened up to this new category of vehicles.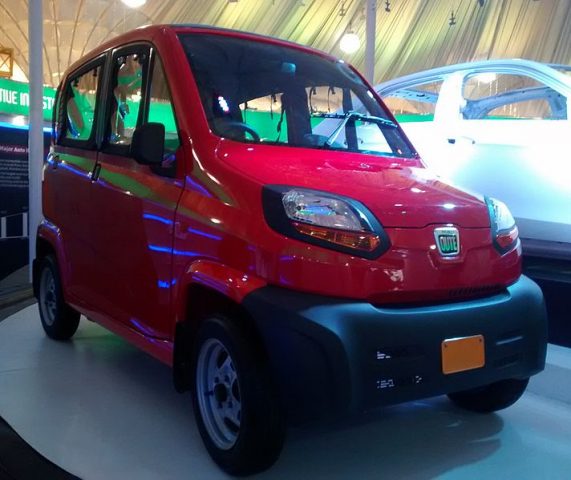 Qute is a four-wheeler, yet not a car. It comes under a whole new category — the quadricycle. It is a new-age vehicle that carries the attributes of a three-wheeler as well as those of a car. It is compact, lightweight, and has a carbon footprint that is 37% lesser than the smallest car available. Like a car, it is spacious and has an enclosed body structure, giving the driver and passengers a comfortable and safe ride. Also, it has adequate space for luggage and runs at optimum restricted city speed, which provides safety for all.
Bajaj Qute, initially called the RE60, meets the European Standards and Guidelines of Quadricycle for quality and design. Its high-end technology equips it to run at a restricted speed of 70kmph while utilizing fuel as little as 1 litre for 36 km.
With a patented fuel injected Digital Tri-spark ignition engine that delivers C02 emissions of just 66gms/km & a mileage of 36kmpl, the Qute is possibly the greenest & leanest 4-wheeler anywhere in the world, and perhaps the safest too.
–
Main Features of the Bajaj Qute
Engine
216.6cc CNG and LPG variants available
Peak Power
13.2    PS
Max Speed
70 Kmph
Weight
Less than 450 kgs
Turning Radius
3.5 m
Qute is a motorised quadricycle defined by weight, power, and speed. It weighs under 450kgs, that is, 37% lighter than the smallest car in the market. Being light in weight also makes it an energy efficient vehicle. Qute sits on a water-cooled Digital Tri-Spark ignition 4-valve engine and a closed loop fuel injection system. This helps it in delivering high performance in power and control. With a really small turning circle radius of 3.5m, Qute is equipped to take the twists and turns of urban roads with ease. The vehicle has a dash-mounted shift lever, which offers very low resistance and is also conveniently located.
To ensure that Qute is safe for passengers as much as it is convenient to drive around, a lot of consideration is put on its safety aspect. Its body is made of high strength steel and its monocoque construction gives Qute its structural integrity and sophisticated design.
The outstanding feature of the Qute is its unmatched emission rating and fuel efficiency. An electric version of the same will definitely place it in a winning category.
However, it won't be available for private persons as it has been assigned a commercial category and is looked upon as a replacement for the three-wheeled autos.