Beijing gets new law to control hazardous Smog
|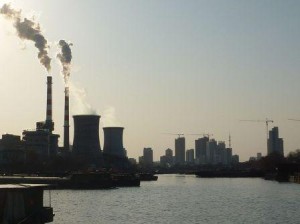 The city of Beijing, China, which is under pressure to reduce air pollution to address the cause of the hazardous smog in January 2014, which carried pollution levels more than 20 times that is considered as unhealthy by the World Health Organisation (WHO). On 16 January 2014 the fine particulate pollution named as PM 2.5 reached around 500 micrograms in per cubic meter.  Read our previously published article entitled Air pollution in Beijing 25 times above the WHO safe mark.
Beijing has passed a new regulation to curb air pollution featuring emission controls. The comprehension measure to tackle air pollution also carries harsher penalties in the city's latest effort to battle its notorious smog. At present the Chinese capital city is plagued by its dangerous unclean air. This is the first pollution warning of China in 2014.
The regulation was voted in favour by the Beijing Municipal People's congress. This regulation has replaced the guidelines issued in 2000 and is being considered as the first of its kind.
As per the issued guidelines with the regulation, China has decided to slash coal consumption and also to close polluting mills, smelters and factories. The newly issued regulation also seeks to boost the nuclear power and natural gas use. With this regulation, Beijing is struggling to reduce the air pollution of Beijing and nearby areas as the new plan has strengthened the ability of the city to monitor. The violators of the issued guidelines will also be punished for violation of the rules.
As per a drafted pollution prevention plan of Beijing that was published include fines of 10000 Yuan to 100000 Yuan. The penalties for the vehicle owners exceeding the set emission rules will be fined with 3000 Yuan. Apart from Beijing, 10 provinces like Tianjin and Shanghai are covered as per the regulation.
About one-third of the electricity needs of the country are fulfilled with coal and the plan states to cut down the consumption of coal/fossil fuel to maximum 65 percent. To meet the plan of cutting short the coal consumption seems to be a hard chase of China.