Check Out This Cool Sustainable Township, Babcock Ranch
|
Arcadis' Sustainable Cities Index ranks 100 cities around the world for their performance acrossthree pillars, which are:
People (social): This pillar looks at quality of life, assesses areas such ashealth, education and work-life balance.
Planet(environmental): This pillar looksat areas including energy consumption, renewable energy share, and green spaces.
Profit (economic): The economic pillar examines environment and economic health of the city. Sub-pillars in this category include ease of doing business, GDP per capita and connectivity.
According to the 2016 report, the following cities were listed as the top ten sustainable cities of the world, in descending order – Zurich, Singapore, Stockholm, Vienna, London, Frankfurt, Seoul, Hamburg, Prague, Munich. Read more here.
Know About Babcock Ranch
Babcock Ranch is an innovative new town located in Southwest Florida. It has the best of great hometown traditions with conveniences of today and tomorrow. Including the largest solar-plus-storage system operating in the U.S. today, it the public green spaces, looks at connectivity standard to each home and free wi-fi everywhere. A place where families can benefit from advanced technologies, as well as walking outdoors to reconnect with nature and neighbors, Babcock Ranch was founded with help from Babcock Ranch Foundation's mission to support, augment, and execute projects that positively impact many worthy causes in Southwest Florida.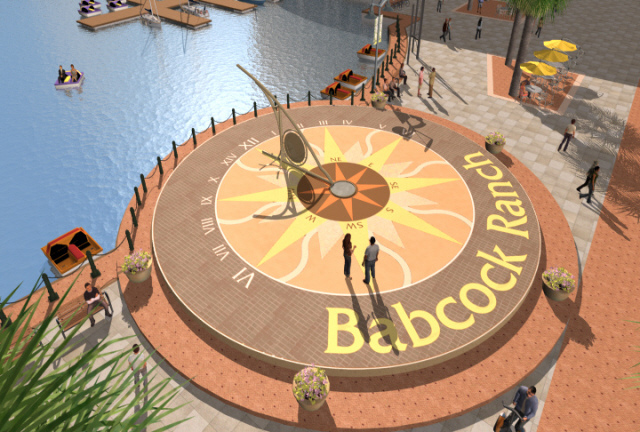 What does Babcock Ranch do for the environment and people?
Building sustainability right into the infrastructure for residents thus, adding up to a greener way of living affordably, and effortlessly.
Land Planning
Responsible development puts the new town on previously impacted pasture, farm and rock-mined land, nestled among the areas that will remain forested.
Water Conscious
To conserve water, the ranches' landscaping guidelines limit turf coverage to 30% of residential lots. It also requireshomeowners to use native, low impact trees and shrubs for 75% of theirlandscaping. Reclaimed or "grey water" from the onsite water and waste water utility is used for irrigation. For managing storm water and runoff, the ranch letsthe land and natural systems dictate the footprint of development. With a holistic approach that includes "rain gardens" created to mirror the filtering qualities of natural marshlands, the ranch both reduces the quantity and improvesthe quality of water flowing on to  theirneighbours.
Solar Energy
By donating 440 acres of land and partnering with FPL to do renewable energy at a utility scale, energy efficiency and renewable energy production are catered to by the ranch empowering homeowners to minimize their environmental footprint with no additional cost.
Energy Efficient Building Standards
Raising the bar on responsible development with residential and community-wide standards, all homes at Babcock Ranch must receive a Bronze Standard of Certification or higher from the Florida Green Building Coalition.
Local Materials
On-site mining operations provide fill and road aggregate. On-site farming delivers produce and offers space for community farming plots where residents can grow their own. Even sod is available from theranches' community sod farm.
Community Gardens
The farm-to-table movement requires many of the ingredients to be locally sourced. The residents have their own locally sourced food with community gardens.
Transportation Alternatives
Leaving your car athome is easy at this ranch. Shopping, schools, services and everything else arewithin easy reach via a network of expansive trails for walking and biking. Babcock Ranch has on-demand self-driving cars that one can schedule with an app on thesmart phone, in addition to electric-powered, self-driving shuttles runningalong set routes.
Storm Safety
Physical location above the storm surge area, buildings that meet 'shelter in place' demands and neighbourhood components anchored in place like park benches, trash and recycling containers, are formsof storm safety in Babcock Ranch. Homes and businesses are required to includeaesthetic as well as operable storm shutters or impact glass with increasedwind speed construction standards that are 20mph over the current FloridaBuilding code.
Fibre in Every Home
Babcock Ranch is truly a city built on technology with extraordinary speeds, mobile apps, and community-wide access to free WiFi. The ranch is aspiring to become the first master-planned, greenfield "smart city" with global network access points. Additionally, through their CenturyLink partnership, gigabit internet is standard to every home. The speed allows residents to stream multiple HD movies at once, download pictures in seconds, or play the latest video games, all at once.
Sustainable Development is the Need of Today and Tomorrow
Sustainable development is cleaner, possesses the potential to be efficient, has a long-term potential and is the only way forward for a growing world economy. People use a huge amount of the Earth'snon-renewable resources. As more people join, more of resources are required and faster are these depleted. Over time, sustainable development will no longer be an option for people. It will be the only available choice for cities. Therefore, it is simply a matter of time. The question, whether humans have the determination to make the transition toward sustainability on their own or if they'll simply be forced to make a rapid shift when all other options finally run out, needs an answer, NOW!
Author's Bio:
Adeela Hameed is pursuing Masters in Environmental Sciences from Amity University, Noida and is a guest writer for The Global Times.
Image credit