Coal and its impact on Indian Power Sector
|
The crucial role played by coal in India's industrial and economic fortunes was recently emphasized by the Supreme Court's observation – "Coal is king and paramount Lord of industry … Industrial greatness has been built up on coal … In India, coal is the most important indigenous energy resource and remains the dominant fuel for power generation … " A quick look at where the Coal and Power sectors stand today in India.
Captive coal mining: SC Judgment
The Central Government allocated 218 coal mines to PSUs and private companies between 1993 and 2010. These mines contribute about 9% of India's coal production. In a landmark judgement on 24th September 2014, the Supreme Court cancelled allocation of 214 out of these 218 captive coal blocks terming them illegal.
The Government of India plans to reallocate the 42 operational mines to Coal India Limited or other public sector enterprise. Other non-operational coal mines that have already acquired land as well as regulatory clearances would be auctioned off.
Going ahead, it is expected that the Government will amend the Coal Mines Nationalization Act, 1973 and Mine Minerals (Development and Regulation) Act, 1957 to promote private participation in Coal Mining. However, these steps are expected to show results only in the long term.
Coal (in) India
Similar to the rest of the world, India depends on coal for most of its electricity production. India has about 300 billion tonnes (Source: Ministry of Coal) of proven coal reserves but the real challenge is to be able to realize this mineral wealth in an economically sustainable way.
At the time of independence, most coal mines were privately owned. However, the Government of India acquired all privately held coal mines and brought them under Coal India Limited (CIL) in 1973. Today, CIL is the predominant producer of coal in the country, while some coal is also produced by Singareni Collieries and Coalfields Ltd. (SCCL), a few privately owned mines and captive mines. The Government of India holds 90% stake in CIL.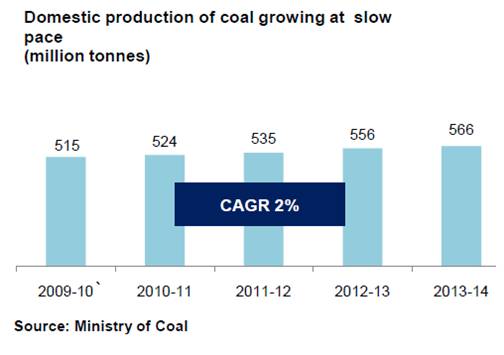 Poor performance of power companies and a high valuation for Coal India simultaneously have been a norm of late. The new Government has taken progressive steps, starting with combining coal and power ministries. Growth in coal production however faces immediate challenges.
Logistical constraints
About 50% coal in India is transported by rail. However, key links to mines remain incomplete and several years behind schedule. The Government is focusing on three rail links, one each in Bihar, Chhattisgarh and Odisha. However, the earliest link is expected to be commissioned only by 2016.
Land acquisition and Environmental clearance
90% of CIL production comes from open-cast mines. Large land parcels are required to be procured which results in large scale displacement of local population. Pollution by mines makes environmental clearance a lengthy process. Starting a coal mine in India requires about 5 years to 7 years.
Privatization and Restructuring
The Government has recently proposed offloading another 10% in CIL. It is debatable whether privatization should precede break up into smaller, more efficient entities or the other way round.
With a larger stake going to private investors, the Government will need to convince them of safeguarding their rights before restructuring CIL.
Availability
Coal based projects face regular situations of low stocks. Many power plants run at below normal capacity even as more capacity is added.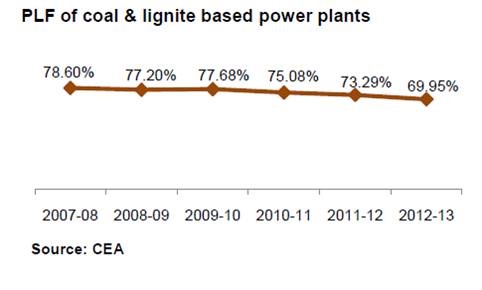 The Coal ministry is in the process of formulating a policy for swapping of coal linkages between State and Central Power utilities. This will help link power plants to the nearest coal mine. The Government has also allowed automatic transfer of linkages from old inefficient plants to ultra-modern supercritical plants in order to maximise generation.
Cost
Coal imports have more than doubled in last five years increasing the cost of power generation. While power generators expect that this cost will be passed on to Discoms, they have faced stiff opposition. With large projects like those by Tata and Adani making recurring losses, the country is faced with a choice between higher cost of power and no power.
The Government is also evaluating price pooling of domestic and imported coal. This will help reduce fuel cost for plants running on imported coal. However, this is expected to increase power generation cost in the short term.
Investor confidence
Investor confidence in coal-based power projects has taken a hit due to these challenges. NTPC has received proposals for sale of assets from 34 private project developers which constitute 55,000 MW capacity. This includes both operational and under-construction projects (Source: LiveMint). With cancellation of coal blocks, lenders' financial health is under greater scrutiny.
Need for Adjustments
Given the precarious power situation, the Government needs to show results quickly. In the process, many stakeholders, including investors, lenders and consumers will need to make compromises.
Managing the transition from a resource rich – power starving economy to a balanced energy economy will entail painful adjustments. The only uncertainty is who bears how much and when.