Eco tourism destinations- Andaman and Nicobar Islands
|
I had been planning for this trip for a long time but couldn't really find the time due to various commitments. It is one of the most beautiful and largely untouched destinations of India.  It is the largest union territory with around 546 islands of which 26 are inhabited.
I have been travelling a lot since my student days and am also a member of Youth Hostels network which I would suggest to every avid traveler. A lifetime membership doesn't cost too much and avails you many benefits such as lower room tariffs and many programs which they conduct in which you can participate only if you are a member. I visited in the off season i.e. end of April. Peak season in Andaman Islands is from October to mid April.
Unfortunately, I forgot my card in Delhi but the manager of Ripple Resorts was helpful and suggested that he will charge the same rate of youth hostel if I could tell the card number of my membership card. A hurried call to Delhi ensured I got the room. Ripple resort is located in Corbyn's Cove far from the main town of Port Blair. Taxi fair is around Rs. 200. Ripple resort is well maintained and fair in off season is around Rs. 1000 (after bargaining). Youth Hostel membership ensures you are charged Rs. 150 less. Another advantage of Youth hostels is that the hostel has to maintain certain minimum standards of cleanliness and hospitality (providing cooked food or culinary services for example) so you can check into a youth hostel or its affiliates blindly. The resort has only 11 odd cottages so it is advisable to make bookings in advance. I had made a telephonic enquiry prior to my visit and had been assured that since it was the end of peak season; I'd get a room easily. Only one other Italian citizen was staying at the resort at the time of my visit.
The resort also has a restaurant but you have to inform in advance as they make only limited purchase. Rates are reasonable and not too high. I ate at the resort for the duration of my visit.
| | |
| --- | --- |
| Restaurant at Ripple resort | Restaurant at Ripple resort |
Corbyn's Cove has a beach which is well maintained by the Municipality. Almost all beaches in Andaman have changing rooms (for both men and women) and showers. Resting and reclining chairs are available too for a cost of Rs. 10 per hour. It is advisable to use sun screen creams as during swimming or snorkeling sun burns can create havoc on the skin if you're not careful. I suffered from severe sun burns as I neglected the neck area. Also, sunglasses and a cap/hat come in handy.
The beaches in Andaman are awesome. They are very clean and well maintained. I used to go to the beach at Corbyn's cove early morning for a swim daily. You should inform the life guards if you cannot swim. After watching me for a day, they finally realized that I would not drown even though my swimming may not be perfect and they let me be. If you cannot swim, you should not venture far as the sea changes quite abruptly and Corbyn's cove is notorious for crocodile sighting. Boards on the beaches can be seen warning against crocodiles but the locals told me it was just a one off incident and that too way back in January.
In the evenings there is a jet scooter service. Cost is around Rs. 250 per trip (two rounds). You must bargain and if you are good at cajoling, the driver might let you handle the jet-ski yourself. Wearing a life jacket is compulsory.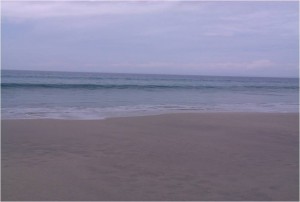 I do extensive research before I visit any area and I already knew that there were not many historical places to see in Andaman. Nevertheless, I booked a one day taxi tour of the city. It cost me Rs. 1200 since I booked it through the resort. Later, I learned you can hire independent taxis (much cheaper). Scooty's and cars are also available for hire at reasonable rates. Scooty charges are around Rs. 250 for a day plus petrol charges. But since I am more adept at handling with cars, I settled for the taxi.
I completed all prominent places in one day as I wanted the rest of the days for beaches and swimming.  Some noteworthy places are- Cellular jail that has a sound and light show in the evenings; Museums (Naval, Fisheries and Anthropology); Chatham saw mill. The naval museum also has a shop where one can purchase corals, gems and other tribal items at lower prices that the city shops. Make sure you keep the bill as the airport checks it if it comes in the scan when you leave the city.
I spent one complete day at Havelock island. You need to go by ship and tickets need to be booked in advance. Havelock island doesn't have much eateries so it is advisable to take packed lunch. The beach is heavenly, it has white sand and you can see the sea floor. The sea is turbulent here and it is a good place for snorkeling to watch the corals. I collected some sea shells by venturing deep into the sea. The waves strike with much force and are receding so unless you can swim, it is advisable to remain near the shore. Very few people were present at the time of my visit and I had the whole beach to myself. The name of the beach is Radhanagar. The ship leaves you at the jetty where you can take a taxi/ auto/bus to the beach. It is about half an hour drive from the jetty. Return ships depart in the afternoon so one should remain at the beach because if you come early there is nothing else to do as the beach at the harbor is infested by mangroves and thus unusable. I spotted a lone good restaurant when I was departing but I would still advise taking lunch. Private cruises however provide food.
There are other beaches also. Jollybouy beach is also pretty clean and untouched. I would advise that you select any one beach and spent quality time there rather than visting all beaches and they are all the same with little difference. I was told that if I shelved some money I could watch the Jarawa tribals but I let it be. Given my environmental leaning, I decided not to bother the tribals who are already vulnerable. In any case, I don't think indulging in the vain pleasure of watching a tribal would bring me any pleasure. NH-23 has recently been in the news for notorious Jarawa safaris so if you want to go and visit them, please ensure you do it legally.
While returning, ensure you do not carry any notified Scheduled sea species/products. There is strict screening at the airport and you must also ensure that you have bills for any purchases made. Hoardings at the airport advise tourists not to carry notified scheduled species/products with them. This is the best step the government has taken because if everybody takes one coral, the islands will be bereft of any pretty soon.
I planned my trip for five days and spent most of the time at the beach. It is advisable to plan the trip for at least four days.
How to go there- I went by Air India flight via Bhubaneshwar. Private carriers also operate and there tickets are cheaper if a booking is made in advance. Flight time is around four and a half hours.
Where to stay- There are many hotels and resorts at Andaman Prior booking is not necessary unless you visit during the peak season.
Best time to visit- October to April. I visited in late April but it was still okay. After April, visits should be avoided as it is the beginning of the rainy season.
Helpful resources-
http://www.lonelyplanet.com/india