Eco tourism destinations- Uppalpadu, Andhra Pradesh
|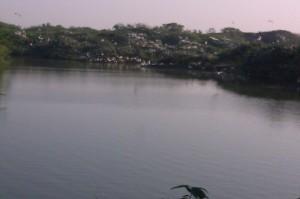 How often do we look at places in pictures and wish we could have been there? If you belong to such a category of travellers, then Uppalpadu will not disappoint you. It is an Important Bird Area located near Guntur. The compound consists of a lake right in the middle of which are located tiny islands with countless birds. The sight is breathtaking and awesome.
Painted Storks and Spot-billed Pelicans are quite common. The place is also a home for many migratory species of birds. The ideal time to visit is in the morning.  Keep around two to three hours and it might be a good idea to carry some packed breakfast. There is a watch tower from where you can view the entire area.
Some other bird species that can be found there are-
Black headed Ibis, Asian Openbill, Purple Swamphen, Water Cock , Asian Openbill, Darter , Black-crowned Night Heron etc.
How to get there- I went from Vijaywada so am describing the route from there.
Start from Vijaywada and take a bus to Guntur bus station. From Guntur, take any bus to Tenali. Request the conductor to point out Uppalpadu which is on the way and get down there. The bus would leave you on the main road; walk from there to the bird sanctuary. Entire journey should take around 2 and a half hours.