Economic Importance of Cinnamomum camphora
|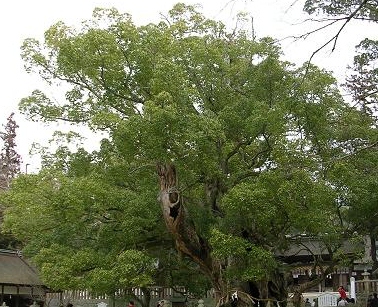 Family:  Lauraceae
Genus: Cinnamomum
Species: Cinnamomum camphora
Common name: Camphor tree, Kapur, Karpura
Origin:  China
Description: Middle sized evergreen tree with yellow brown branches. Leaves sub-coriaceous , ovate   or broadly so or elliptic, abruptly  acuminate, lustrous above. Flowers   bisexual, membranous, linear,   soft- pubescent.
Economic Importance:
The wood has a strong scent of camphor. It seasons without difficulty and is workable well under tools. The wood is moderately hard and moderately hard. Used for cheaper grade of furniture, chests, tea-boxes and rafters, scantlings and planking for lighter forms of construction.
The tree yields camphor which is distilled from leaves and wood and finds uses in pharmaceutical and perfumery industry. The yield of camphor from leaves in India ranges below 2% making it uneconomical for cultivation. Camphor oil of commerce is the oil of C. camphora from which the camphor is removed. Camphor is extensively applied in external applications as a counter irritant in muscular strains, inflammations and rheumatic conditions.